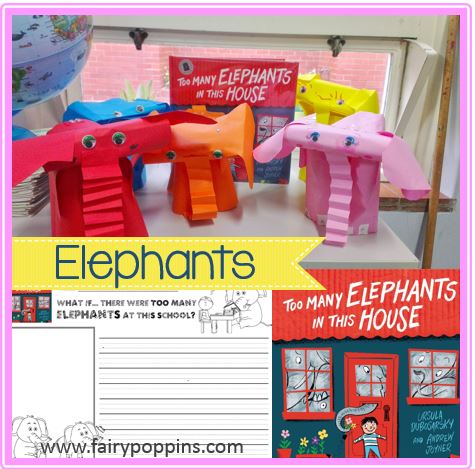 Elephants have always been one of my favourite animals. Here's a few classroom ideas based on elephants.
1. Story: Too Many Elephants In This House
Last year, my class read the story "Too Many Elephants In This House" by Ursula Dubosarsky for National Simultaneous Storytime; where primary school students across Australia read the same book at the same time.
Sourced from Book Depository
I made up some simple writing worksheets which you can download below for free. The elephant clip art is available from mycutegraphics.com.
[ddownload id="36048″]
2. Make Paper Elephants
My class made these wonderful paper elephants which was a lot of fun. The process seemed somewhat complex, so I pre-cut the materials beforehand to make the activity more student friendly.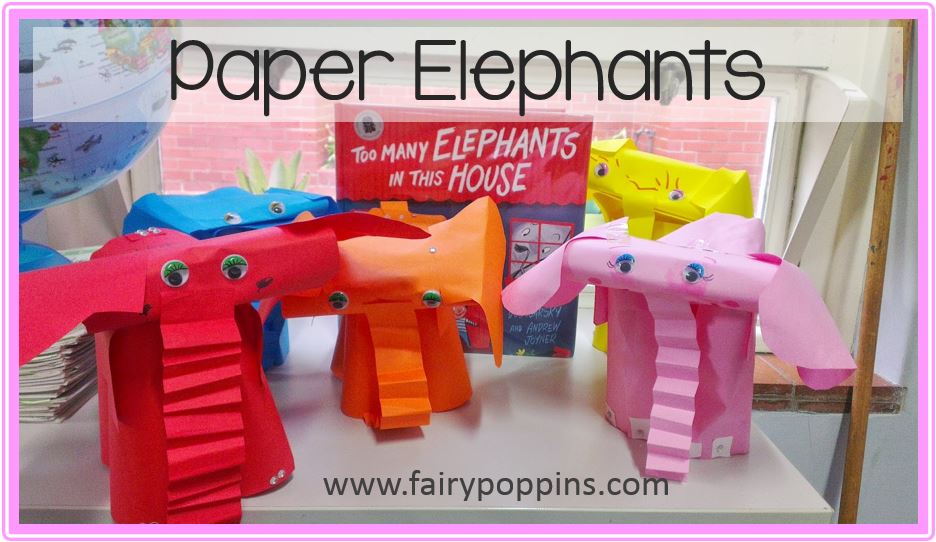 Here is a video to give you the general gist of how to assemble them.
Materials Required Per Student
3 sheets of A4 coloured paper (cut in half to make 6 rectangles)
1 sheet of A4 coloured paper (to trace the ears and two long strips for the tail and trunk)
I set of googly eyes
PVA glue and a glue stick
Stickers and textas to decorate
I found this free
Paper Plate Elephant Template
useful for tracing the ears. This activity could also be a fun way to teach children about cylinders.
3. Elmer The Elephant
I love this story because I think it is great for teaching children about how to value uniqueness and diversity. It is also a handy story for discussing colours. It  is available from the Book Depository.
I love this Elmer colour by numbers worksheet available from Yoand.Biz.
Sparklebox has an Elmer story sack containing a wide variety of printables such as these sequencing sheets.
There are loads of other great Elmer craft ideas on Pinterest. I've seen a few exploring the topic "I am one of a kind because…" accompanied by a collage using little squares of coloured paper.
4. Inspiring Video: An Elephant Paints A Self Portrait With It's Trunk
5. Elephant Printable
I like this "E" is for elephant tracing printable available from Ziggity Zoom. There are lots of similar alphabet worksheets available on that website for other animals too.
I hope you have fun learning about elephants. :)