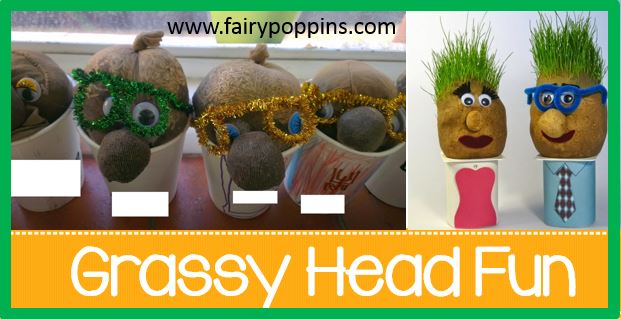 Making grassy heads is such a fun science activity! I've also seen pictures of grassy caterpillars which look fantastic too.
Making Grassy Heads
For science last year the children in my class made grassy heads. I had one small group of children making the grassy heads whilst the rest of the class worked on another independent activity. I found the children needed help with the tricky bits such as tying the stockings and making the noses. Here is a pic of the grassy heads before they began to grow. I accidentally forgot to take a pic of the finished grassy heads. They all grew really well and after a week and a half most had a full head of hair – with a few sprouting grassy faces too!
To make grassy heads you will need:
Paper cups/ yoghurt containers
Old stockings / panty hose (one pair can be cut up for at least 6 grassy heads, you just need to tie the ends off)
Lawn seed
Cotton wool/ potting mix / sawdust (choose one)
Rubber bands
Googly eyes
PVA glue
Pipe cleaners
Scissors
Marker pen
I found a great link with step by step instructions: Homemade Gifts Made Easy. Below is a picture of the finished grassy heads that are featured on that website.
I found a good video for the children to watch prior to making the grassy heads featuring the beloved Mr Maker!