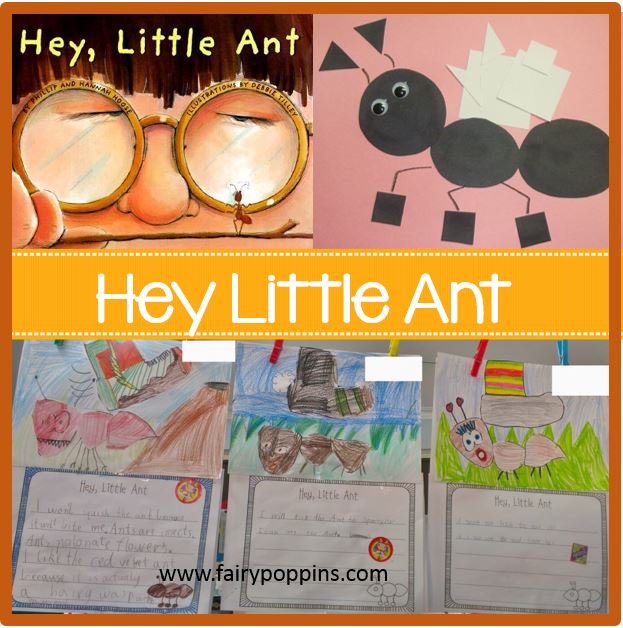 Here's a few great resources about ants. I love absolutely love the story "Hey, Little Ant" and the accompanying writing craftivity.
1. Story Activities: Hey, Little Ant
"Hey, Little Ant" is a really great story I came across about a little ant who was almost squished by a boy.
Being a big believer in looking after all things big and small, I like the moral of this story. The ending helps leave the children with something to think about in regards to whether they would choose to squish the ant or not. The story could also form a great topic for persuasive writing. The children could make an argument for or against saving the ant.
Sourced from Amazon
If you don't have access to this book, I found a video of it being read aloud on youtube.
The students in my class had a great time doing the following writing craftivity that I found on another blog (see below). They had to write about whether they would step on the ant or not. Thankfully, most children wanted to take care of the ant by not squishing it! I found this activity was great for practising cutting skills too.
Sourced from
The First Grade Parade
2. Non Fiction Big Book: All About Ants by William West
This is easy to read and has some great pictures.
Sourced from Tower Books
3. The Ants Go Marching Song
There are quite a few versions available on Youtube. I like this one because it has lyrics too.
4. Make An Ant Out Of Shapes
This activity was found on Hub Pages and looks like a fun way to review shapes and the body features of an ant.
Sourced from Hub Pages
5. Ant Display Posters
Instant Displays has some fabulous free posters and banners about ants in addition to butterflies and frogs.
Sourced from Instant Display
6. Free Pre-K Unit About Ants
If you teach Pre-K and are studying ants, I recommend checking this freebie out on A Teaching Mommy. I came across it on Pinterest and it contains a wide range of activities such as number clip it cards, patterning cards, a life cycle puzzle and lots more.
Sourced from A Teaching Mommy
I hope your class has fun learning about ants.

I think the quote below holds true for ants too. :)
Sourced from Img Kid