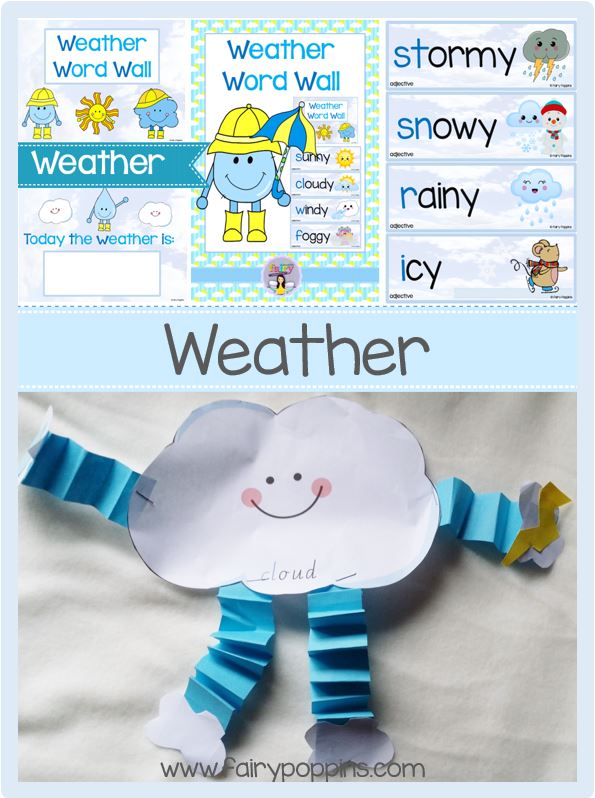 If you are exploring weather as a science topic, you might find these resources helpful.
1. Word Wall – I made these weather word wall cards so made them as comprehensive as possible and added the cutest pics I could find :)! I have highlighted each weather card with the initial sound, blends and digraphs to assist with reading. Each word is also identified as being a noun or adjective. There are 48 words plus editable word cards for any extra words. These are available from my store or you can click on this link: Weather Word Wall

2. Weather Symbols Worksheet – I made this last week and you can download it for free by clicking the button below. First, discuss different types of symbols with the children (such as stop signs, toilet symbols for male and female etc) and then weather symbols. Then ask the children to draw a picture symbol for sunny, cloudy, rainy, stormy and windy. I marked each box with a number so that younger children can find the box with a "1", put their finger on it and then draw "sunny". I find it is easier if everyone works on one box at a time. this activity is linked to the Primary Connections: Weather In My World science program.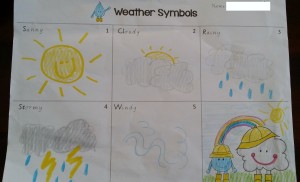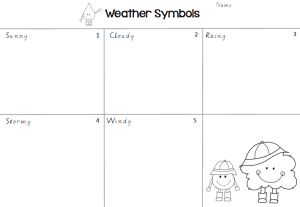 3. Cloud Craft – This is a fun activity and is great for practising cutting and folding skills.
Materials required:
Cloud template (see download link below)
Short and long blue strips of paper (folded back and forth into a crinkle style)
Small cloud cut out shapes for feet and hands
Small cut out weather symbols (e.g. lightning, raindrop, snowflake) or an umbrella shape
* I pre-cut multiple shapes beforehand by stacking a few bits of paper together to save time, cutting lightning individually would take some time!
Lead pencils, glue or stapler
Instructions
Children write their name on the cloud and then cut it out.
Fold and attach the arms and legs (folding can be a bit tricky for some children)
Glue on the cloud hands and feet
Add extras to the cloud's hands e.g. umbrella, snowflake.
4. How's the weather song – this is a catchy tune by Maple Leaf Hashima and covers the basic types of weather. The moose character is very likeable :)!
5. Dress the bear – this is a free printable available from Sparkle Box.
6. Weather Play Dough Mats – these are also available for free from Sparklebox.

7. Windsock – I have found students love this windsock activity. Which is useful when learning about the wind or the water cycle.
This is available from Robin Sellers on TPT.

8. Sort and Classify Mats – I love this Weather Sort & Classify pack made by Pre Kinders. She has made a Four Seasons Sort & Classify which I love too.
9. What's The Weather Like Video – This is a great introductory video to the different types of weather. It is available on you tube.
10. Weather story – Little Cloud by Eric Carle. This is a great story and you can make cloud collages as a follow up activity. For the collage you can use small bits of white paper and cotton wool. I get the children to make what their little cloud is going to turn into and then write a sentence e.g. "My little cloud turned into an elephant!". Children can get quite imaginative with this activity. You could also use white paint to make the cloud picture.
These are my favourite links to date, I'll post more as I find them. Happy teaching! :)