Alphabet Desk Strips & Student Name Tags
These alphabet desk strips include letters, numbers and student name plates. They're a great help when setting up your classroom in Preschool, Kindergarten, First Grade or Second Grade.
Alphabet Desk Strips
One of the first things I do when setting up a classroom is put up my alphabet charts and number charts. Next on the list is adding an alphabet strip with a number line to student tables. After that I add student name labels to desks, drawers and cubbies (for school bags).
How to Use Alphabet Desk Strips
Start by printing and laminating the printables for added durability. Then attach the desk strips to student desks with some clear tape.
There are two styles to choose from. If you have individual student desks you can use the one that has the student name at the top. If students are sharing a desk you may prefer to have one alphabet desk strip in the middle of the desk. Then you can place individual student name plates near the corners of the desk.
Teaching Tip
Be sure to do a print walk during the first week of school. What's this you ask? Well, it's basically walking around the classroom showing students the different learning printables such as alphabet charts, sight words etc. Then teaching kids how to use them. Otherwise I've found you can end up with things on the wall that look great and educational, but the kids aren't actually using them! On that note, remember you don't need to have every wall plastered with posters. I've found simple is best, just a few key posters is all you need. The rest you can pull out as needed during your lessons.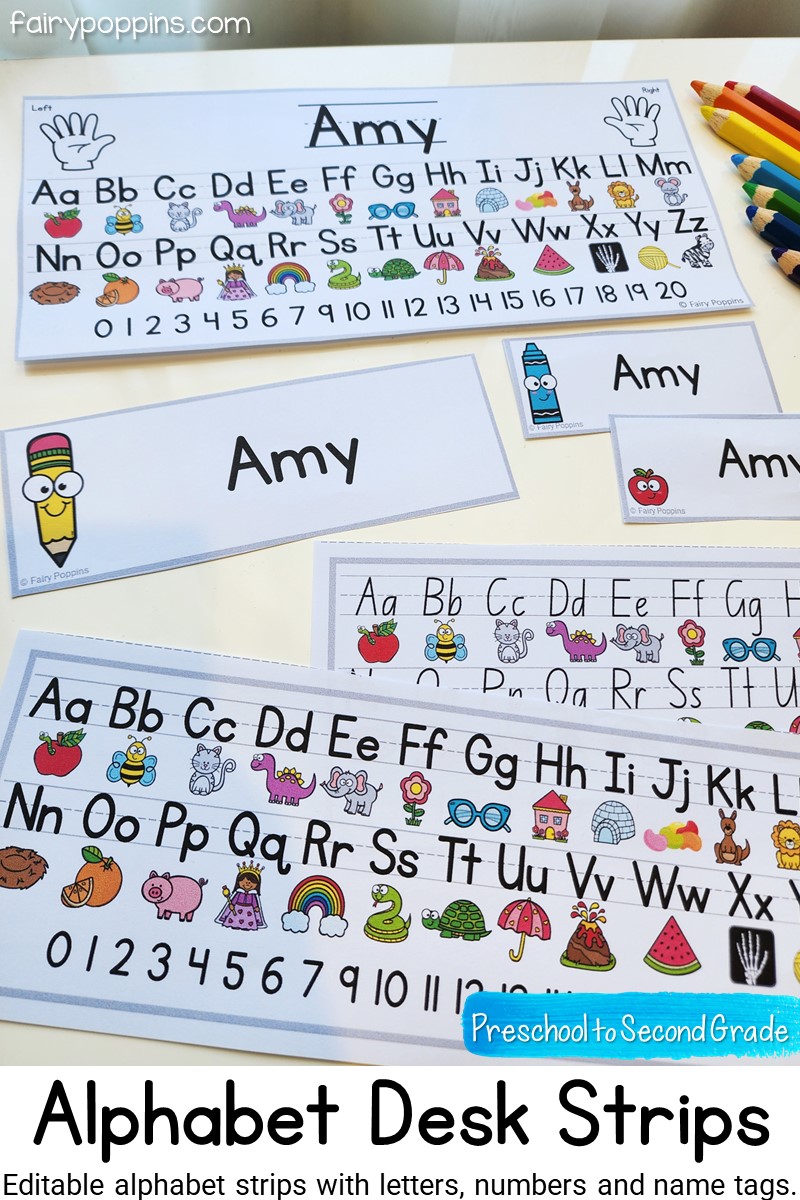 Pin
<<<Grab these alphabet desk strips here>>>
Editable Student Name Tags
I've made these alphabet strips and editable name tags in a few different fonts. The primary font (shown below) is a generic font that is great for teaching kids basic letter formation. If you're an Australian teacher, I've included all of the state school fonts in both print and pre-cursive. So there's New South Wales Foundation Font, Victorian Modern Cursive Font and so on.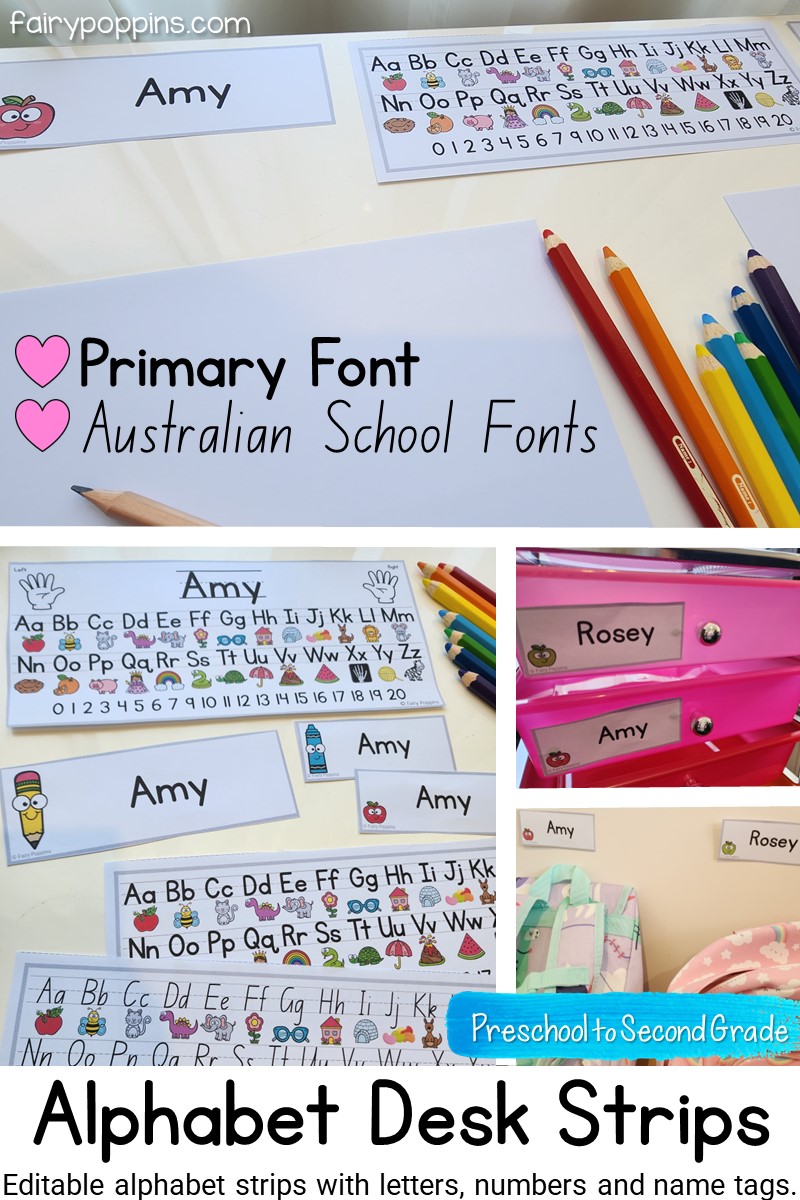 Pin
<<<Get these editable student name tags here>>>
There are two types of editable student labels. The large ones can be used as student name plates on desks or labels on drawers. The smaller size can be used above pegs or on smaller sized drawers.
Teaching Tip
If you're an early years teacher and students work at group tables rather than individual desks, attach some velcro to the back of the name cards. Then place student names on a felt board that kids can easily access. I like teaching kids how to find their name card to use as a reference when writing their name.
Alphabet Desk Strips – Primary Font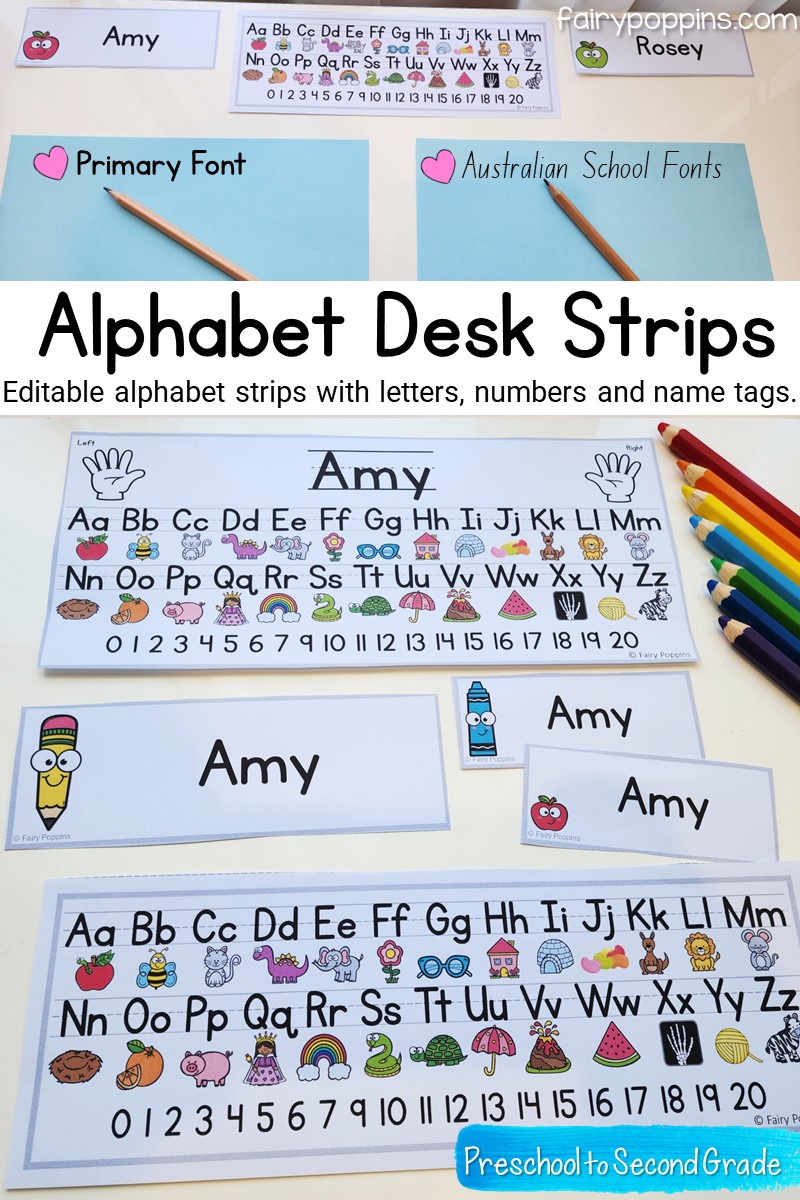 Pin
<<<Grab these alphabet strips for student desks here>>>
Alphabet Desk Strips – New South Wales Foundation Font
Here's an example of the NSW font in print. I've included a print and pre cursive version for all of the Australian states.
Pin
<<<Learn more about these Alphabet Strips in Australian school fonts here>>>
I hope you find these resources helpful. They're very helpful for younger kids who are still learning about letter formation and number formation. You can grab these printables by clicking the purple download button below. Wishing you a happy start to the school year! :)

Pin
More Back to School Resources
If you're setting up your classroom for the new school year, then be sure to check out these posts too.
How to Create a Visual Schedule for the Classroom
Back to School – Ideas for Setting Up Your Classroom