Puppet Theatre Dramatic Play Center
This Puppet Theatre dramatic play center helps kids engage in pretend play and learn about storytelling. It's suitable for kids in Pre-K, Preschool and Kindergarten, although I'm sure older children will love it too!

Why is dramatic play important?
Pretend play helps kids to learn about themselves, the world and how things work. Dramatic play centers also help to strengthen a child's language development (e.g. expressive language, vocabulary), social skills and play skills. Children learn a lot through play!
Puppet Theatre Dramatic Play
I've always found puppets a great teaching tool for motivating kids. They're especially useful for activities such as storytelling or retelling stories. This dramatic play center includes these areas: Puppet Theatre, Backstage, Snack Bar and the Red Carpet.
Preparation – Begin by printing and laminating the printables for added durabilty. Then find something that can be used as a puppet theatre. I used a market stand (from Kmart Australia) and then gave it a theatre look by adding some crepe paper curtains. You can also make a puppet theatre by opening up a large box and cutting out a stage window.
Puppets – You can use the printable puppets that are included (shown below) or you can use fabric puppets if you have some. I've found quite a lot of cheap puppets over the years from discount stores, toy stores and department stores (e.g. Target and Kmart).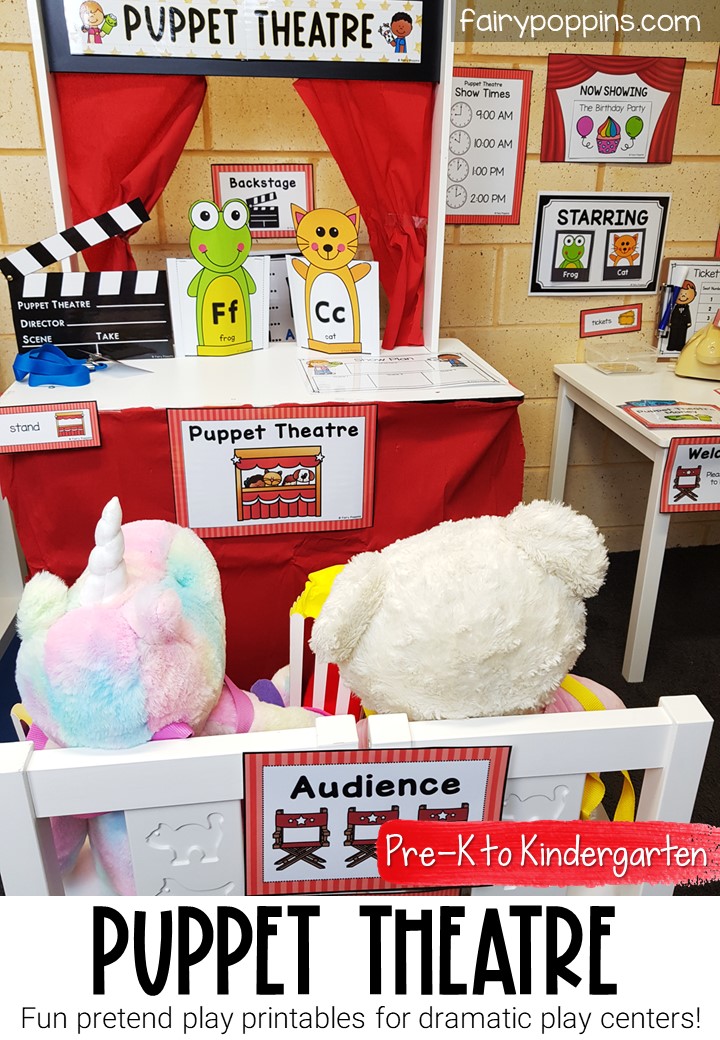 Pin
Snack Bar Pretend Play
In addition to the puppet theatre, I also set up a snack bar. So the kids can read the menu and use play money to purchase the food items. I kept it simple with three items that are easy to make out of basic craft materials or items found in most party sections.
Ice Creams – I used recycled cardboard and a brown marker to make the cones. Then I cut out some felt for the ice-cream scoops.
Popcorn – I found some popcorn containers in the party section and added some scrunched up yellow paper for the popcorn.
Drinks – I just grabbed some empty party cups and added a straw to each one.
I incorporated some math elements into this pack too. For example, on the "Snack Bar Log" the kids can tally the number of items sold and write the total.
More Fun Puppet Theatre Printables
I had SO much fun creating the pretend play printables for this pack! One of my favorite areas is the backstage area. Here the kids can plan their story using the show plan and use the printable clapperboard to start each scene!
There are some story prompts if they need a bit of guidance with choosing a theme for their show. For example, one of the story prompts is "The Birthday Party". There are special posters where the kids can record what will be showing and who the starring characters are too.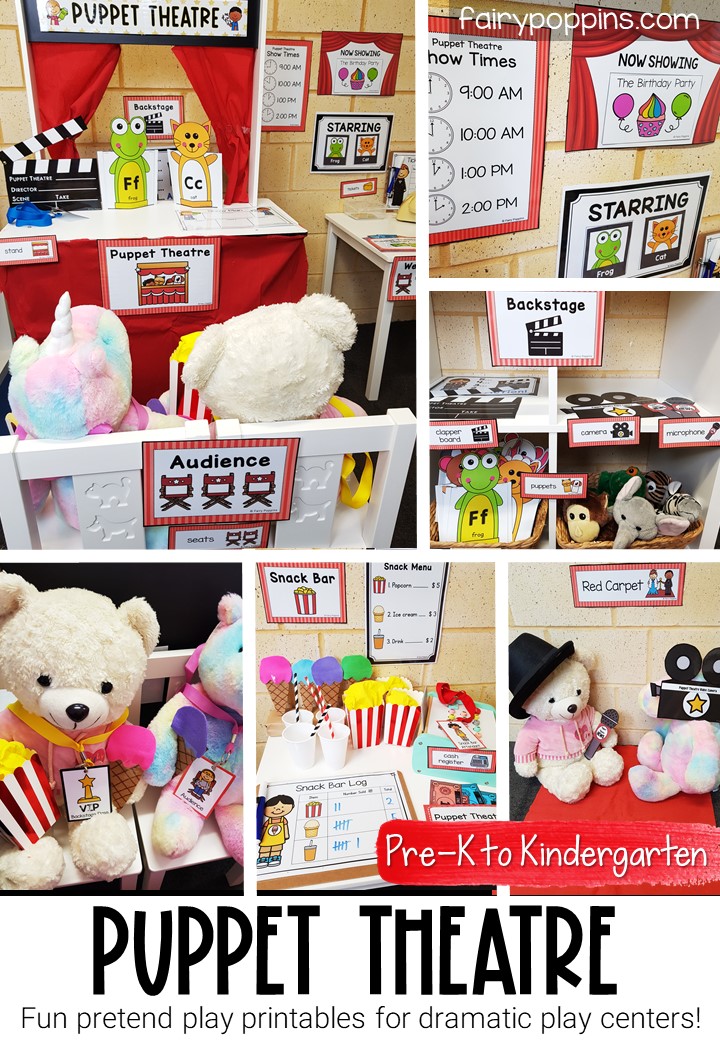 Pin
Red Carpet Area – To make a red carpet I just used a long piece of red crepe paper. Then added the printable microphone and camera props. In this area the kids can pretend to interview each other. It's fun to add some movie star dress ups too such as hats and feather boas.
I've included a more comprehensive set of instructions in the actual pack. You can can learn more about what's included below.