Weather Bear Activities for Preschool, Pre-K and Kindergarten
These weather bear activities help kids learn about weather symbols, temperature and how to dress the bear in suitable clothes. They're suitable for kids in Preschool, Pre-K and Kindergarten.
The following weather bear printables include a weather chart, work mats and weather worksheets. When I was making them my three year old daughter was keen to try them all out and she LOVED them!
Weather Chart and Dress the Bear
This weather chart can be used during circle time, center time or small group work. You can display it on a bulletin board or create a file folder (see below).
Preparation
First print and laminate the resources for added durability. Then cut out all of the clothes and weather symbol cards. Next grab some sorting containers such as a dip tray and put the clothes into broad categories. For example, I sorted the printable clothes into accessories, shoes, coats, pants, T-shirts, sweaters and so on. Finally, add some velcro dots to the weather chart and cards, so that you can change the cards as needed. Oh and grab a clothes pin! Kids can think about what the weather "feels" like and then clip the answer on the thermometer.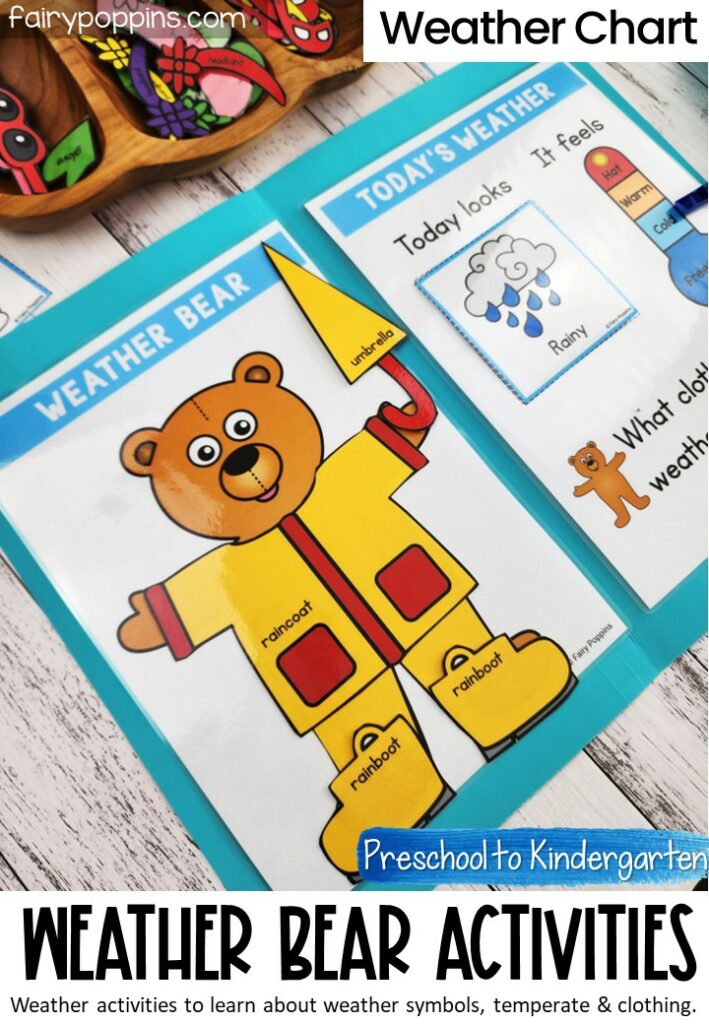 Pin
The weather bear can be dressed in a variety of clothes suitable for summer, fall / autumn, winter and spring. I've included words on each clothing item to help build vocabulary too.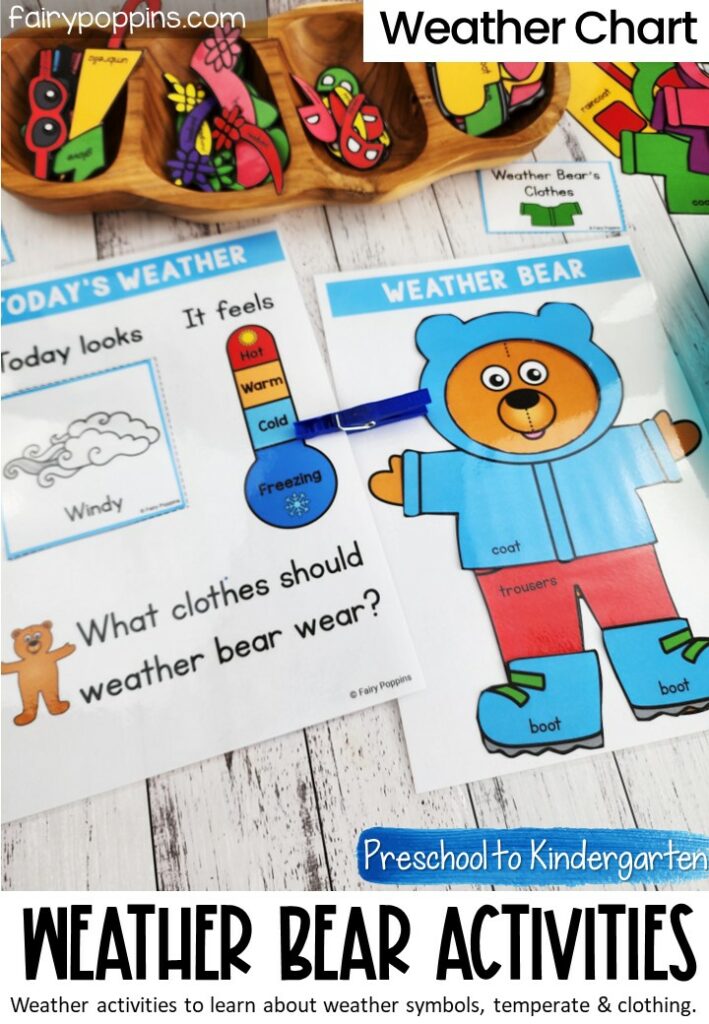 Pin
Work Mats With Weather Symbols
When I teach kids about the weather I try to provide visual support wherever possible and these mats are perfect for that! Kids can dress the bear for a variety of weather types such as sunny, partly sunny, cloudy, rainy, stormy, windy, foggy, and for fun… rainbowy! Each mat includes the weather symbols AND a background that shows kids what the weather looks like. My daughter really enjoyed these activities, she was very engaged selecting suitable clothes for weather bear!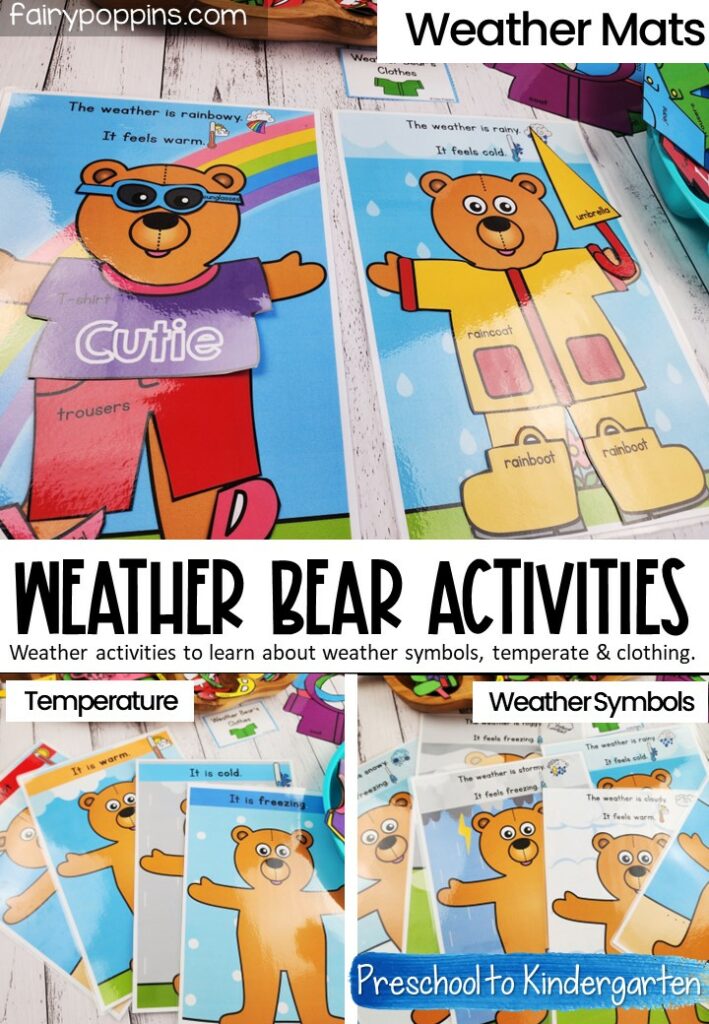 Pin
The temperature mats focus on hot, warm, cold and freezing. So they're a great way to introduce these concepts to young children. Although in my experience kids are quite adept at understanding hot and cold from their life experience using taps!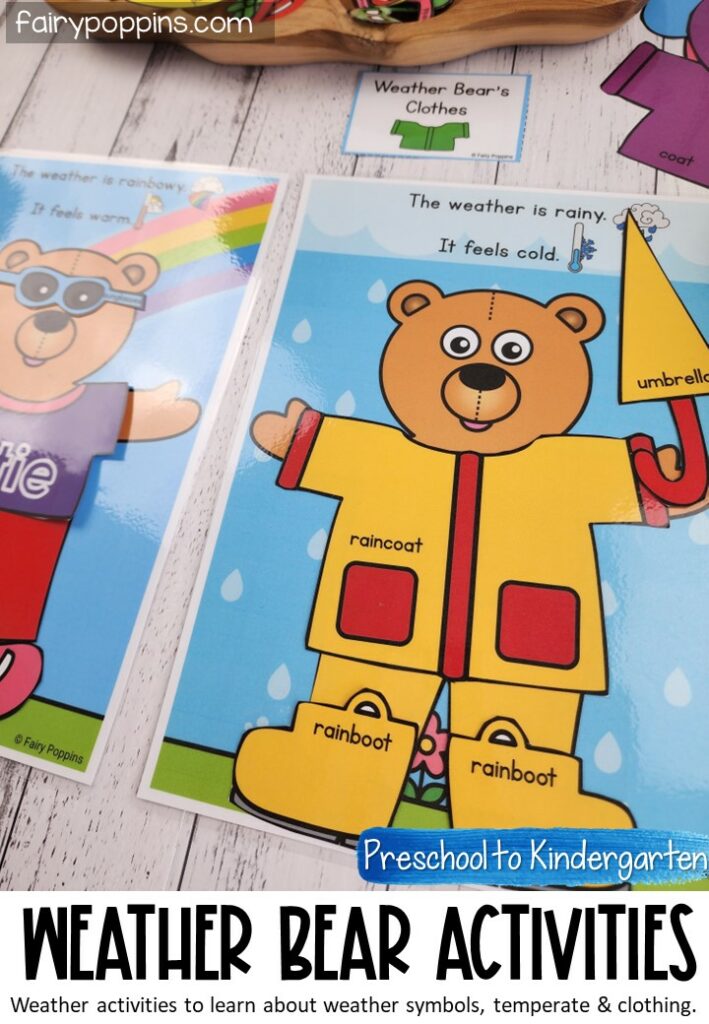 Pin
Another fun activity you can do is this spin and dress game. Kids can spin the spinner and name the weather symbol. Then dress the bear in some clothes that are appropriate for that type of weather.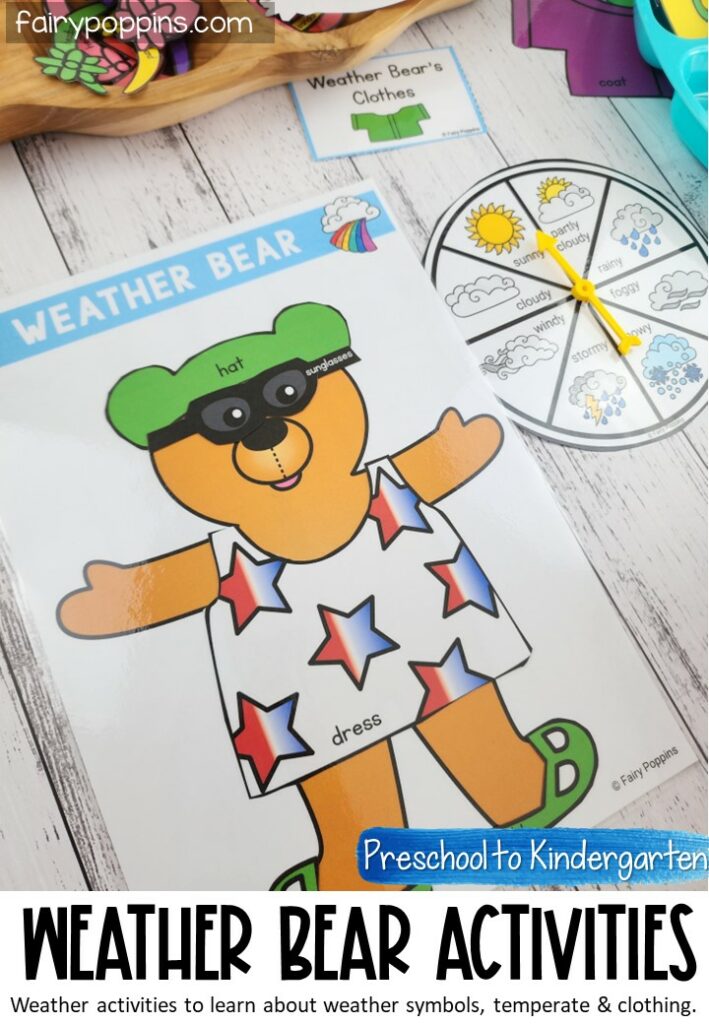 Pin
Weather Worksheets and Workbook
The following weather worksheets can be used on their own or made into a workbook. If you look at the example below, you'll see the two main types of workbook activities. The one on the left includes more of a writing component than the one on the right. So you can adapt it for younger students by just including the style on the right. I created the workbooks by printing both styles back to back. The weather workbook helps kids learn about sunny, partly sunny, cloudy, rainy, stormy, windy, foggy, and for fun rainbowy weather!
In addition to the workbook there are also a variety of worksheets that can be used on their own or as part of a weather craft activity. The temperature activities focus on hot and cold because the strong contrast makes it easier for young children to understand the differences in temperature.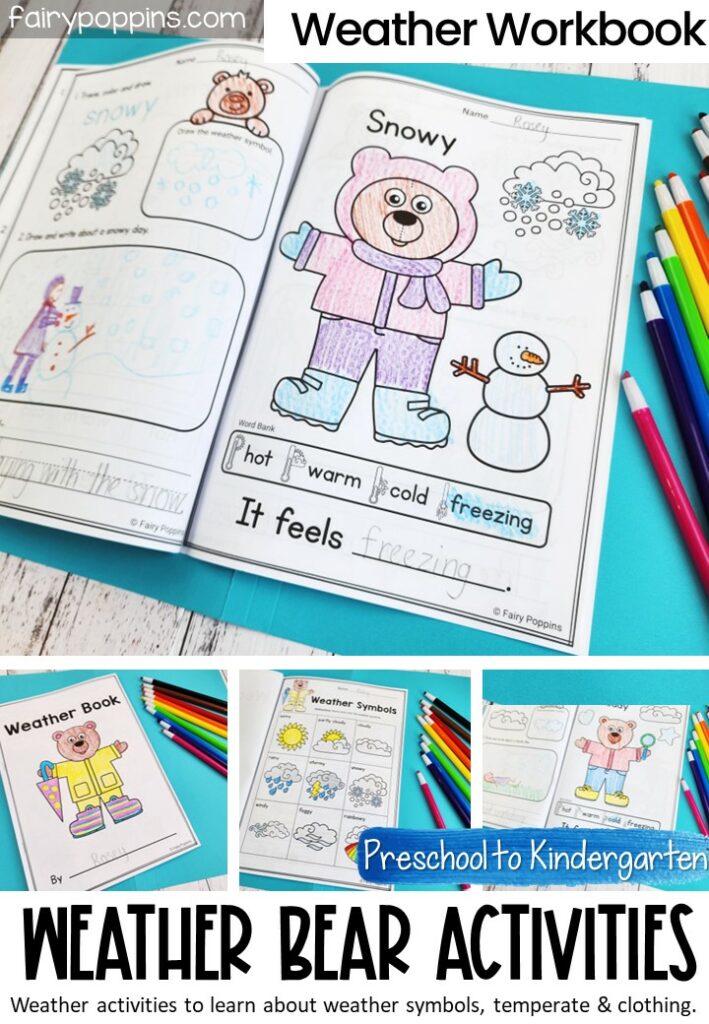 Pin
I hope you find these weather resources useful for teaching your next weather unit. I'm sure the kids will LOVE learning about weather with the cute weather bear!
More Weather Activities
I LOVE this Weather Station dramatic play pack for teaching kids about the weather in a hands-on and meaningful way. Learn more about it here.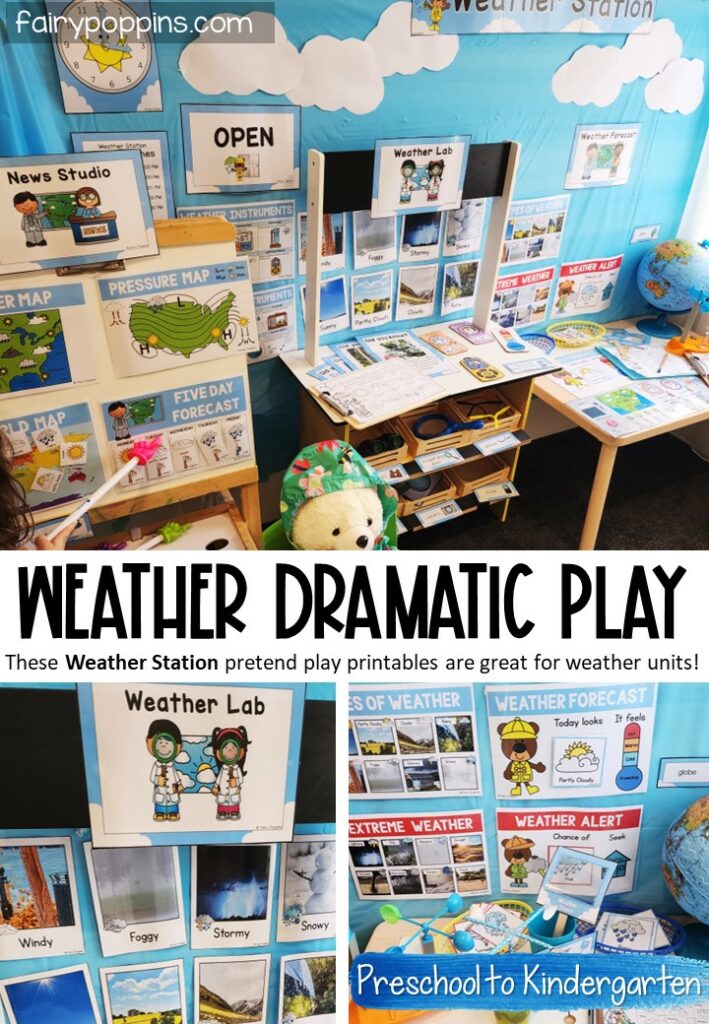 Pin
You may also love the following playdough mats. You can learn more about them here.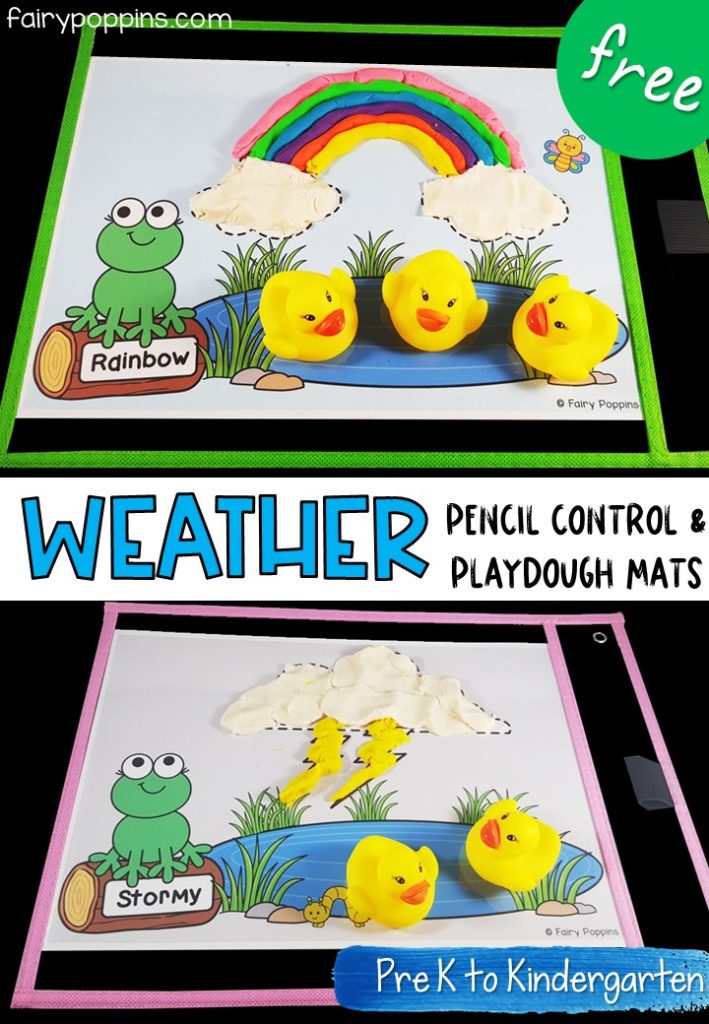 Pin