Construction Site Dramatic Play
This Construction Site dramatic play center helps kids develop STEM skills and engage in pretend play. It's suitable for kids in Pre-K, Preschool and Kindergarten, although I'm sure older children will love it too!

Importance of Pretend Play
Why is dramatic play important?
Pretend play helps kids to learn about themselves, the world and how things work. Dramatic play centers also help to strengthen a child's language development (e.g. expressive language, vocabulary), social skills and play skills. Children learn a lot through play!
Construction Dramatic Play
I absolutely love this dramatic play pack because it supports the development of STEM skills and construction play too. Constructive play is where kids get to build and manipulate building materials to create something new. It's also an easy way to turn your block center into a dramatic play center!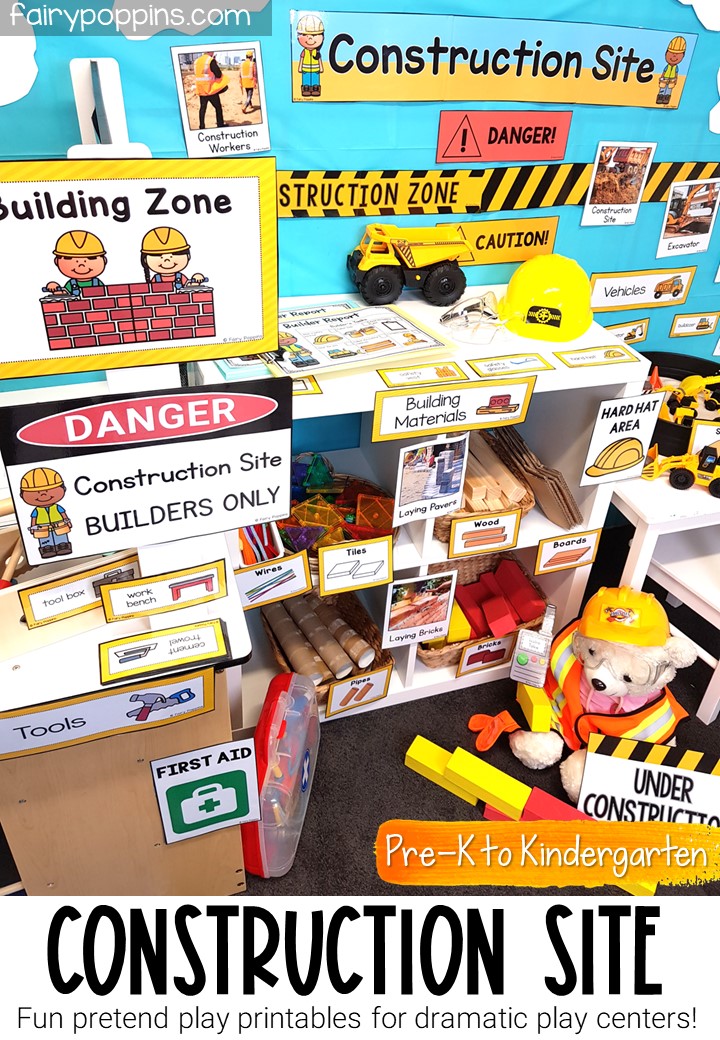 Pin
To set up the building zone area I used mostly everyday construction materials. For example, I added wooden blocks, magnetic tiles and foam blocks. I also used some recycled cardboard to act as boards, recycled tubes to be pipes and chenille sticks to be pretend wires.
STEM Challenges
Being a building zone, I thought adding some STEM challenges would be a perfect addition. So I created some STEM challenge task cards with real photos of structures the kids can make. For example, in the photo below the building materials have been used to create a bridge and ramp.
Construction Site Printables
I've added a lot of fun printables to this pack such as real photos of construction sites, construction tape, banners and more! The brick layer report and builder report can be added to the building zone area so that the kids can learn about what construction workers do.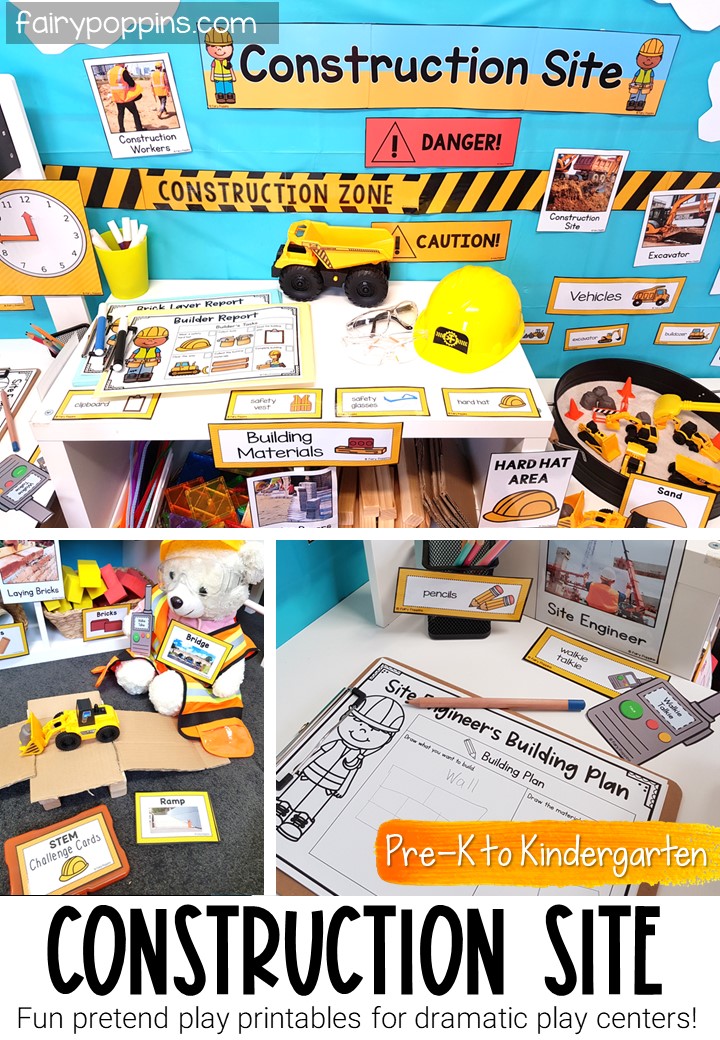 Pin
Kids can also pretend to be a site engineer by drawing what they want to build and the materials they'll need. Then using the printable walkie talkies they can let the builders know what to do.
Other Construction Activities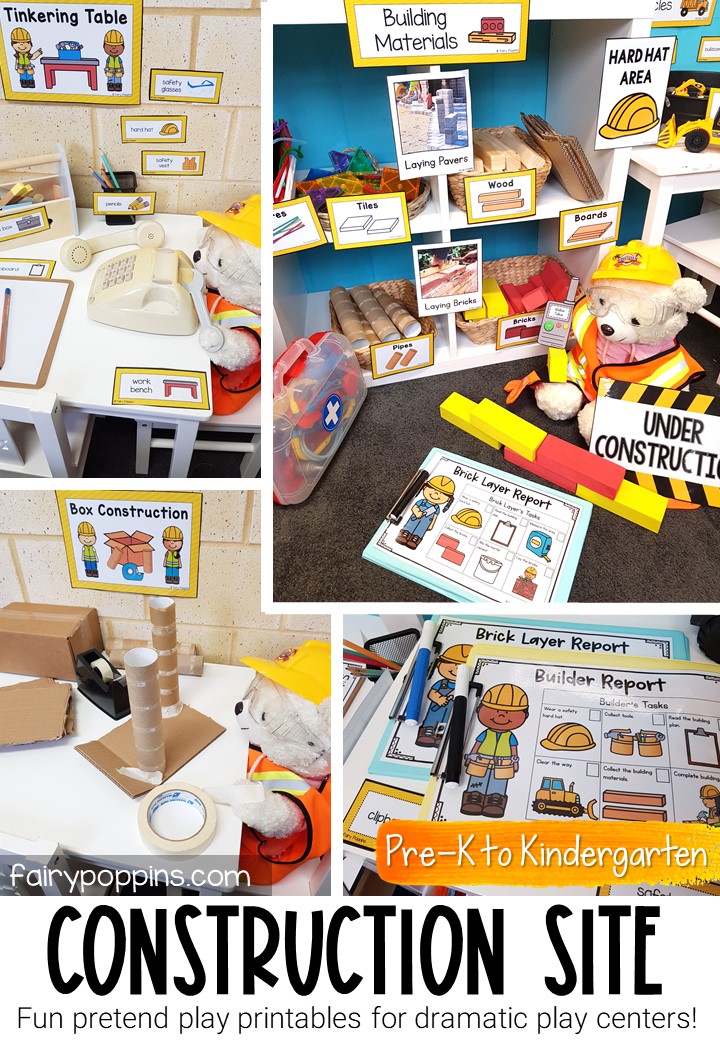 Pin
I've also added in two hands-on areas where kids can further develop STEM skills.
Tinkering Table – Here the kids can pretend to fix things such as old telephones, keyboards etc. You just need to add a few props like play tools and things for the kids to fix.
Box Construction – This has always been a favorite in my class. I usually ask families if they can donate some recycled materials such as boxes, egg cartons and containers that the kids can use for building. Then on a large table I set up some masking tape or sticky tape. Then the kids just need to plan what they want to build, find the recycled materials they need and enjoy constructing their own unique structures. I absolutely love seeing what they come up with!
You can learn more about all of the activities below. I've included a more comprehensive set of instructions within the actual pack.
More Construction Activities
You may also love these FREE Constructing Shapes Activities.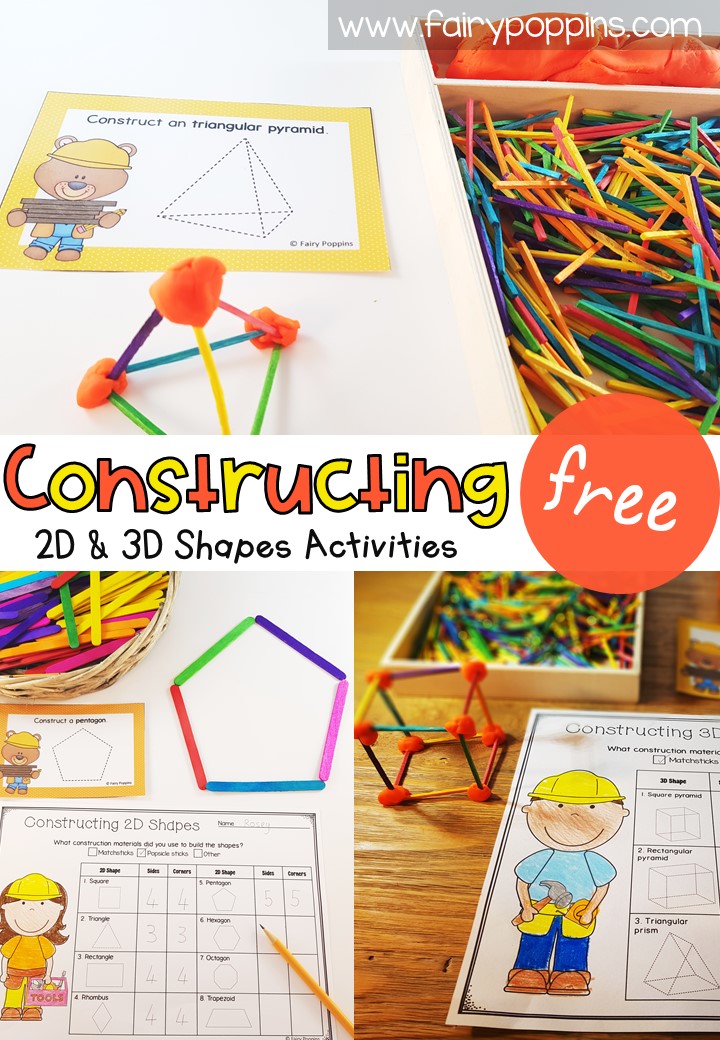 Pin