These Easter literacy centers are filled with fun, hands on activities to help your students build their literacy skills! The skills covered include letter identification, letter formation, ABC order, beginning sounds, rhyming, syllables, sight words and CVC words. These activities are designed for children in Preschool, Pre-K and Kindergarten.
Alphabet Activities
Preparation – Begin by printing and laminating the resources for added durability. Then grab some zip lock bags and store the center pieces inside. After that you'll need to get some magnetic letters, bingo daubers and writing pencils.
How to Play – Start by reading the instruction card and collecting the materials you'll need. Then model to the kids what they need to do.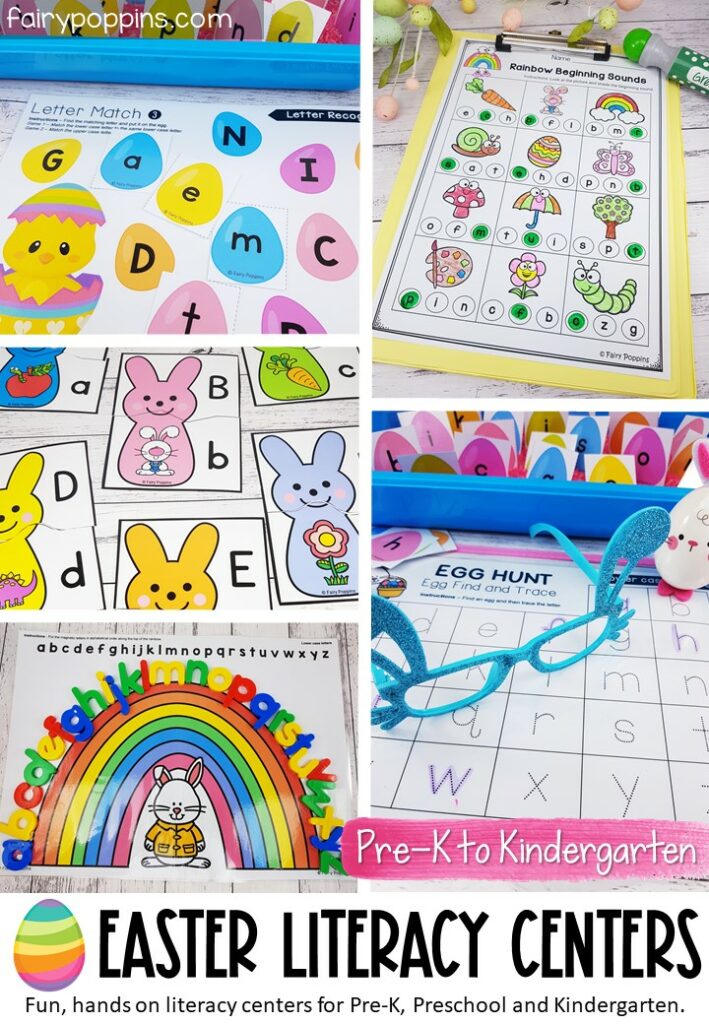 Pin
Grab these Easter Literacy Centers here
How to Make Colored Rice
Many of the activities in this pack are fun to use with a sensory bin filled with colored rice. If you don't have a sensory bin as yet, I've actually found cat litter trays to be really useful – just make sure they're new! I've used the following method to dye oats and pasta too. It's super easy!
Preparation – Grab some rice, white vinegar, food coloring and a large zip lock bag.
How To – First put a few cups of rice into a large zip lock bag. Then add a few drops of food coloring and a small splash of white vinegar. Next seal the bag and give it a shake until all of the rice has changed color. Finally empty the rice into a sensory bin and allow it to dry out.
Syllables & Rhyming Activities
These include some hands on sorting activities and an extension worksheet. With the rhyming activity, I recommend laying out a few puzzles at a time. For example, lay out the puzzle with the picture of the jet. Then ask "What rhymes with jet? Jet, tub or jet, wet? Limiting the answer options and hearing the repetition of the word helps kids to identify the rhyming word.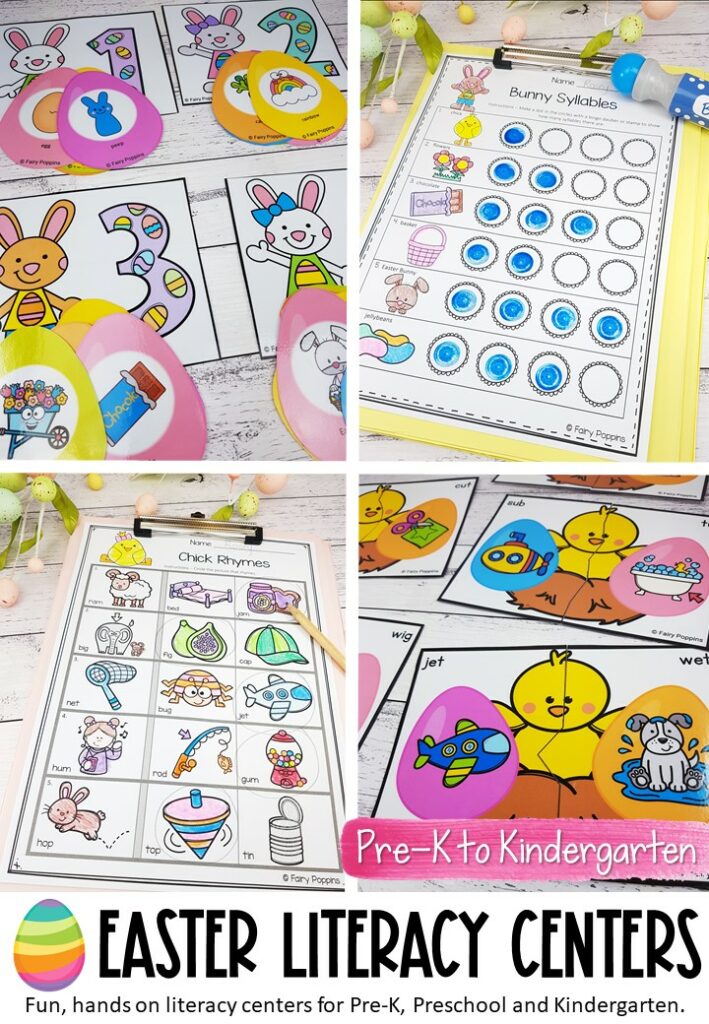 Pin
Grab these Easter Literacy Centers here
CVC & Sight Words Activities
The Bunny CVC words center is great for teaching kids how to sound out (segment) CVC words. Best of all, it's designed to be used with plastic Easter eggs and I find kids LOVE any activity involving plastic eggs!
Preparation – Put the CVC picture cards inside the plastic eggs.
How to Play– Start by cracking open an egg and saying the word. Next say the word and sound it out. For example, gum /g/ /u/ /m/. After that spell the word on the mat with magnetic letters and then write it on the recording worksheet.
I've also included some fun activities such as puzzles for kids to work on onset and rime. These activities also feature CVC words.
Grab these Easter Literacy Centers here
The sight words mat and sensory bin is a fun way for kids to learn about Pre-Primer and Primer sight words.
Tip – Dry erasable pocket sleeves work really well with this activity. I find them SO much easier to wipe clean versus a laminated page. I found mine online from eBay, but I've seen them in office supply stores too.
How to Play – Choose four words from the sensory bin and place them on the sight word mat. First read the word, second build the word with magnetic letters and finally write the word with an erasable marker. The kids can also write the sight words on the recording worksheet.
I hope your students have a wonderful time learning about Easter!
More Fun Easter Activities
This Easter dramatic play center is a fun way for kids to engage in pretend play. Learn more here.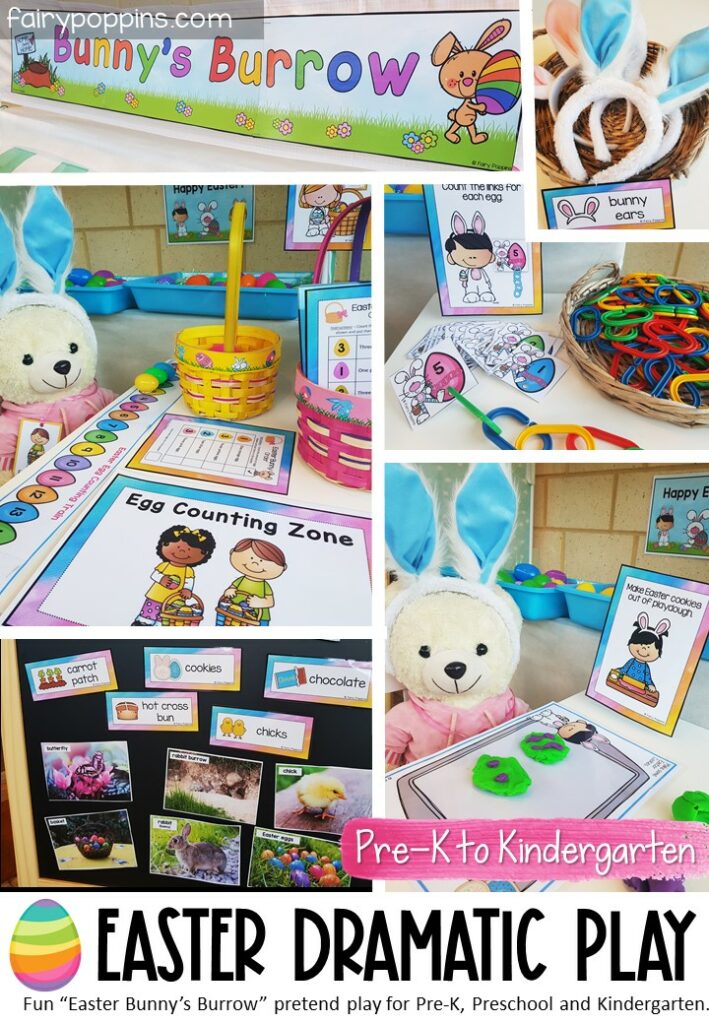 Pin
You may also like these writing crafts which include a leprechaun, shamrock, pot of gold and rainbow craft templates. Learn more here.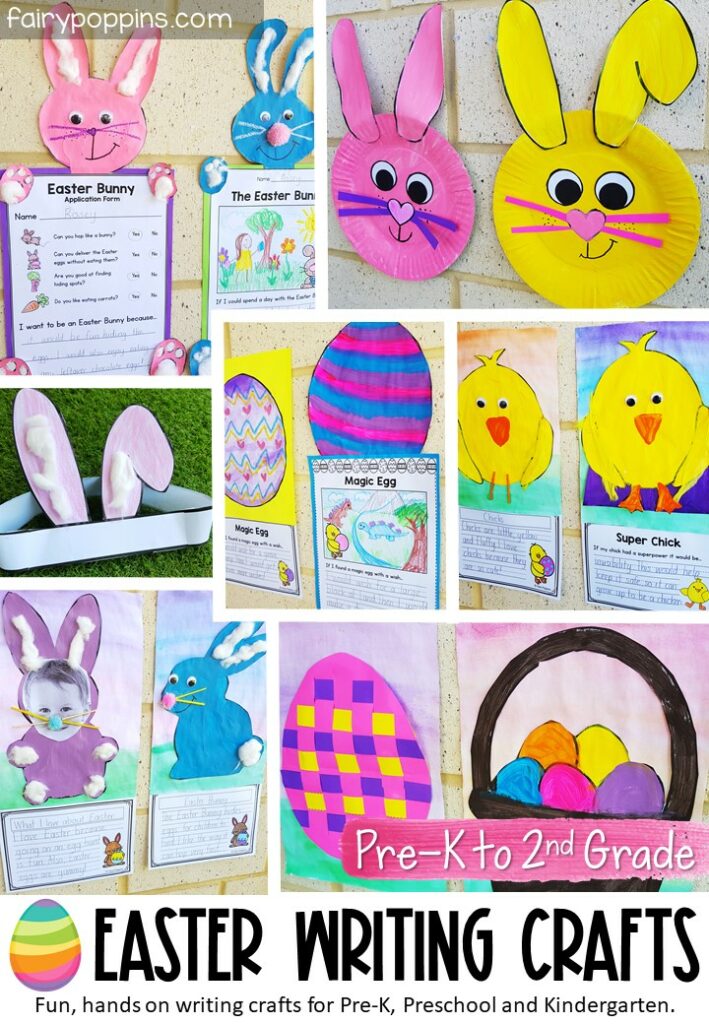 Pin
There are also some Easter Math Centers available here.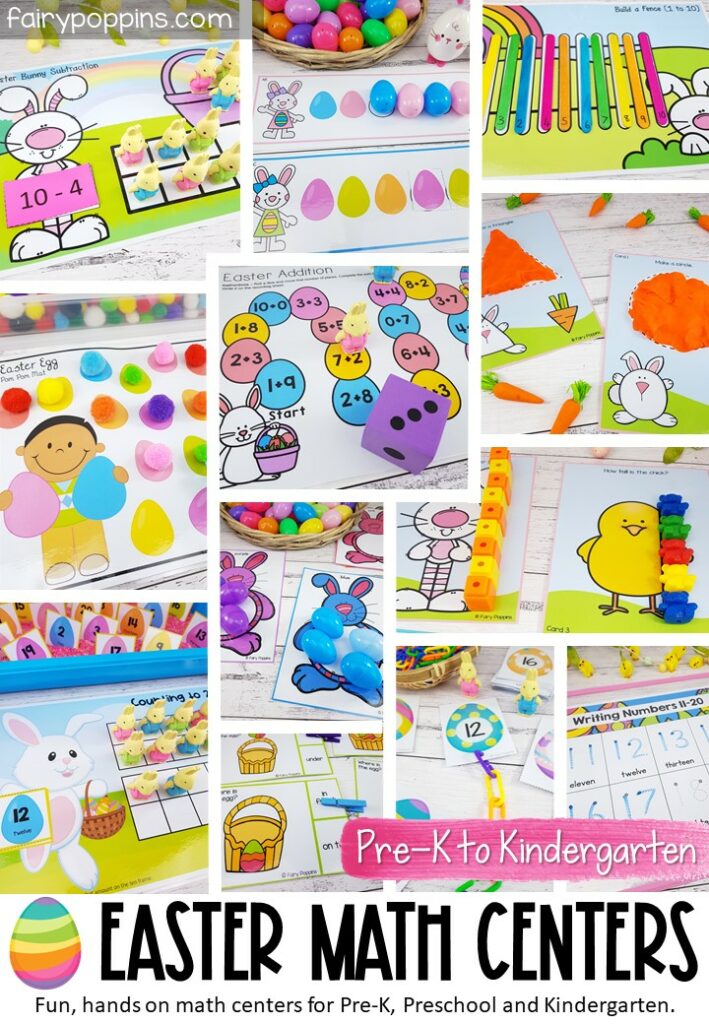 Pin