Home Dramatic Play Center
These home dramatic play center printables came about because I wanted to extend learning in traditional home corner set ups. These dramatic play centers include a kitchen, nursery, laundry, office and dress ups!

The following home dramatic play center printables feature resources such as signs and labels.
I created some posters for each area which model how the children can care for that space. For example, in the nursery the kids can look at the sign "Caring for Babies" and see that they can feed, hold or bath the baby.
Kitchen Home Corner Printables
A pretend kitchen is often a feature of a home dramatic play center. Kids love to pretend they're cooking and serving their delicious treats! There seems to be a trend towards using realistic looking kitchen items. I found some really cute kitchen ware at Ikea.
I created a variety of labels for various items such as an oven, tea set, kettle and aprons. They are designed to be mixed and matched with whatever resources you have available.
Kids really love the printable shopping list which comes in both a color and blackline version. I laminated the color version so it can be re-used with an erasable marker.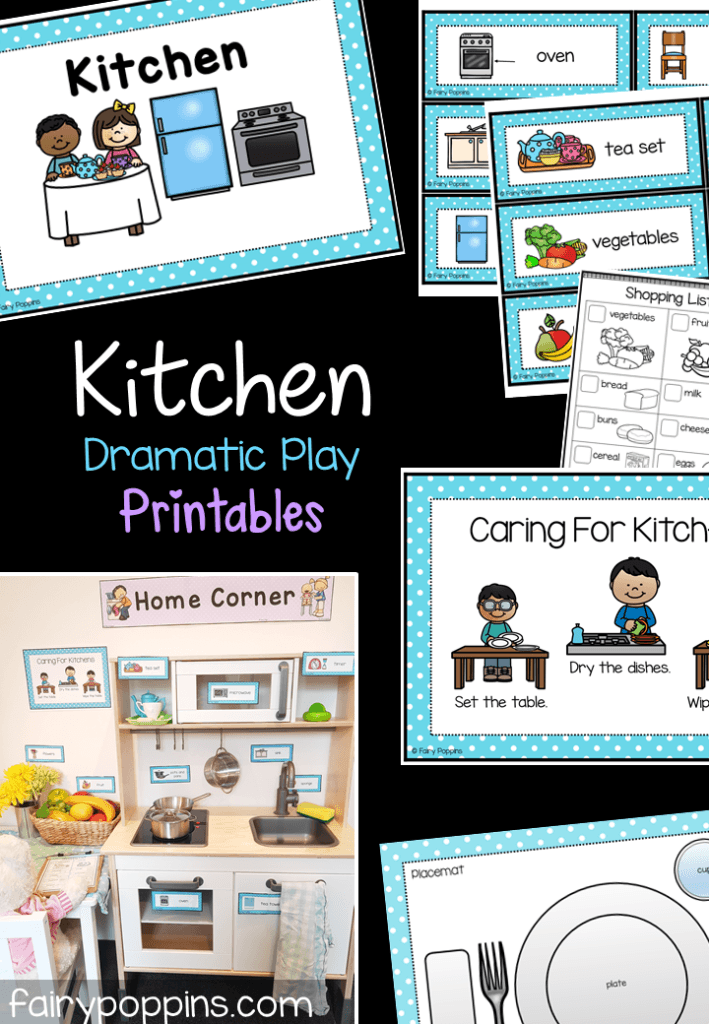 Pin
Nursery Home Corner Printables
A nursery dramatic play center is always another hit in my class. The kids love caring for the babies!
This home dramatic play center is fairly easy to set up. All you need is some baby dolls and some blankets. Other items that are useful include dolls beds, toy strollers, baby clothes and accessories such as bottles.
In the summer time, it's fun to set up the water trolley as a baby bath station. Kids love washing the babies, drying them off with real towels and wrapping them up in blanket.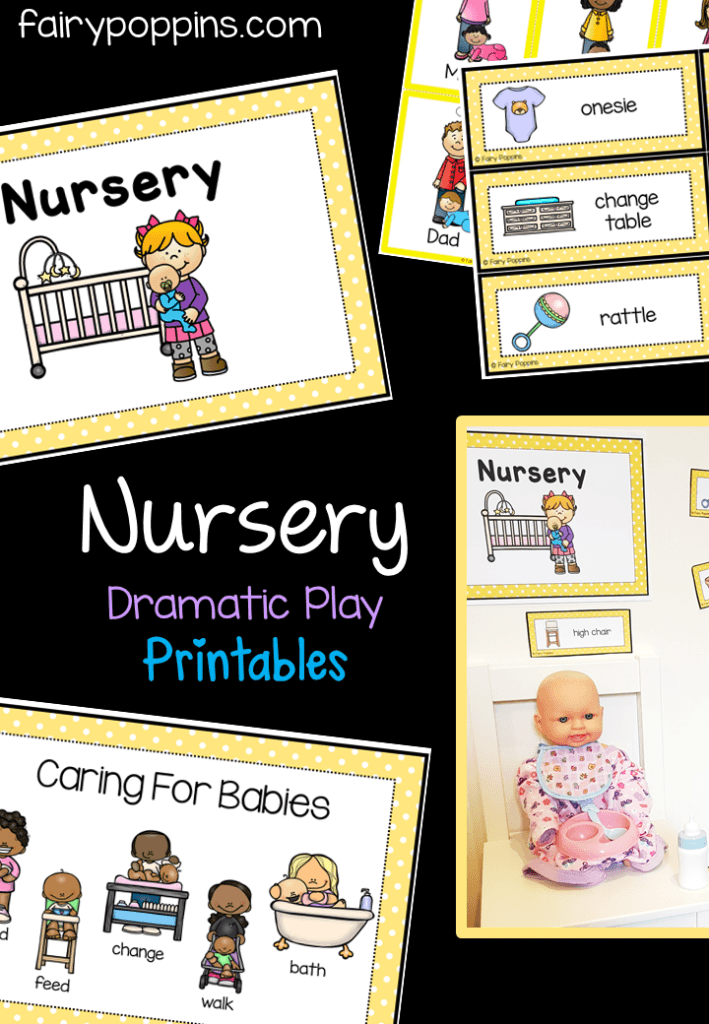 Pin
Laundry Home Corner Printables
I once had the cutest mini washing line in one of my classrooms, the kids loved it! The good thing about setting up a laundry in your home dramatic center, is that you can easily make a washing line with a piece of string.
I made a mini washing line by tying the string to two chairs. Then I placed some pegs and dolls clothes in small baskets – Barbie clothes are a good size too. This is a great way for kids to develop their fine motor skills.
If you add socks to the mix, this helps kids to develop their visual discrimination skills. I made some printable socks so that kids can learn how to sort socks into matching socks and odd socks. Because everyone knows, there is always that infamous odd sock!
If you're lucky you may have a washing machine as part of your home corner furniture. If not it's easy to improvise, which I usually do, with a cardboard box. I usually cut out a circle, leaving one side attached so that the door can be open and closed.
In my experience, kids are just as happy playing with cardboard box furniture as the real furniture. :)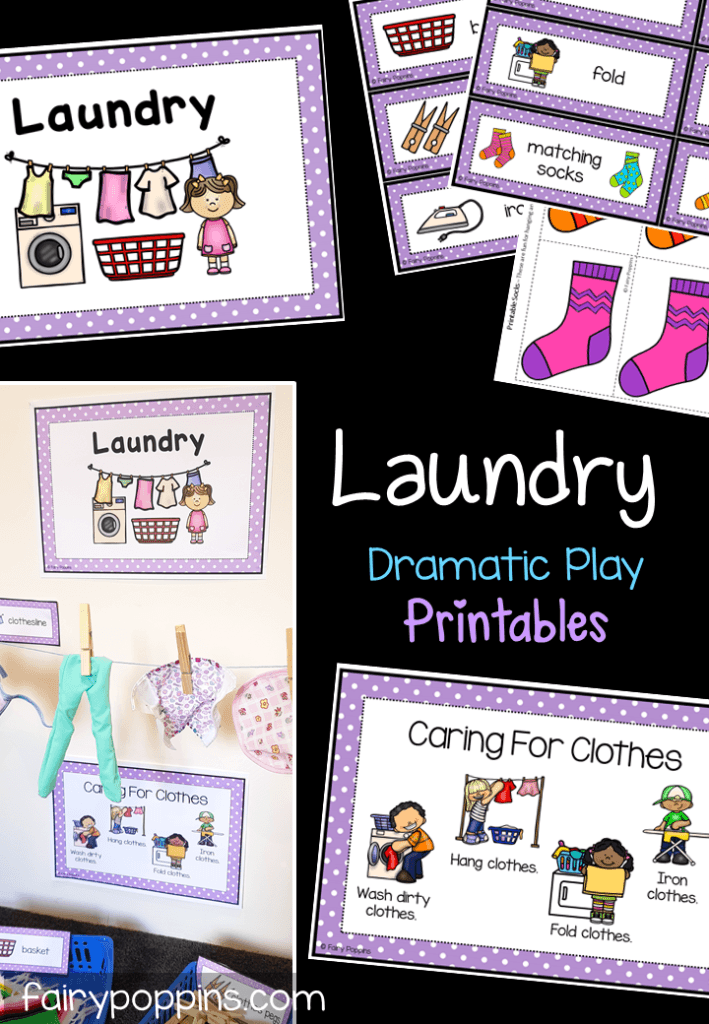 Pin
Office  Home Corner Printables
Setting up an office in your home dramatic play center is usually quite easy, because most likely the resources are already in your classroom.
I made a variety of labels for common office items such as a telephone, lap top and calculator. If you have some old keyboards lying around, these make awesome additions to pretend offices – kids love typing on them! If not, you can print out the lap top keyboard that I made. To make it you just need to glue it onto a thick sheet of card stock and then bend it in the middle. I usually laminate it first and then glue it onto the card with PVA glue.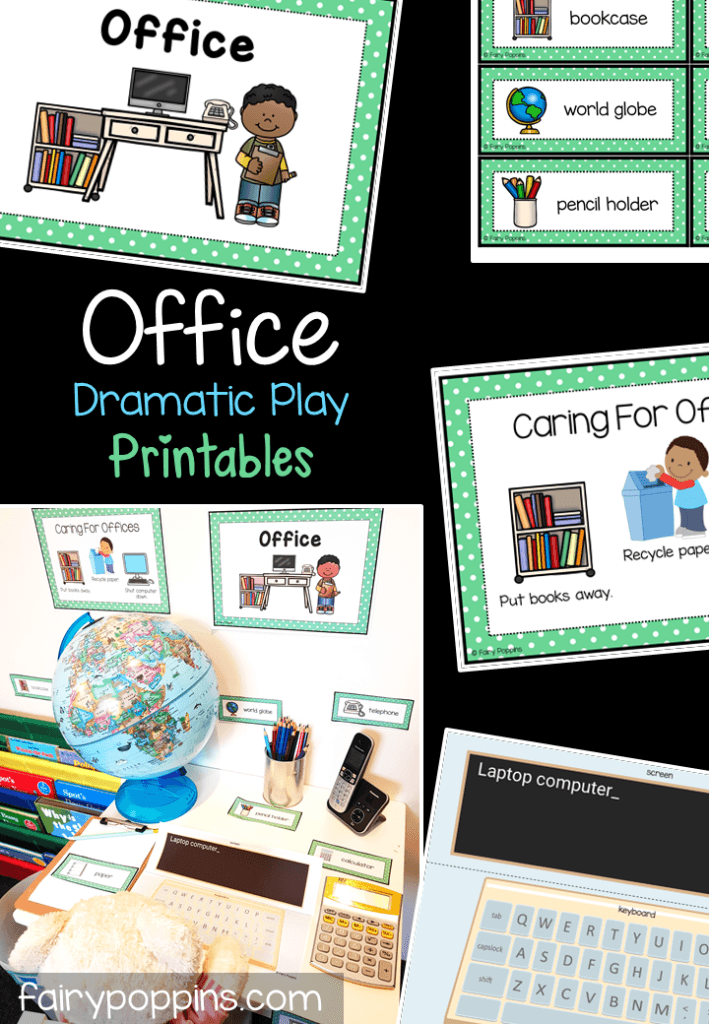 Pin
I hope you find these home dramatic play center printables useful. I love them because it makes it so easy to make minor modifications to your home corner and end up with a new home corner! I usually rotate my home corners whenever I notice children aren't really playing there as much as they were before. Usually a fresh makeover will have all of them eager to play in the home corner again. :)
You can find out more about these home dramatic play center printables here or by clicking on the picture below.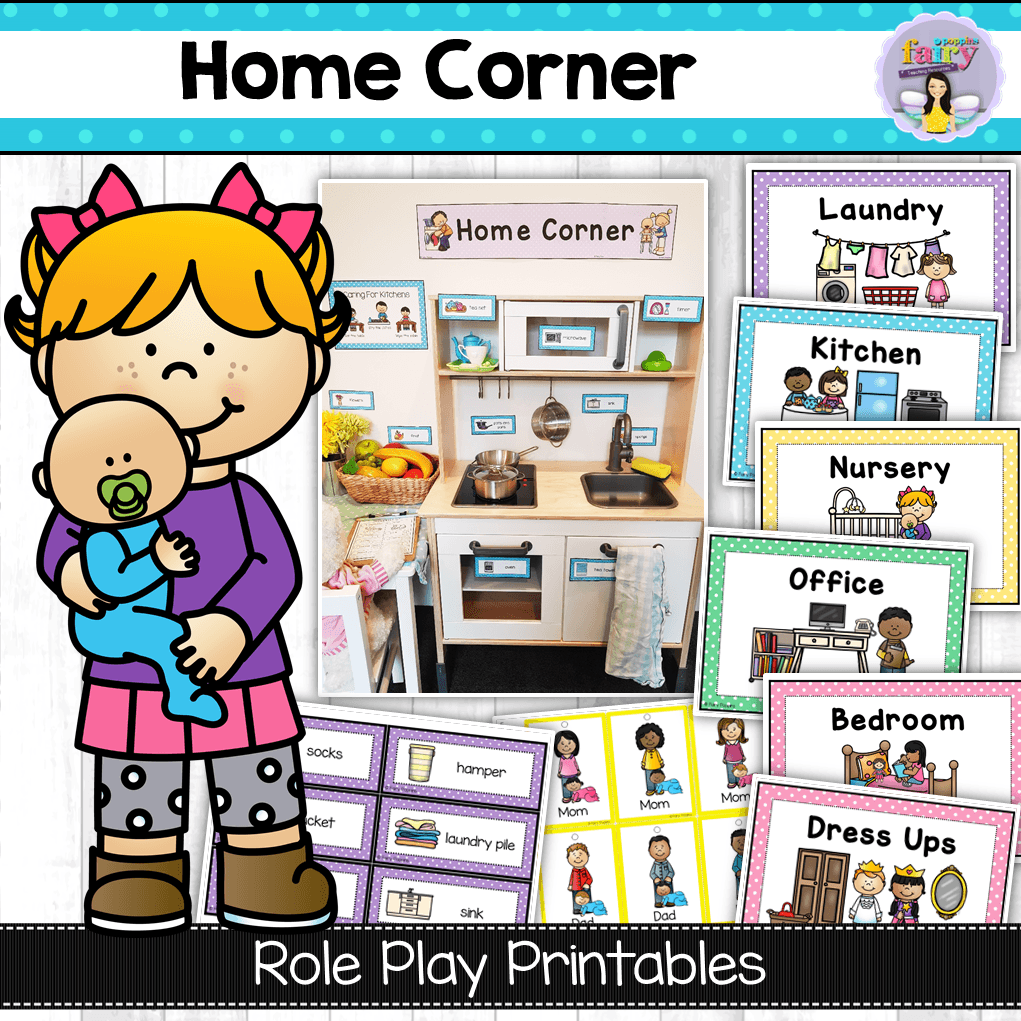 Pin
Happy teaching! :)