How to Create a Visual Schedule for the Classroom
Creating a daily schedule with pictures is a must have in special education and early learning classrooms. A visual schedule helps kids feel secure by helping them to anticipate what comes next throughout the day. I've put together a quick guide to help you create a customized daily schedule for your classroom.
What is a visual schedule?
A visual schedule shows a sequence of daily activities using pictures. The activities in a visual schedule should be displayed in the order they are to be completed. In a classroom setting they're a great way to prepare kids for transitions between activities and to comprehend changes in events.
I use a Scholastic Daily Schedule Pocket Chart for my classroom schedule. You can also display your schedule on a magnetic whiteboard or bulletin board. If you're using a magnetic whiteboard you can add magnetic tape to the back of each label. If you're planning to use a bulletin board instead, you can put some Velcro on the back of each label (hook part).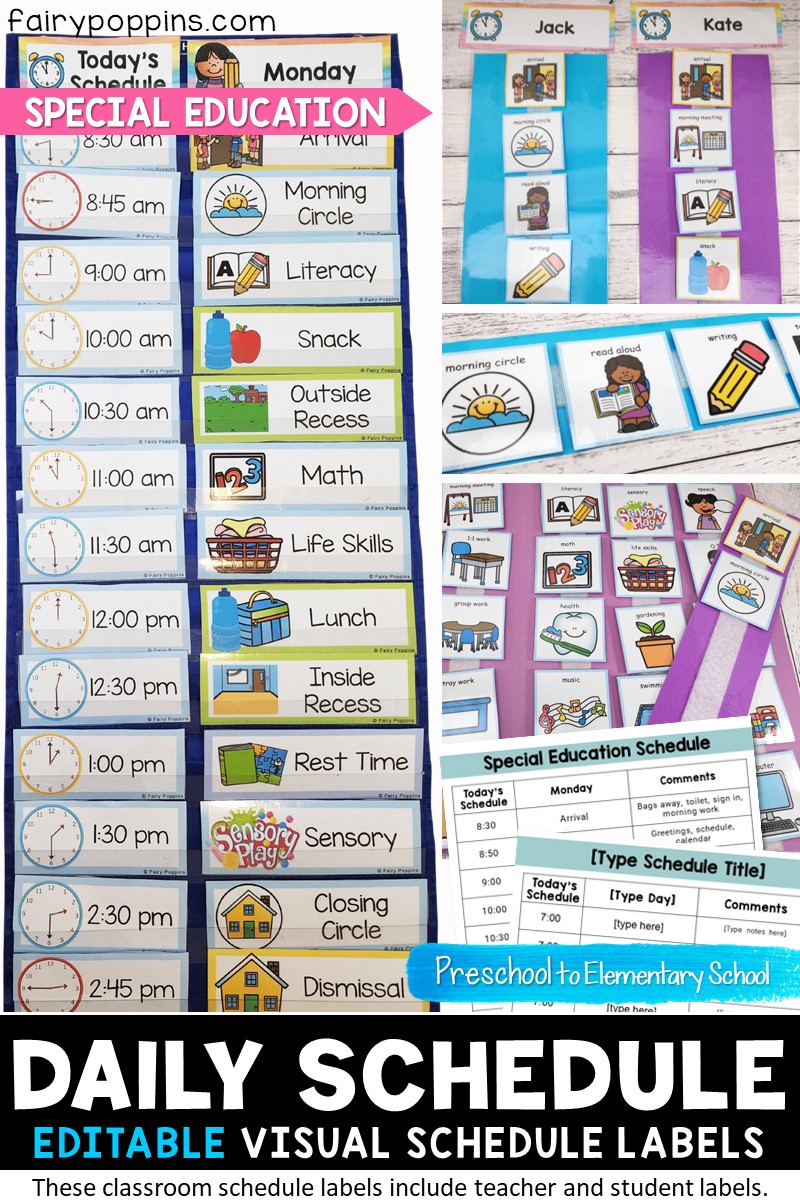 Pin
How To Make a Classroom Daily Schedule
The first step in creating a classroom daily schedule is to break your day into blocks. I begin by writing down all the times that events occur such as when the students arrive, when first period starts and so on. It's helpful to refer to your school timetable and curriculum guidelines, so you know how much time to allocate for each subject. You should end up with a basic outline for each day such as arrival, literacy block, recess, math, lunch, specialty subject and home. Now it's time for the fun part – creating a customized schedule for YOUR classroom!
Tip
Keep your schedule simple! As teachers, we naturally think in micro details but students can get by with knowing the basics. For example, in your mind you might want to add reader's theatre and writer's workshop to your schedule but all a student really needs to know is that they'll be doing reading followed by writing.
I've created a very comprehensive set of labels, including micro level activities such as reader's theatre but personally I prefer to keep it very basic with mostly core subjects and routines.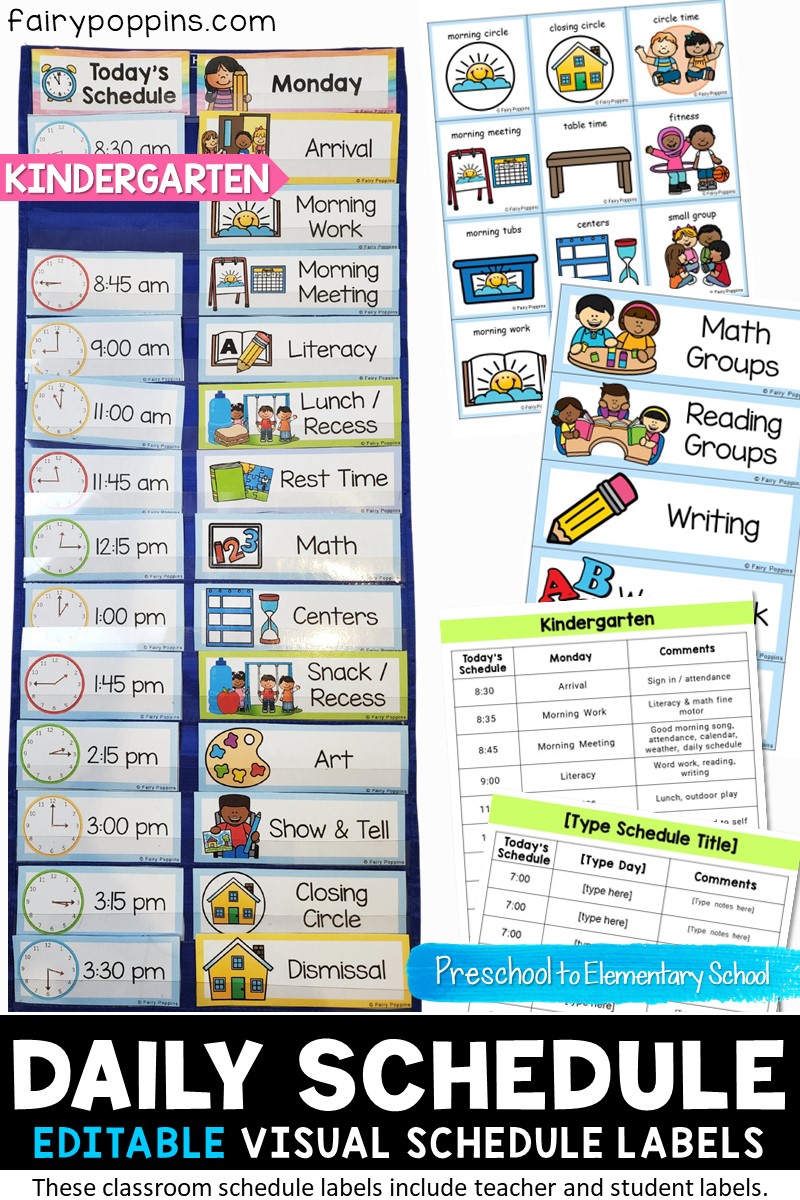 Pin
How To Make a Student Visual Schedule
You can choose between a horizontal visual schedule to put on a student's desk or a vertical visual schedule to place on the wall. I typically prefer the desk version because it's easy for students to refer to throughout the day.
Preparation – First you'll need to cut some A3 sheets of cardstock into strips. Next laminate the strips for added durability. After that you'll need to attach some Velcro (loop part) to the strips and Velcro (hook part) to the back of each card. You may need to tape two strips together if you don't have enough space for your schedule.
Instructions – Begin by going through your daily schedule during your morning meeting. I typically use my teacher schedule to do this. Then as each task is completed, remove the task from the student schedule and place it in an "all done" container. If you make a vertical schedule it's helpful to add two columns. Label the left side "to do" and the right side "all done". Then you simply move the task to the right once it's completed.
Tip
Store your cards in a manila file folder lined with strips of Velcro. I like choosing colors that match the visual timetable.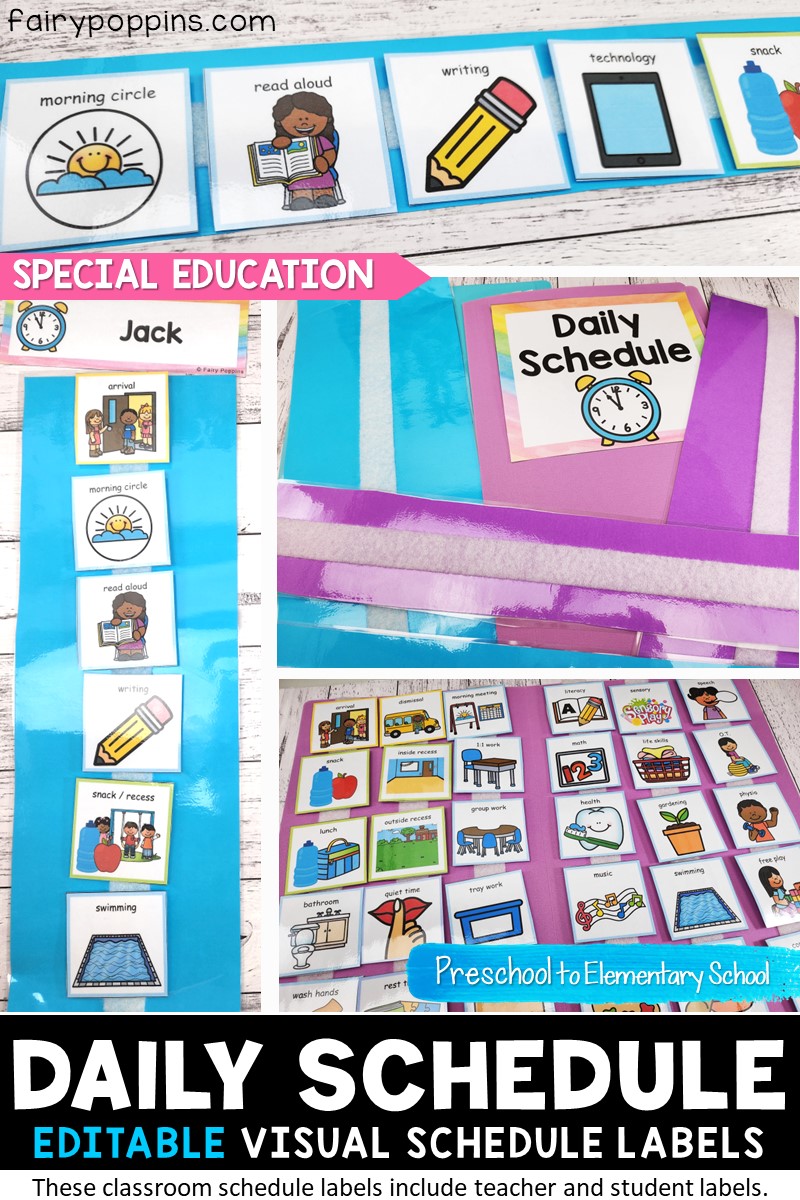 Pin
How Do I Make a Homeschool Visual Schedule
Toddler Visual Schedule – A visual schedule for toddlers can outline the key blocks of your day such as meal times, types of play and routines such as bath time. If you want to create a specific morning or night time routine, you can make flip chart folders. So as your child completes each task they can fold the finished flap closed (see below).
Homeschool Visual Schedule – You can create a full day day schedule which includes things like breakfast, dinner and bedtime. Alternatively, you can create a visual schedule just for the "homeschool" part of your day – a bit like a school day schedule. To do this you'll need to break your day into blocks and outline key events such as snacks, mealtimes, outside play and learning activities (e.g. literacy, math, art).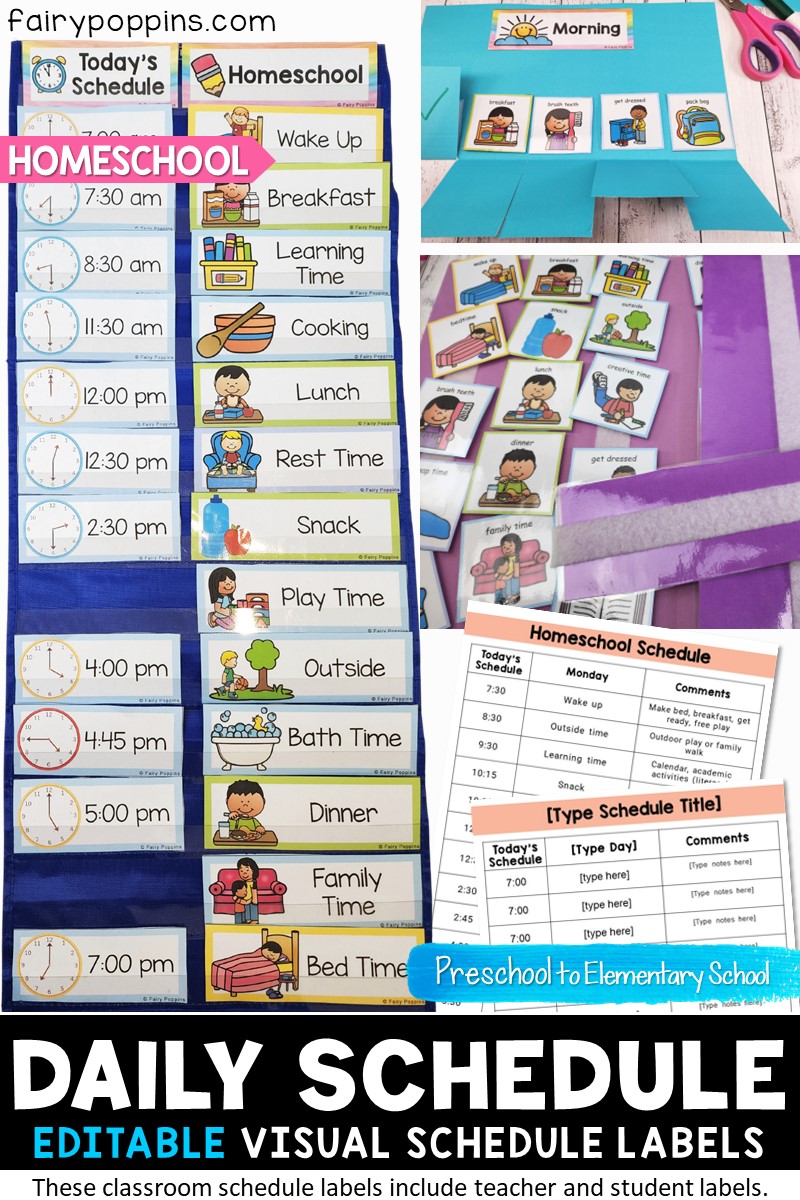 Pin
Examples of Visual Schedules
Here's a few more examples of daily schedules. I recently updated my daily schedule pack so it now includes a comprehensive set of teacher labels, matching student labels, storage labels, example daily schedules and editable schedule planners. You can learn more by checking out the purple download link at the bottom of this page.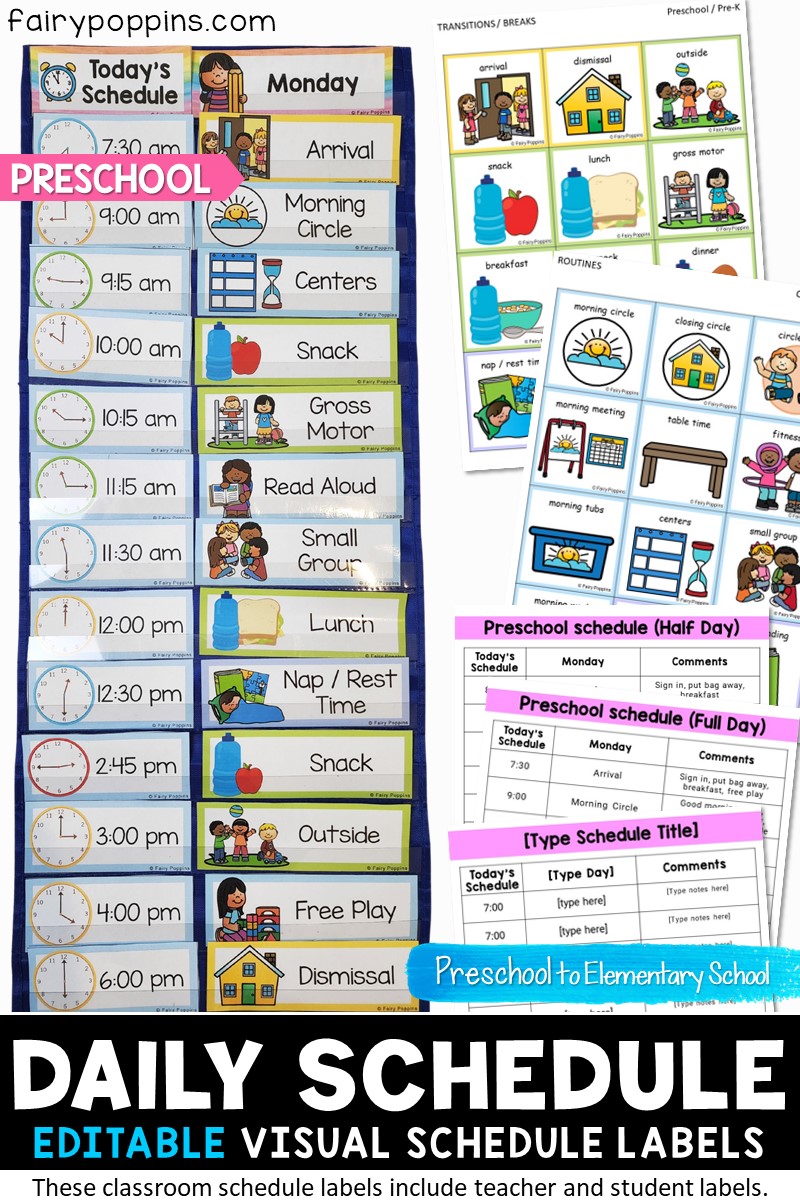 Pin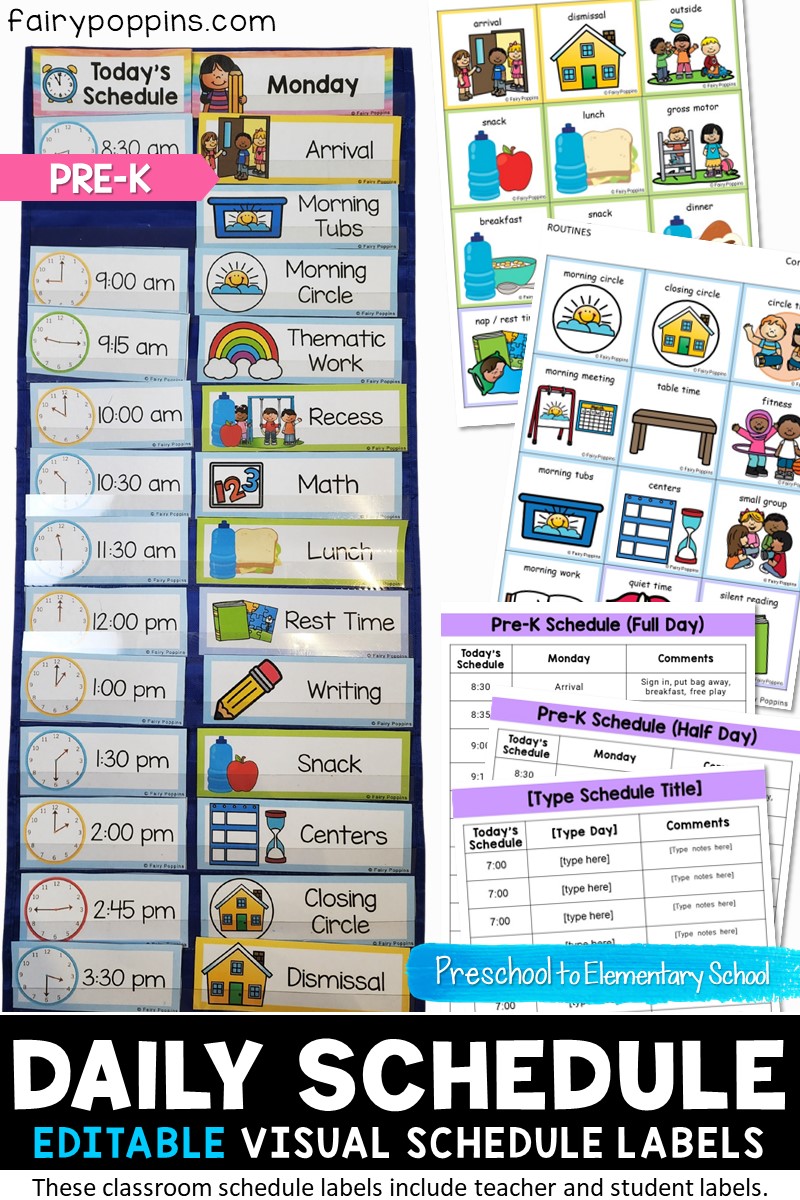 Pin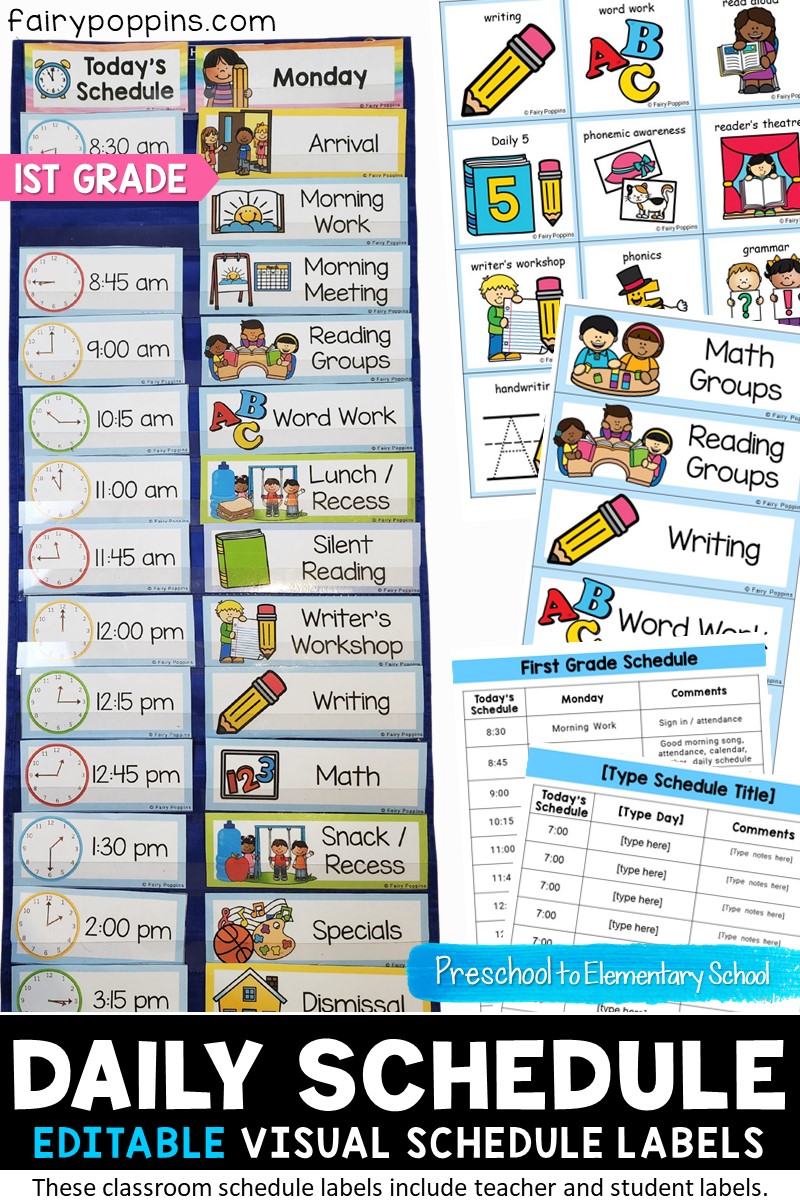 Pin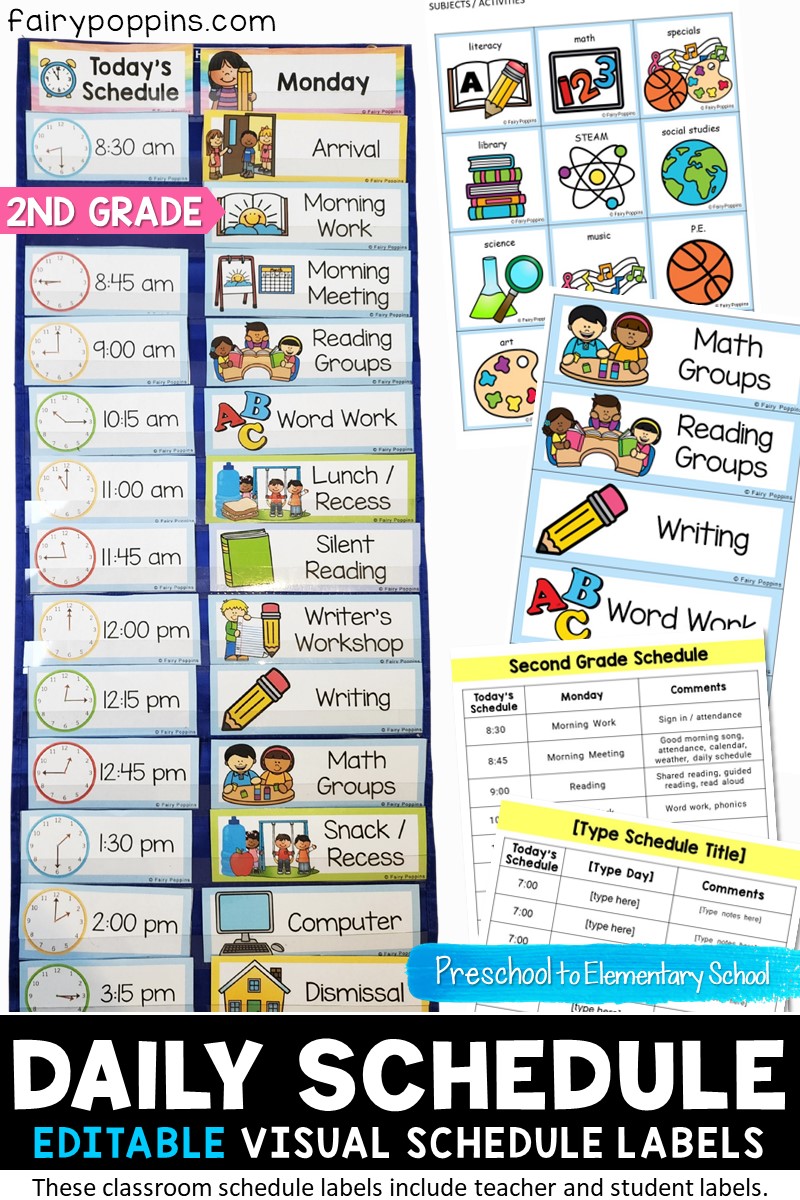 Pin

Pin
Back To School Activities
If you're heading back to school soon be sure to check out these FREE Back to School Activities.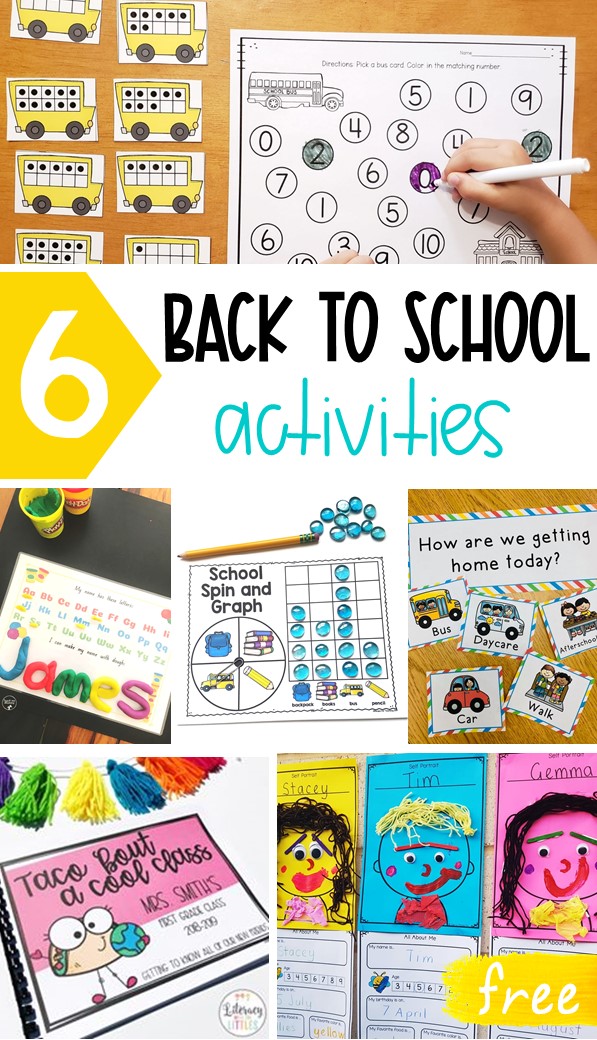 Pin
FROM LEFT TO RIGHT
School Bus Ten Frames Matching Activity // Sara J Creations
School Spin and Graph // Recipe for Teaching
Back to School Transportation Graph // The Simplified Classroom
Name Recognition Playdough Mat // Teach Me Mommy
Taco Bout a Great Class Book // Literacy with the Littlies
All About Me Writing Craft // Fairy Poppins