Medial Vowel Phonics Clip Cards
These cute medial vowel clip cards help kids learn to read short vowels in CVC words. They're a great addition to Pre-K, Preschool and Kindergarten phonics literacy centers.

Medial Vowel Phonics Clip Cards
These phonics clip cards feature CVC words. If you're wondering what the CVC stands for, it is consonant, vowel, consonant. There are five answer options to help kids recall the correct medial vowel sound – a, e, i, o or u. 
Preparation –  Start by printing and laminating the cards for added durability. Next, grab a basket of clothes pin. I love using mini clothes pins, which you can usually find in craft stores.
How to Play – Begin by choosing a card. Then look at the card and say what the picture is. After that place a clothes pin on the sound they hear in the middle of the word. For example, cup has an /u/ sound in the middle.
Tip – Flip the cards over and put a dot behind the answers. This helps the kids to self-correct their answers.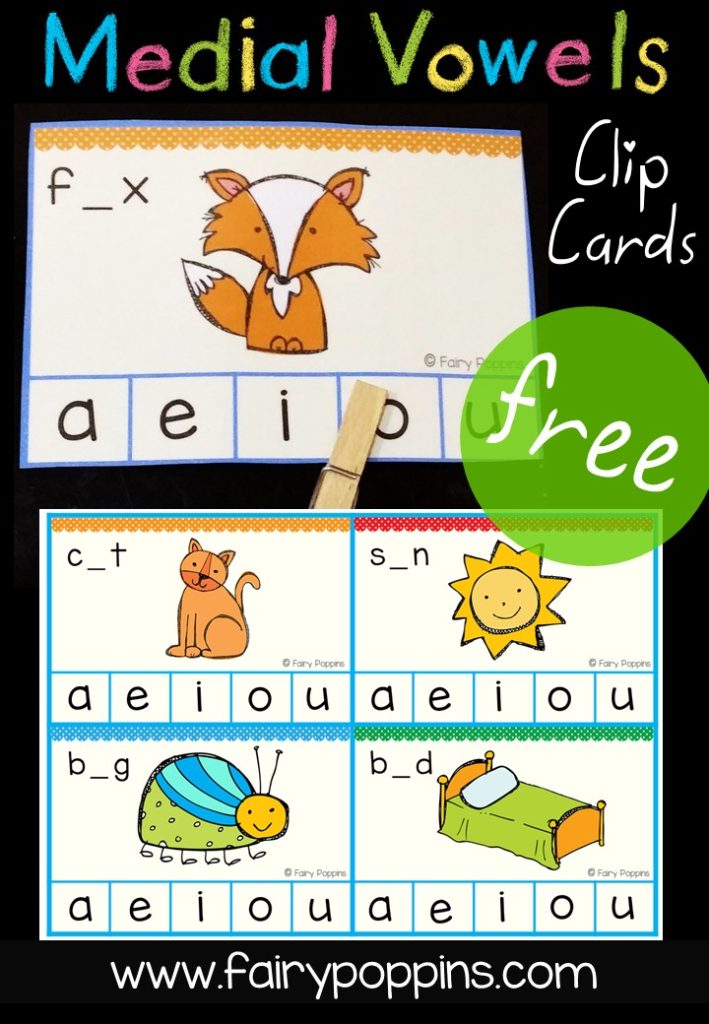 Pin
<<Grab these medial vowel clip cards below.>>

Pin
More Medial Vowel & CVC Activities
You may also like the following CVC Literacy Center Activities. I've recently updated these, so there are cards with with words pre-typed and blank versions as well.