Letter of the Week Activities
Teaching kids about the alphabet and beginning sounds is the first step towards learning to read and write. These fun letter workbooks help kids learn core skills such as letter names, beginning sounds and letter formation. They're awesome for kids in Preschool, Pre-K and Kindergarten.
Letter of the Week Activities
There are many different ways to teach kids about letters and beginning sounds. I've taught at schools where I've introduced a letter day or a couple over a week. The method you choose really depends on your school's literacy program and what works best for your students.
Introducing Letter Names and Sounds
To introduce the letters, I use songs, interactive games or hands-on activities such as sorting pictures. Some of the hands-on activities I do are from this resource here: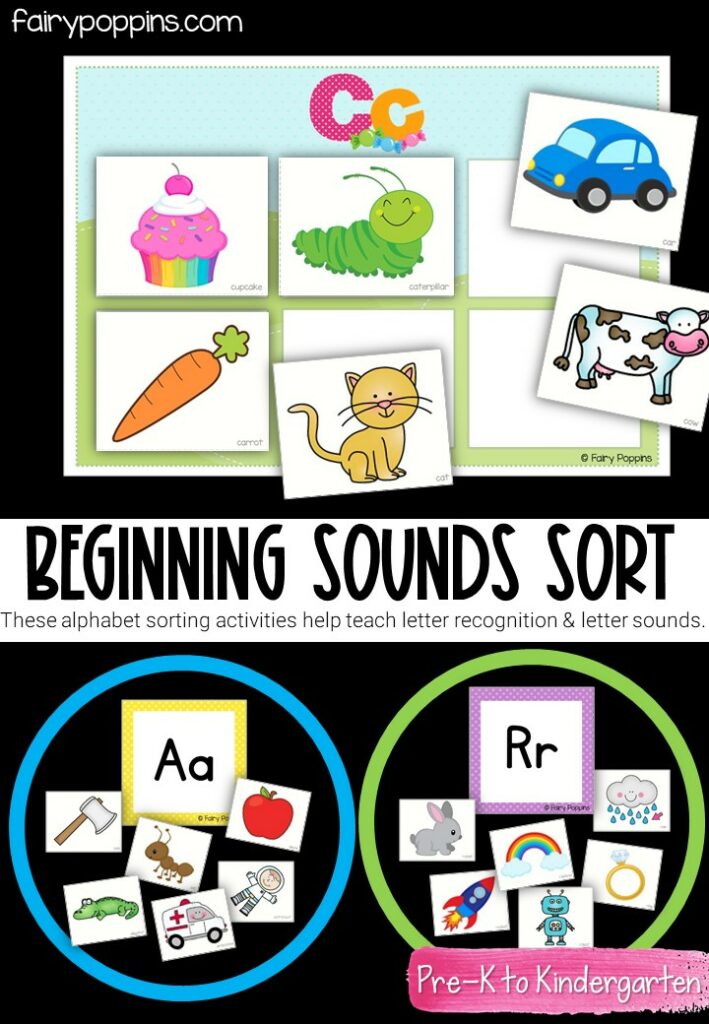 Pin
Here are a few easy games you play with these resources:
Puppet Game –  Scatter some picture cards with at least two different beginning sounds. Then say something like "T-Rex is hungry for something that begins with /a/". Then the kids need to find a picture beginning with /a/, say what it is and feed it to the puppet. For some magical reason, puppets just seem to work with young learners – my classes have always LOVED these types of games!
Sorting Game – Place some pictures into a hat. Each kid takes turns pulling a picture out of the hat and has to say the sound e.g. apple /a/. Then they place that picture near the "Aa" card. Hoola hoops are really useful for sorting activities if you have some. I try to limit the amount of beginning sounds to 2 or 3 at a time.
Dice Game – Place up to 6 letters in a pocket dice. Kids take turns rolling the dice. When it lands on a letter they need to say the letter name and the sound it makes. Then they can either think of something that starts with that letter or find a picture of something that starts with that letter.
Drawing Brainstorm – This is always a fun one to do – kids seem to find it hilarious seeing their teacher's drawings! Basically, write your focus letter on the whiteboard. Then kids need to think of things that start with that letter, which you then draw on the whiteboard. I often do this on an A3 sheet of paper so we can display it along with our letter of the week activities.
Letter Workbooks
After I've spent time working on hands-on letter activities, I get the kids to do an activity from their workbook. I designed a kind of no frills workbook in that the activities focus on practical core skills. I like to focus on what really matters, so tend to avoid activities that just seem like time fillers.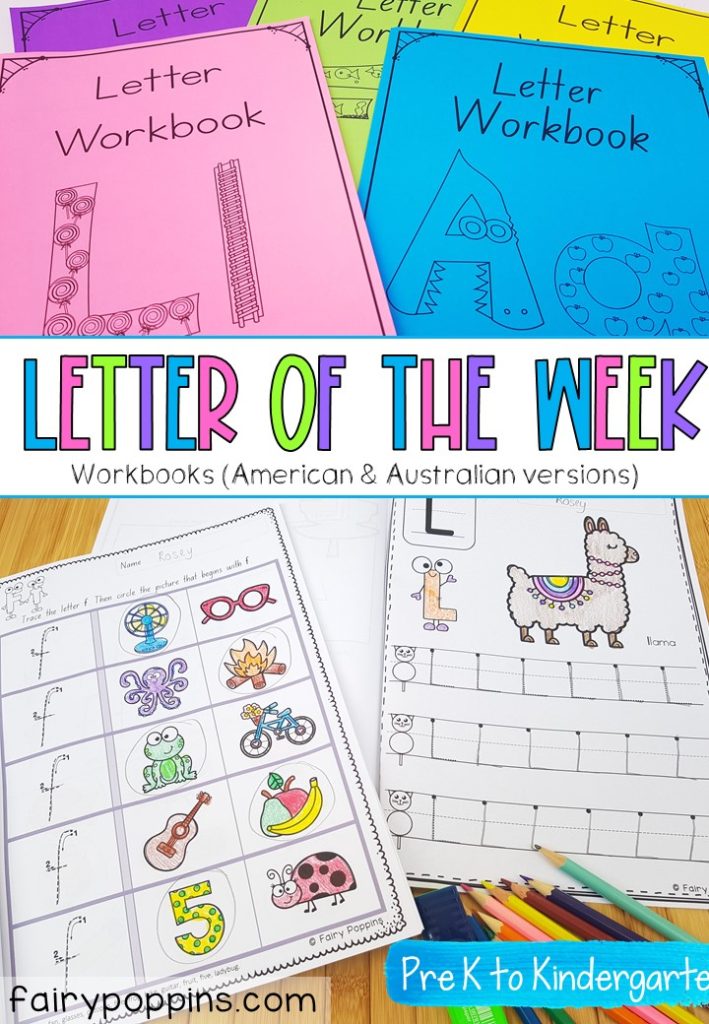 Pin
Preparation – I usually work out the order in which I'm going to teach the alphabet and then incorporate this into my long term planning. As a guide, I usually teach them in this order:
S A T P I N , M R D E H C K, F L O U B G, J V W X Y Z Q
But again, this depends on your school's literacy program.
Next, I print the pages that I want the kids to work on each day – usually double sided to save on paper. For example, early in the week I focus mostly on beginning sounds and forming lower case letters. Towards the end of the week, I begin to focus more on writing upper case letters too. Once I've decided what pages I want them to work on for each day of the week, I make one workbook for each student.
I find it easier being organized in advance, so create a workbook for each term. I recommend printing the cover page on card stock for added durability and adding one page of blank card at the back of the book to help protect it.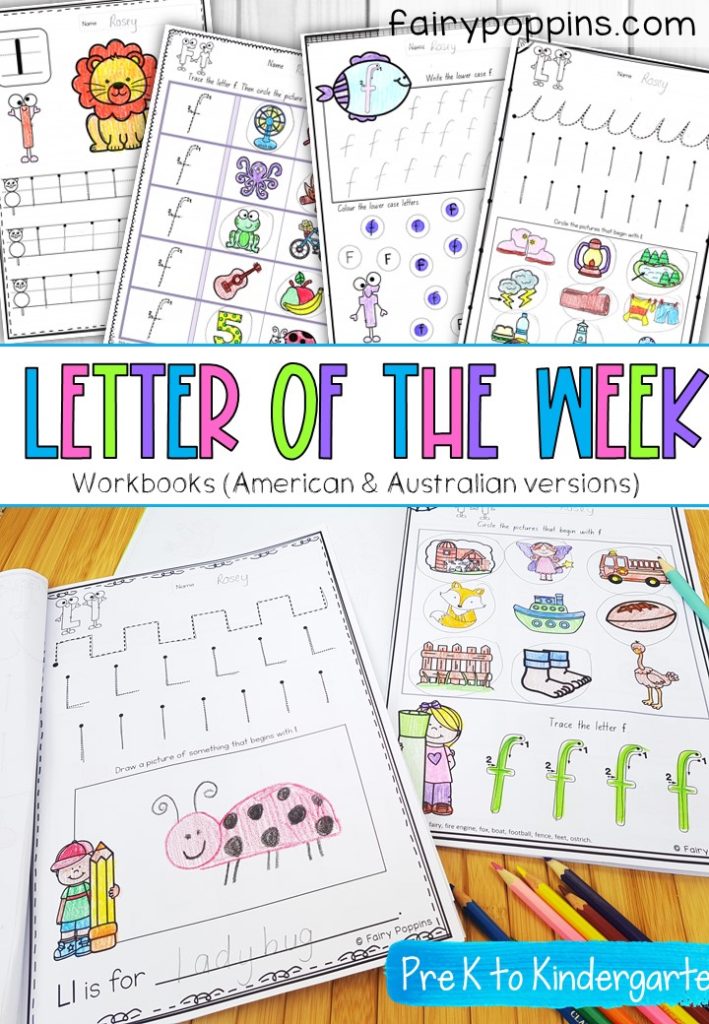 Pin
Alphabet Drive Mats
These letter work mats are a fun way for kids to learn about letter formation and beginning sounds.
Preparation – Laminate the alphabet mats for added durability and grab a basket of toy cars.
How to Play – Kids need to say the name of the letter and the sound it makes. Then they drive their car over the letter, starting where the bus is so they form it correctly. After that they drive their car along the pictures at the bottom of the mat. Name each picture and say the letter sound e.g. robot /r/, rainbow /r/, rocket /r/. To extend learning further kids can create the letters out of playdough or brainstorm other words that begin with that letter sound.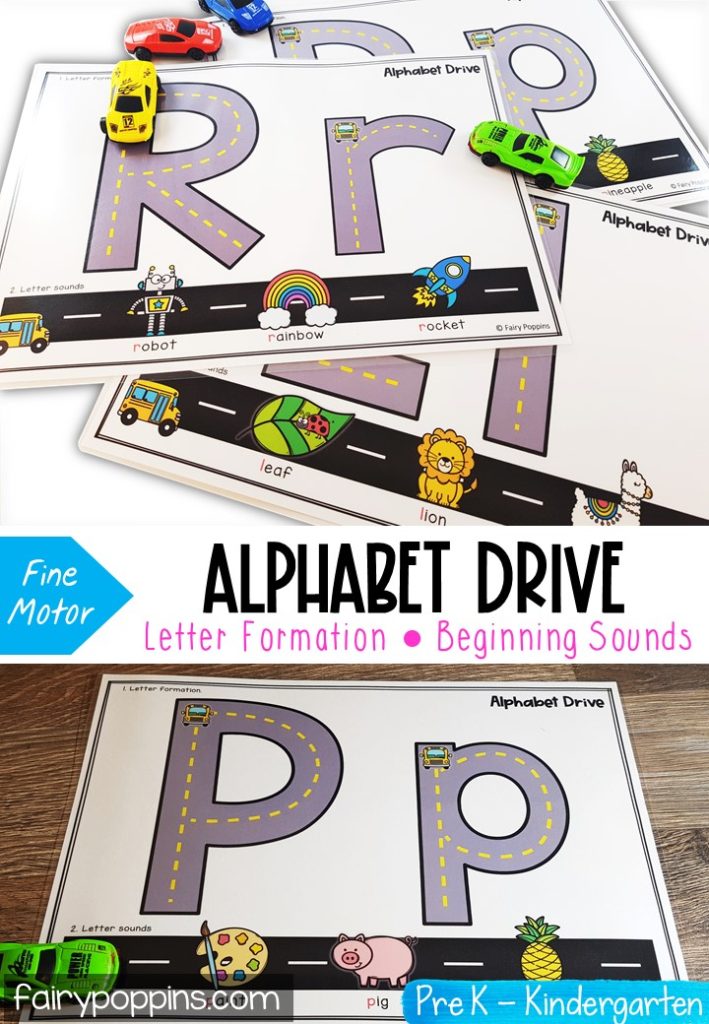 Pin
Alphabet Clip Cards
These free alphabet clip cards help kids learn how to match lower case and upper case letters. They're great for naming the letters of the alphabet and developing fine motor skills too.
Preparation – Print the alphabet clip cards for added durability and grab a basket of pegs (clothes pins). You can add a dot behind each answer on the back of the card, if you'd like the kids to be able to self-correct as they go along.
How to Play – Choose a card and say the name of the letter such as upper case /A/. Then place a peg on the lower case /a/.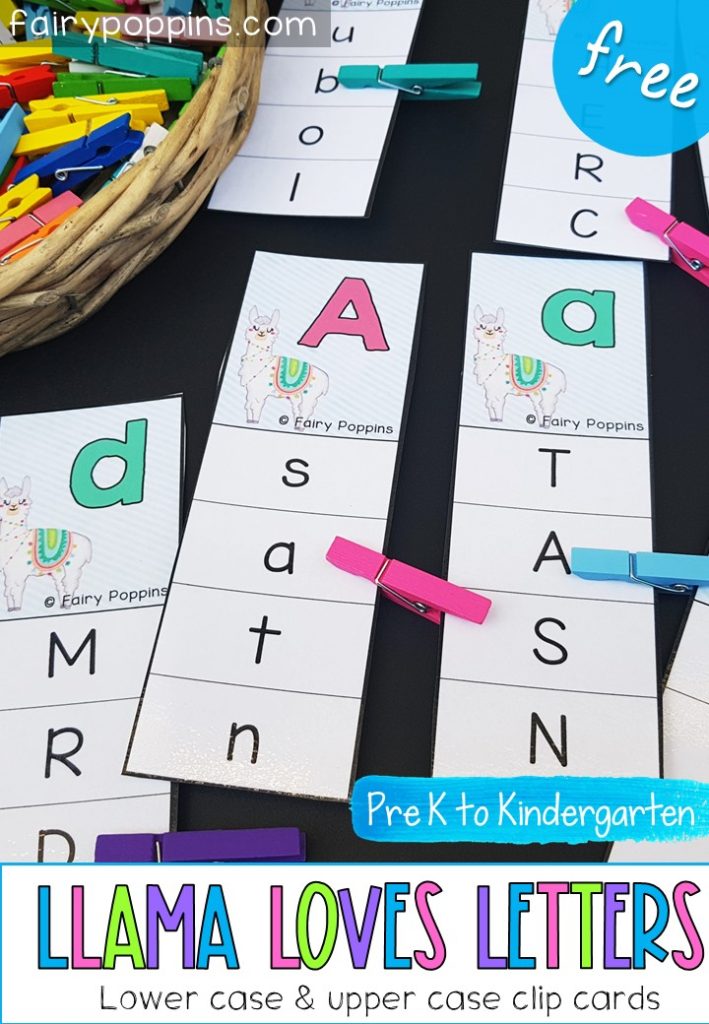 Pin
Grab your free alphabet clip cards below.

Pin
I hope you find these activities useful.
Happy teaching! :)