These FREE letter S alphabet activities help teach kids about letter recognition, beginning sounds and letter formation. They are suitable for kids in preschool or kindergarten.
FREE Letter S Workbook
I'm so excited to be able to share this freebie! Creating a set of "Letter of the Week" workbooks was on my to do list for years and for good reason – at almost 300 pages they took me almost half a year to make! I thought I'd love to share one of the workbooks for free so that you can try it out for yourself. I chose the letter S because this is the first letter I introduce to my students each year.
There are many different ways you can introduce all 26 letters of the alphabet to your students. I don't introduce them in alphabetical order because I've been trained to teach in more of a synthetic phonics style. This is the order I like teaching them in:
S, A, T, P, I, N
C, K, E, H, R, M, D
G, O, U, L, F, B
J, Z, W, V, Y, X, Q
Throughout the workbooks you'll notice that the pictures correspond with the letter sets shown above. So in an "S" worksheet, the supporting pictures only start with an A, T, P, I or N. This gives kids a chance to get familiar with one set of beginning sounds before moving onto the next set. Of course you can still use the letter workbooks in any order that suits you, including alphabetical order if that's your preferred method.
Beginning Sounds Activities
The first few activities help kids become familiar with the letter S and things that beginning with a /S/ sound. Each alphabet worksheet is slightly different. For example, in the alphabet worksheet shown below kids can circle the pictures beginning with /s/ and then write the letter /s/ with a highlighter.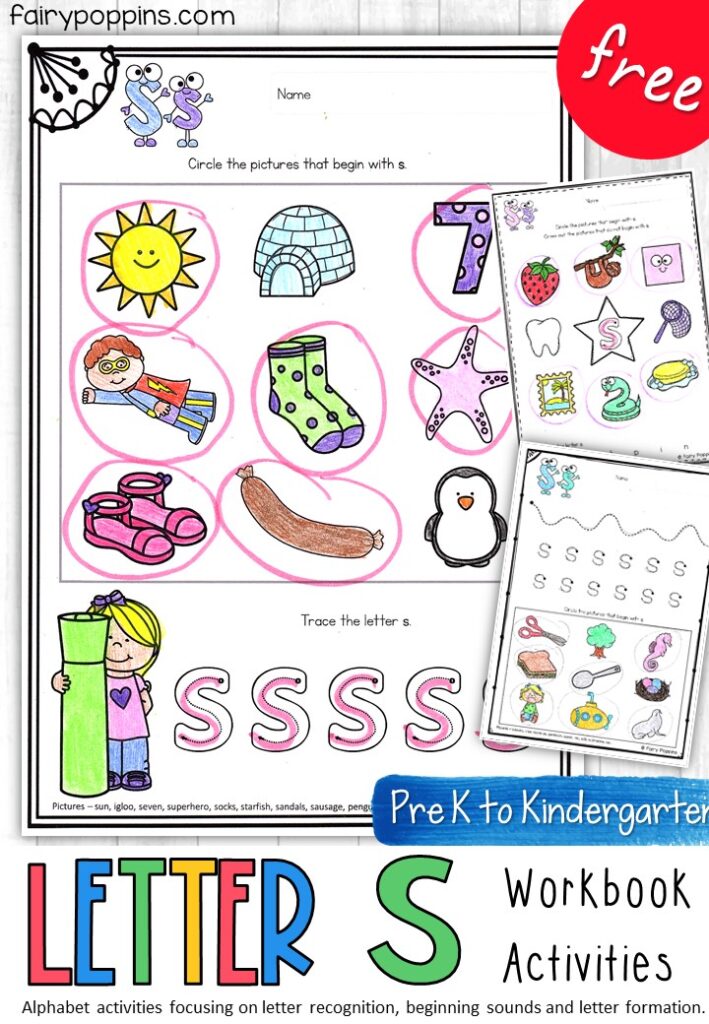 Pin
Beginning Sounds and Letter Recognition
I usually get the kids to learn how to write the lower case letter before moving onto the upper case letters. So the first worksheet shown below helps kids begin to write the letter /s/ while reviewing things that begin with /s/. There's also a letter sorting activity to help kids identify lower case and upper case letters.

Letter Recognition and Letter Formation
The following handwriting activities are great for beginning writers. The lined worksheets have a handwriting cat to teach kids about letters that have a head, body and tail. They also have a dot to help kids learn the correct starting point for each letter. I've also made some worksheets without lines. These are fun for kids to have a go at writing the letter without the added complication of lines.  It is also a fun way of getting kids to identify upper case and lower case letters. The kids can color the letters with a crayon, highlighter or bingo dauber.
<< You can grab these FREE Letter S Alphabet Activities from my TpT store below. >>
More Fun Alphabet Activities
If you are looking for more fun "Letter of the Week" alphabet activities, be sure to check out these Alphabet Fine Motor Centers too. There is a fun fine motor center for every letter of the alphabet, which helps reinforce skills in letter recognition and beginning sounds! Check them out here.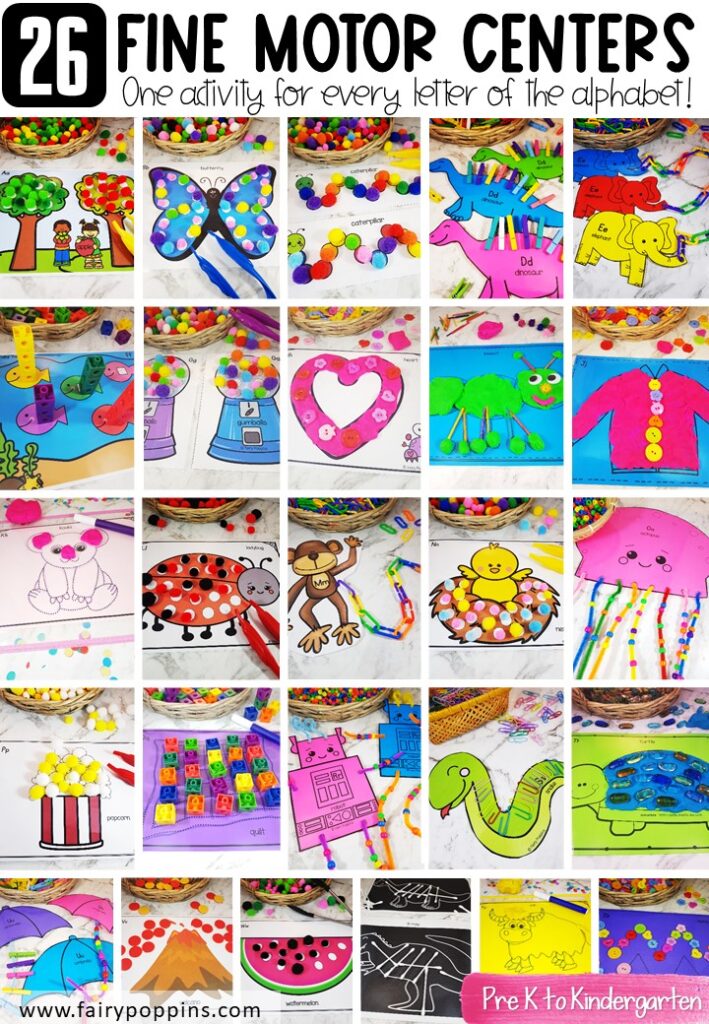 Pin