Library and Bookstore Dramatic Play
This Library and Bookstore dramatic play center is a fun addition to National Reading Month or Read Across America activities. It's suitable for kids in Pre-K, Preschool and Kindergarten, although I'm sure older children will love it too!

Why is dramatic play important?
Pretend play helps kids to learn about themselves, the world and how things work. Dramatic play centers also help to strengthen a child's language development (e.g. expressive language, vocabulary), social skills and play skills. Children learn a lot through play!
Library and Bookstore Dramatic Play
I'm so excited about this new two in one dramatic play pack! It includes printables to set up either a Library or Bookstore.
Preparation – Start by printing and laminating the resources for added durability. Then grab the props you want to include in your dramatic play area. Some of the furniture I found helpful included a market stand (from Kmart Australia), a bookshelf and table.
I created a basic set up with a library help desk, book shelf, book cart and a table for activities.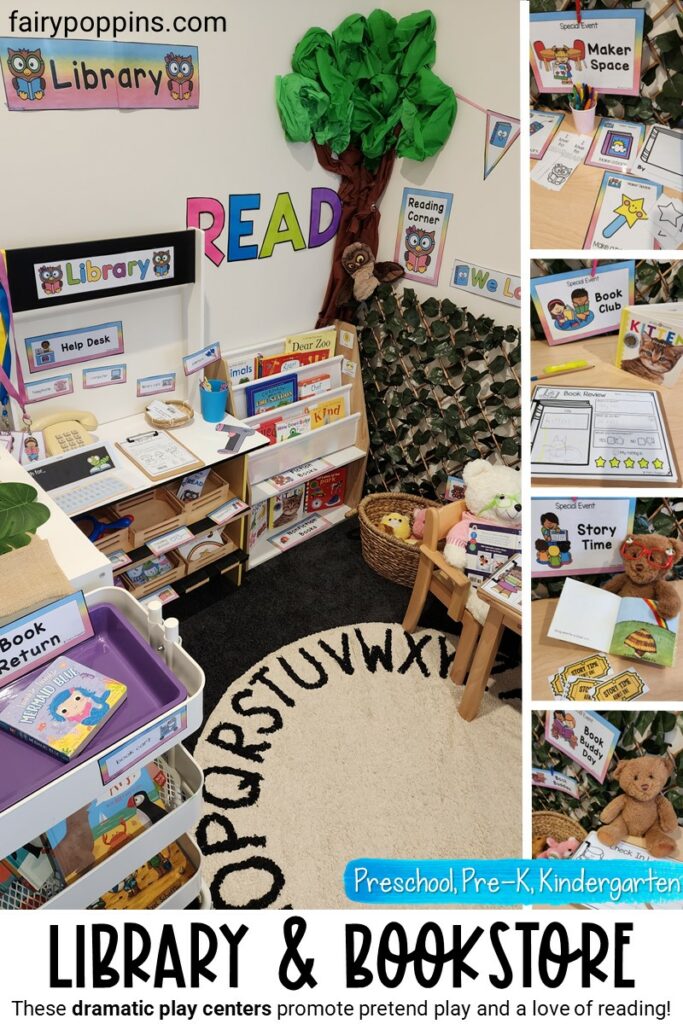 Pin
<<<Grab this Library dramatic play pack here>>>
I used a market stand for the help desk. I added a telephone and a variety of fun printables such as a barcode scanner, library membership application form and library cards.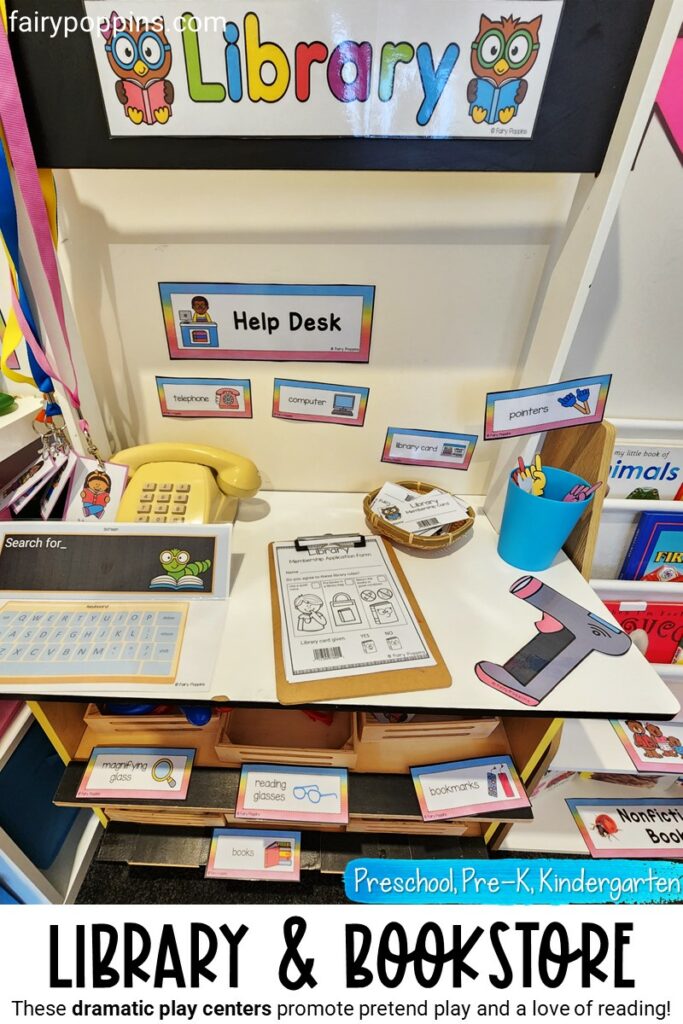 Pin
Book Hospital
Another area I had fun setting up was a Book Hospital! It is such as cute area and my daughter plays in this section all the time – she especially loves fixing the books with the book wand! I made a little book hospital patient form that the kids can complete to help guide them through the process of repairing a book.
<<<Learn more about this Library dramatic play pack here>>>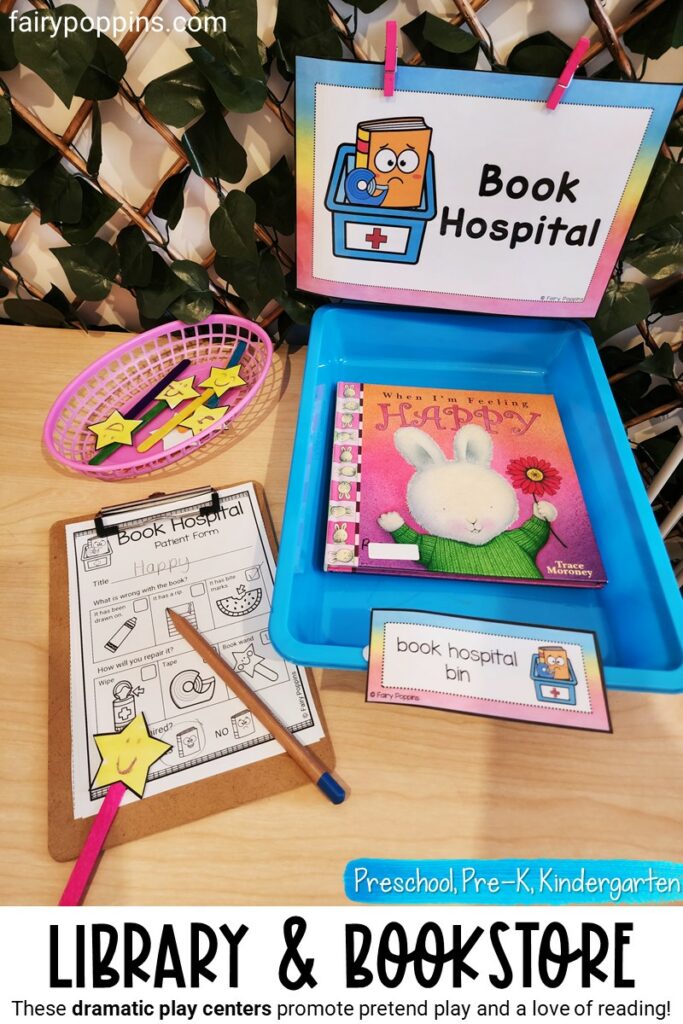 Pin
<<<Get these cute book hospital printables here>>>
In addition to your basic Library or Bookstore set up. I've included a variety of special events you can add such as a Maker Space, Book Club, Book Buddy Day, Book Launch, Story Time or Book Cafe. I really love the Maker Space because kids can create bookmarks, books or a book wand.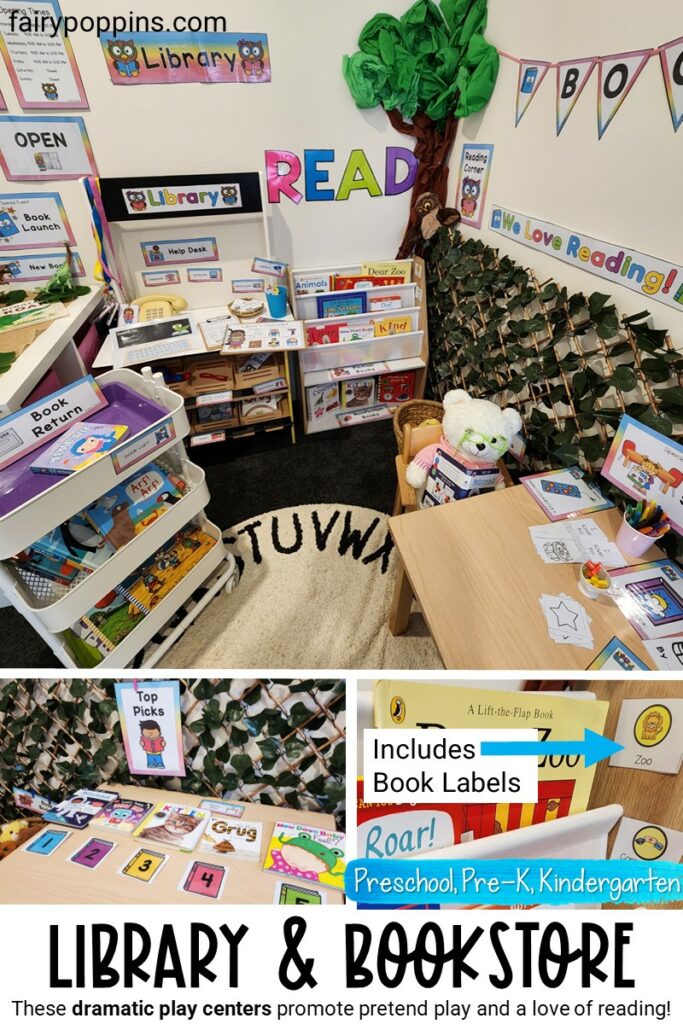 Pin
<<<Grab these Bookstore and Library dramatic play printables here>>>
You'll also find a variety of useful labels to add to your bookshelf such as a large label for fiction and nonfiction books. There are also a variety of smaller labels with popular early childhood themes such as zoo, community helps, dinosaurs, bugs, space, garden and more! These can be added to book bins or your book shelf.
Bookstore Dramatic Play
If you'd like to create a Bookstore, you can add in some extra printables such as book sale signs, price tags, loyalty cards and a cash register. You can add some special events to your bookstore too such as a Book Launch, Story Time or Book Cafe.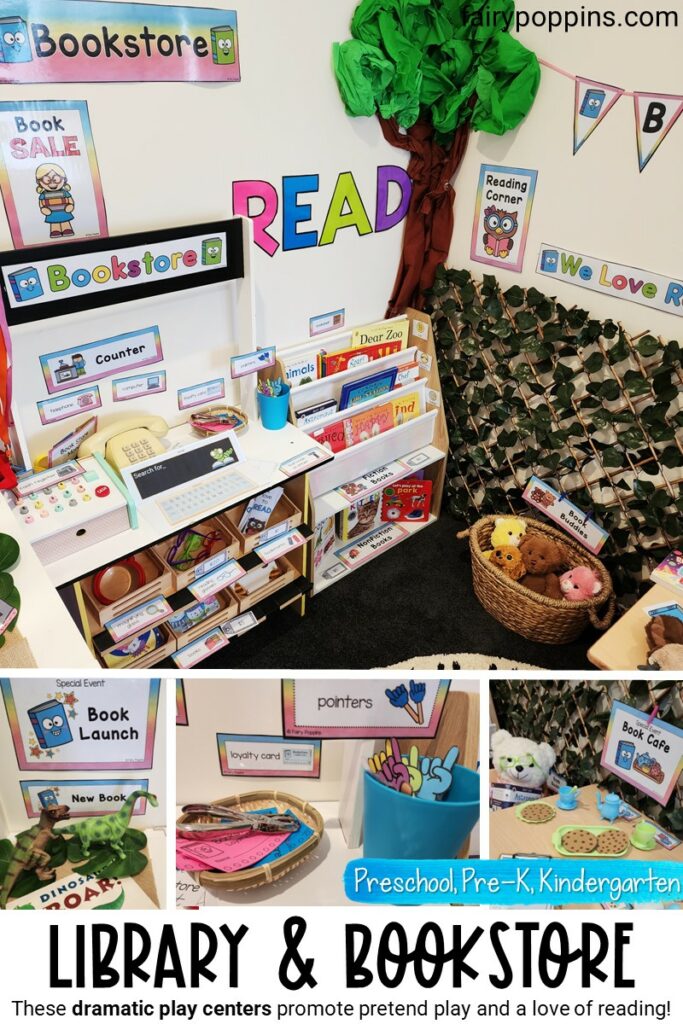 Pin
<<<Grab this Bookstore dramatic play pack here>>>
Create a Book Corner for Your Classroom
You can use some of the printables in this pack to create an all year round reading corner. Some of these include reading corner signs, "BOOKS" bunting and a "We Love Reading!" banner. You can print the READ letters on colored paper to match your classroom decor. For my book corner, I also made a tree out of crepe paper. I twisted some brown crepe paper to make the trunk and branches. Then scrunched up some green paper for the leaves.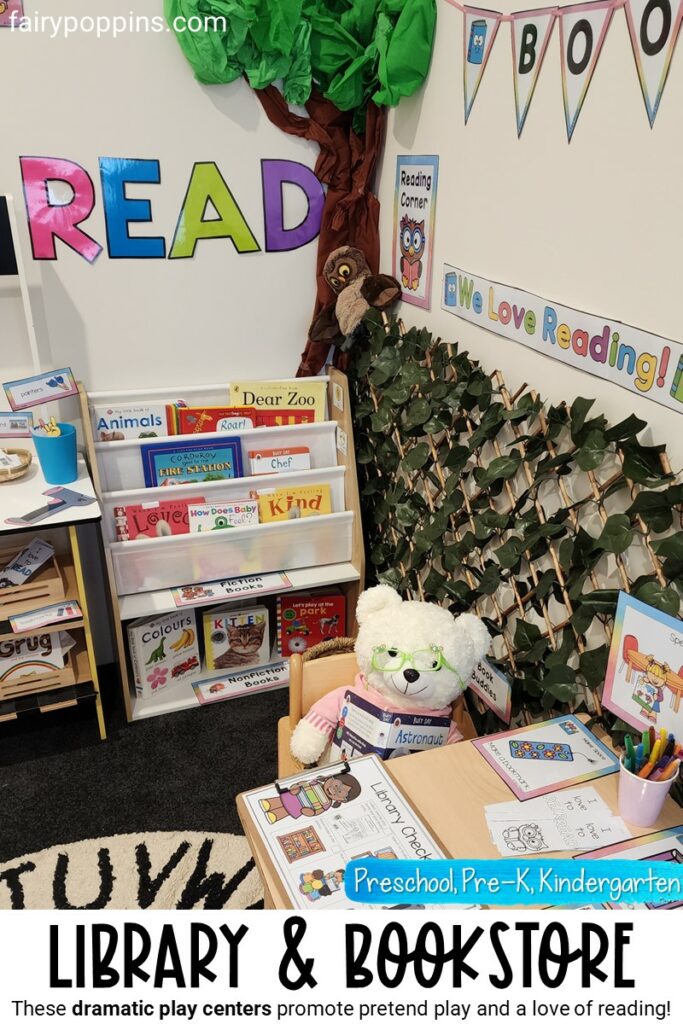 Pin
<<<Get these book corner printableshere>>>
You can learn more about this dramatic play pack below. I've included a more comprehensive set of instructions within the actual pack. I really love this pack, it's still set up at my house because my daughters love playing in it so much. I hope your students love it too!
FREE Reading Logs
You may also love the following reading logs. Click here to learn more.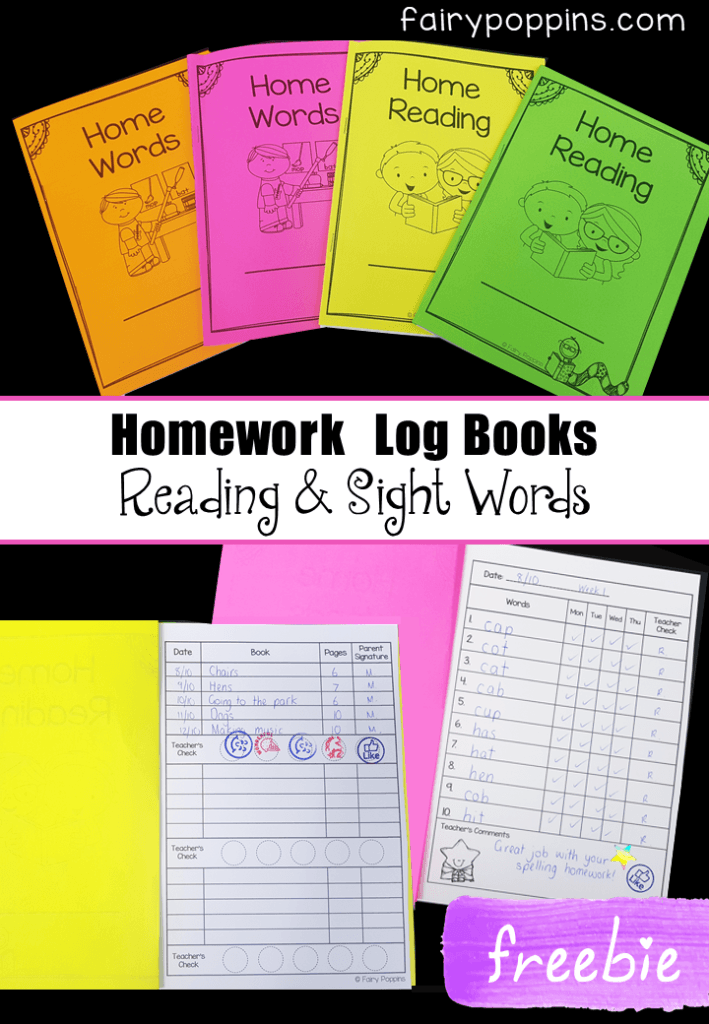 Pin
<<<Grab these free reading logs here>>>