Polar Animals Dramatic Play
This Polar Animals dramatic play center helps kids learn about Arctic animals and Antarctic animals. It's suitable for kids in Pre-K, Preschool and Kindergarten, although I'm sure older children will love this pretend play area too!

Why is dramatic play important?
Pretend play helps kids to learn about themselves, the world and how things work. Dramatic play centers also help to strengthen a child's language development (e.g. expressive language, vocabulary), social skills and play skills. Children learn a lot through play!
Polar Animals Dramatic Play
I love this dramatic play center for teaching kids about polar animals. It helps kids learn to differentiate between polar animals that live in the Arctic Circle and Antarctic Circle. For example, kids will learn that penguins are found in Antarctica whereas polar bears are found in the Arctic.
Banners – I've included two large banners (see below). So you can name your dramatic play center either "Polar Animals" or "Polar Park" (or both). Polar Park is fun if you want to create a zoo type feel. The kids can use play money to purchase tickets and then go animal spotting with their pretend binoculars.
Pin
Igloo Base Camp
A fun feature of this dramatic play area is the igloo base camp! Here the kids can pretend to camp in the igloo, do some ice fishing or relax with a book. I added a reading nook with some books and polar animal "reading buddies".
How to Make an Igloo
I made mine out of a pop up tent from Kmart (Australia). I basically popped open the tent and attached a folded bit of cardboard to the entrance to create an arch. Next I covered the igloo with a white plastic party table cloth. Finally I used some white cloth tape to create brick lines.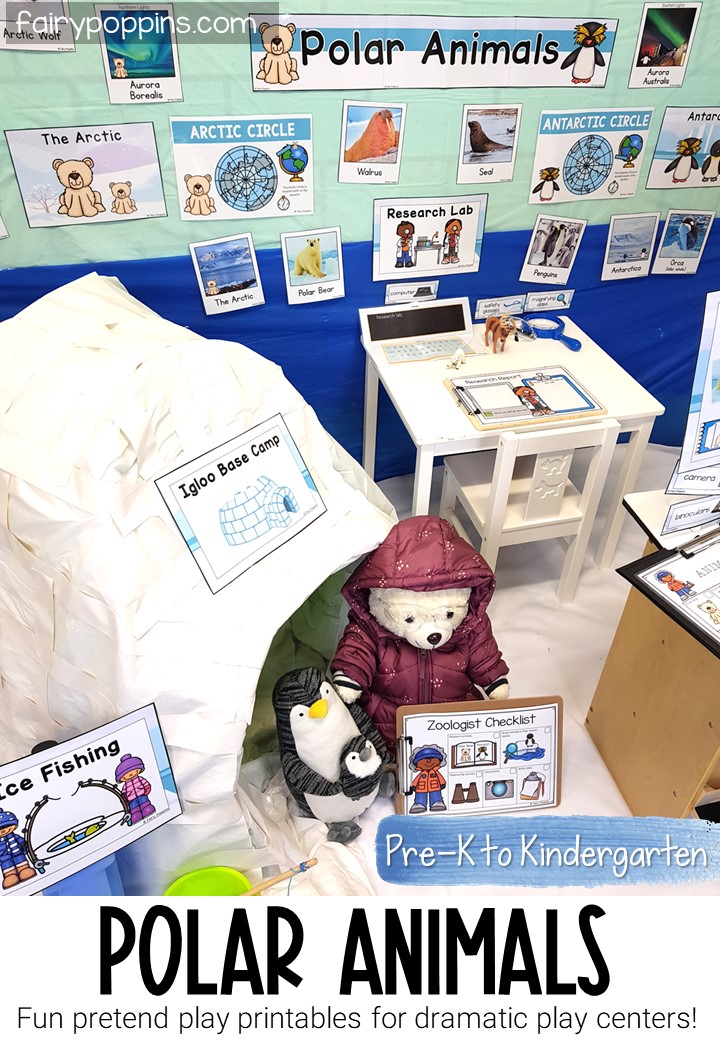 Pin
Research Lab
I also set up a research lab so the kids could pretend to be zoologists working in the field. I added some fun props such as a magnifying glass, safety glasses, pretend computer and the research report printable.
This area is a fun way for kids to dabble in some science work as they conduct observations of the various polar animals. I've included real life photos for the kids to look at, plus a variety of animal labels that the kids can use for sorting activities.
I hope the kids enjoy learning about Arctic animals and Antarctic animals with this dramatic play pack!
More Arctic Animal Activities
You may also love these Arctic Animal Math Centers. They help kids develop math skills such as counting, number recognition, addition and subtraction.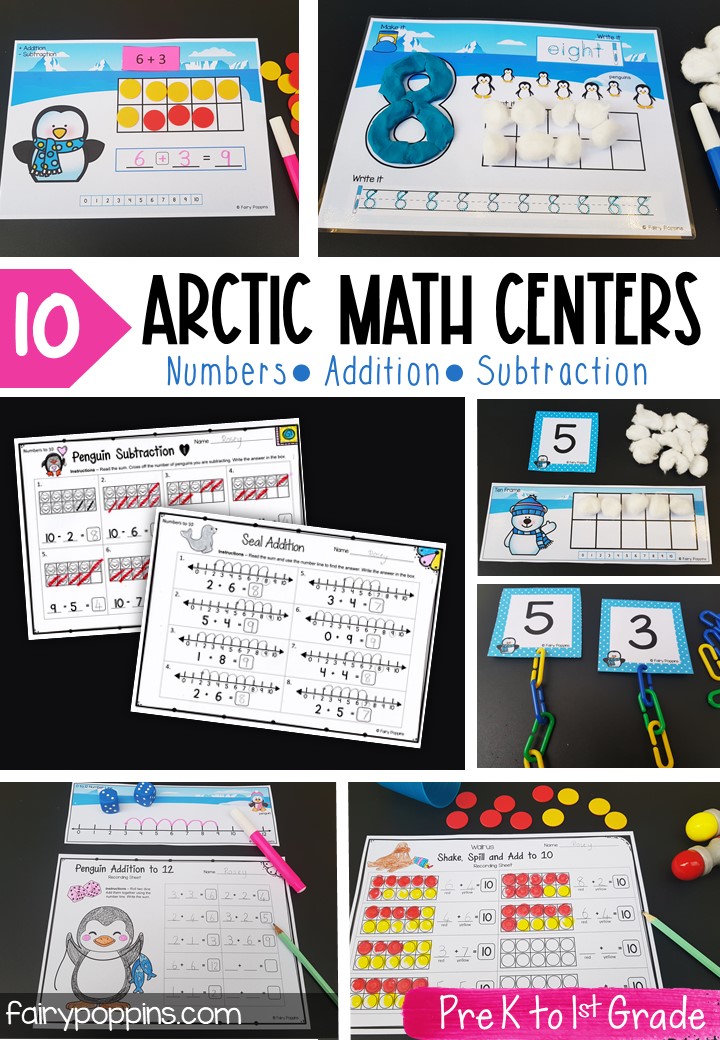 Pin