Australian Outback Dramatic Play
This Australian Outback dramatic play center helps kids engage in pretend play and learn about Australian animals. It's great for kids in Pre-K, Preschool and Kindergarten, although I'm sure older children will love it too!

Why is dramatic play important?
Pretend play helps kids to learn about themselves, the world and how things work. Dramatic play centers also help to strengthen a child's language development (e.g. expressive language, vocabulary), social skills and play skills. Children learn a lot through play!
Australian Outback Dramatic Play
I love this dramatic play center for teaching kids about Australian animals and the Aussie outback!
Ticket Office – Here the kids can use play money to purchase a tour ticket or outback gear for hire. They can also write their names on the check in log. After that they can begin their outback tour and spot the animals – checking them off the list as they go (a bit like a scavenger hunt).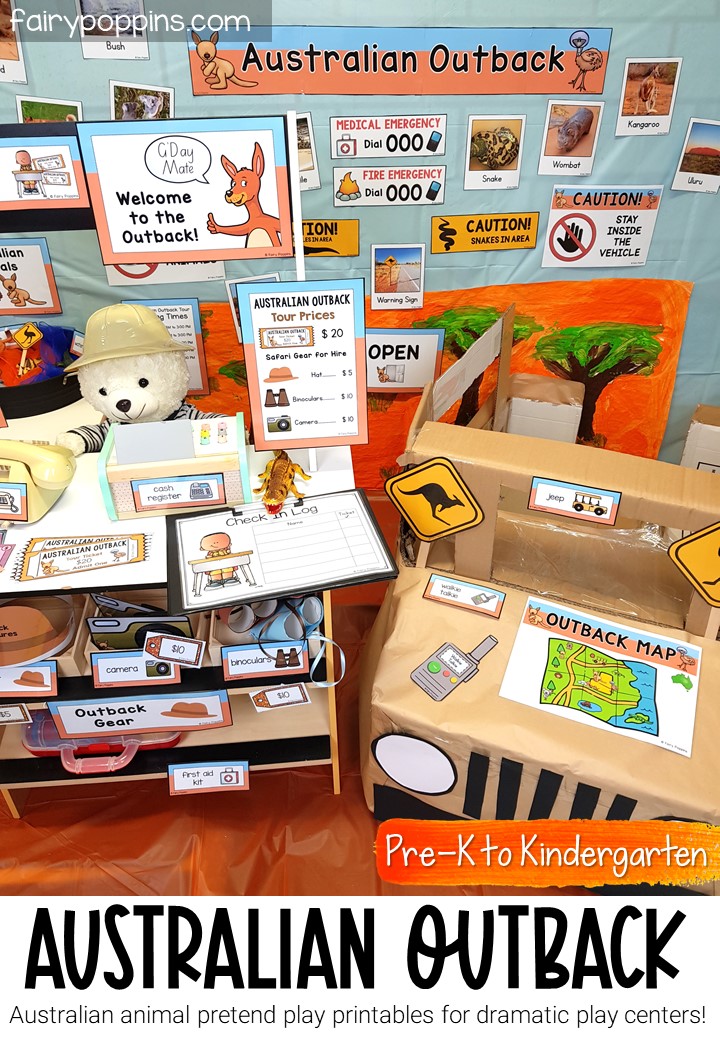 Pin
Outback Tour
In this area, the kids can grab their tour gear such as binoculars, walkie talkies, hat and camera. Then they can hop in the tour jeep and spot the animals listed on the recording worksheet. There are some fun safety signs to help them steer clear of any dangers such as the snakes too!
How to Make a Cardboard Jeep
I made my jeep out of a few recycled cardboard boxes. I began by opening the boxes up so they were flat. Then I folded them together to make a jeep shape and taped them together. After that I cut out the windows with a Stanley knife. Next I used some black paper to make the front grill and white paper to make some lights. Finally I added some paper plates for the wheels.
Tip – Brown paper is useful for covering up any writing that is on the box. 
Other Outback Activities
There are lots of other activities that the kids can do too.
Animal Sensory Bin – Simply add some animal figurines to a sensory bin filled with colored rice or play scarves.
Animal Spotting – Using pretend binoculars, the kids can spot all of the animals and check them off the list. To do this you can either scatter the corresponding animal photos or figurines around your dramatic play area.
Map and Checklists – The kids can also do activities such as drawing a map and completing the tour guide checklist.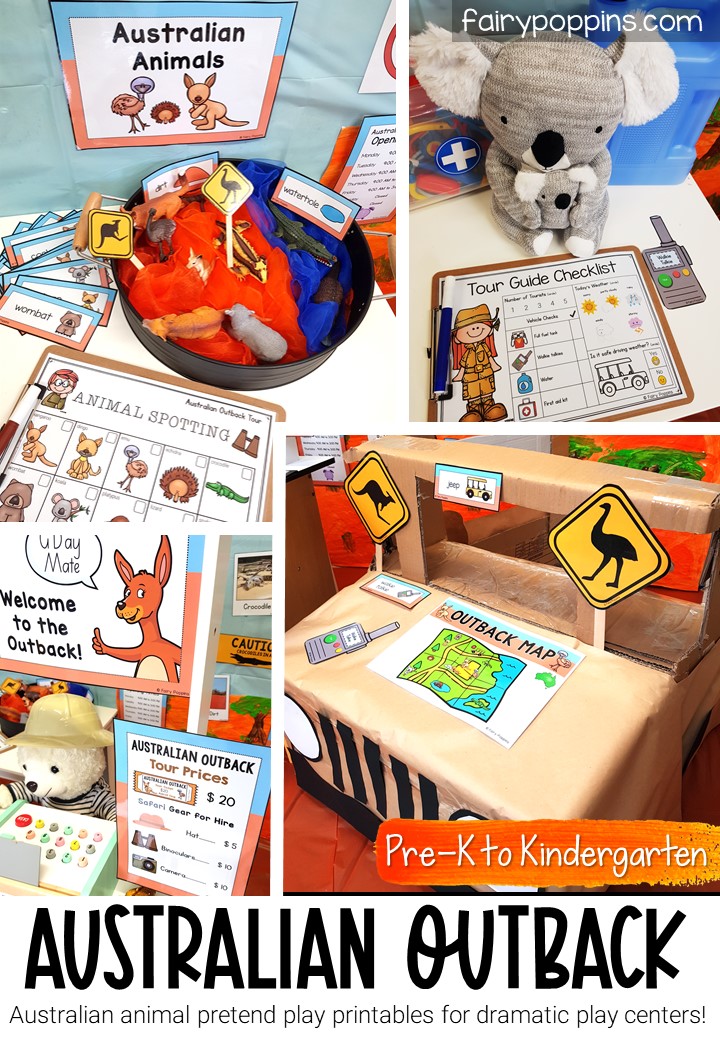 Pin
I hope the kids enjoy this dramatic play pack! You can learn more about it below.
More Animal Activities
Be sure to check out these Animal Sort and Classify Activities too. Learn more here.