Under the Sea Dramatic Play
This Under the Sea dramatic play center helps kids engage in pretend play and learn about ocean animals. The activities are suitable for kids in Pre-K, Preschool and Kindergarten, although I'm sure older children will love it too!

Why is dramatic play important?
Pretend play helps kids to learn about themselves, the world and how things work. Dramatic play centers also help to strengthen a child's language development (e.g. expressive language, vocabulary), social skills and play skills. Children learn a lot through play!
Under the Sea Dramatic Play
This is such a fun dramatic play center if you're doing an ocean or under the sea theme! The kids can pretend to be an ocean explorer as they play in areas such as a submarine, research lab, aquarium and coral reef.
There's a shop section included too, where the kids can use play money to purchase tickets and souvenirs.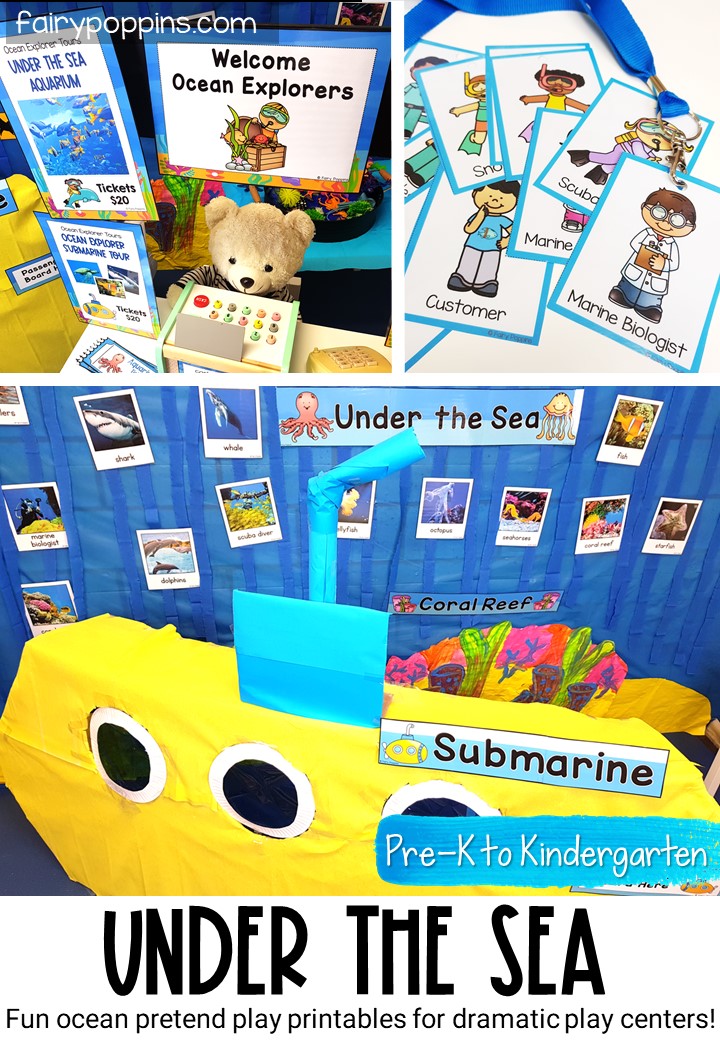 Pin
How to Make a Submarine
I made my submarine by opening up a large box and shaping it into a submarine shape with a Stanley knife. Next, I traced around a paper plate to create three port holes and cut them out too. Then I secured it with large tape and then covered it with yellow crepe paper.
To make the portholes, I cut out the center of some paper plates and taped some blue cellophane paper over the middle area of each plate. Then I taped these over the submarine windows. Finally, I made a periscope out of some cardboard rolls covered with blue paper.
Research Lab
In this area the kids can pretend to be marine biologists as they study various ocean animals. I've included some fun props such as a printable camera, computer and research report. The kids can use either figurines or the photos to study various ocean animals.
Coral Reef
I created a large ocean backdrop by using a large blue plastic party table cloth and some blue streamers. I also added a coral reef backdrop that I painted on a large piece of paper – this gave my whole area an awesome pop of color! In my coral reef area, I added all of the display photos and a sensory bin filled with ocean plants, mermaids and ocean animal figurines.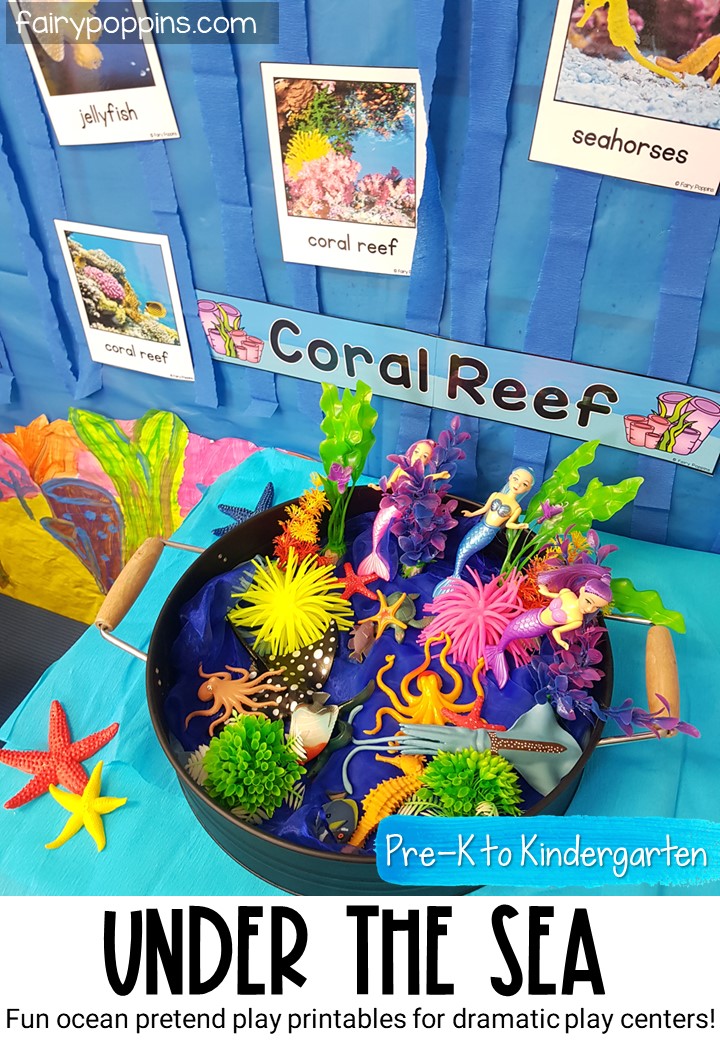 Pin
Aquarium
To set up this area, I created a few exhibits using props such as blue crepe paper, fish tank plants and animal figurines. Once set up, the kids can complete the animal spotting activity and observe all the different ocean animals.
I recently found an awesome set of ocean animals from Kmart (Australia) which I absolutely love. If you don't have many figurines, you can use the photos I've included for the animal spotting activity.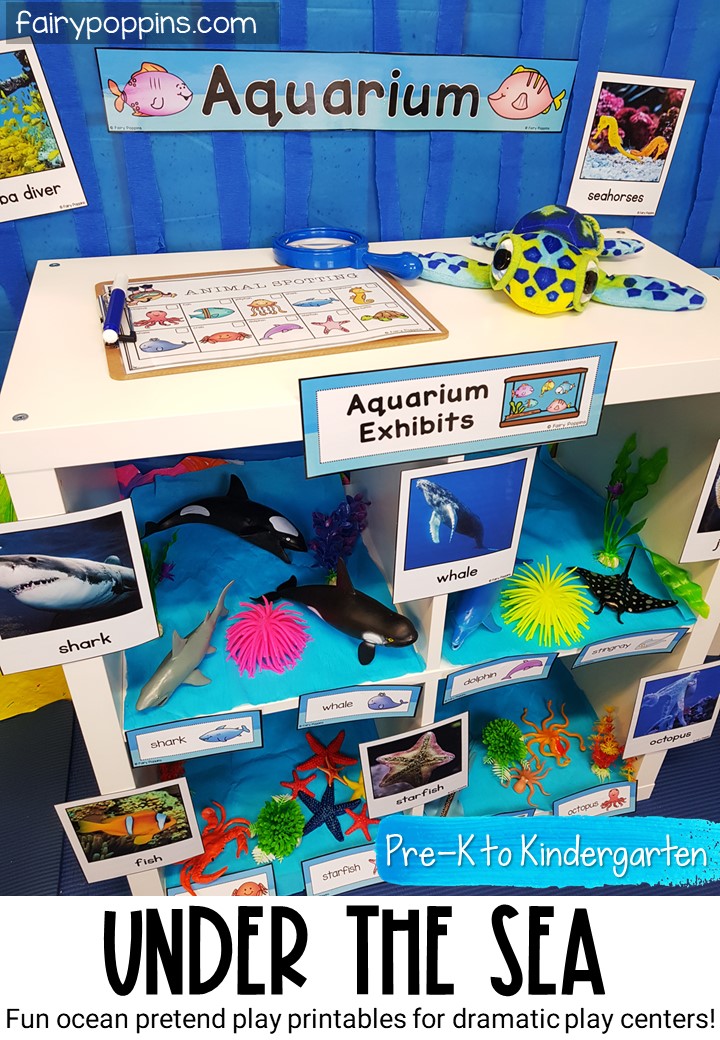 Pin
I hope the kids enjoy this pack and learn lots about ocean animals!
More Under the Sea Activities
You may also love these FREE Ocean Animal Playdough Mats. Towards the bottom of that blog post you'll also find links to other free activities too.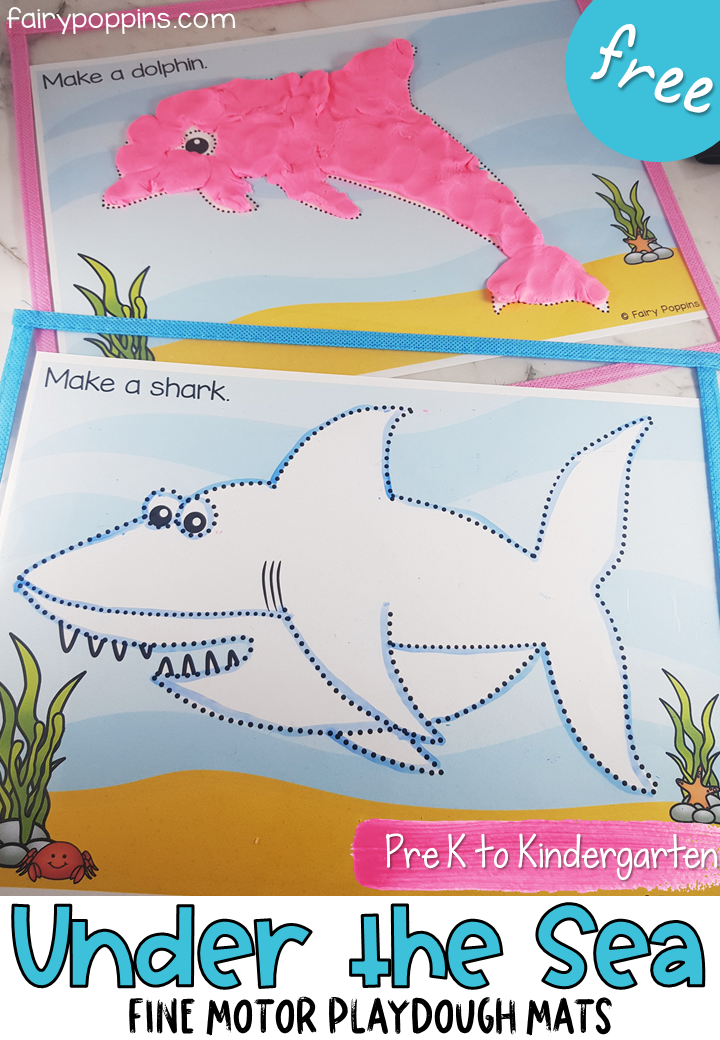 Pin