Saint Patrick's Day Syllable Sort
These FREE Saint Patrick's Day syllable activities are a fun addition to literacy centers. They are suitable for kids in Pre-K, Preschool or Kindergarten.
Sorting Syllables Literacy Center
This Saint Patrick's Day activity is a fun way to teach kids new vocabulary such as leprechaun, horseshoe and shamrock.
Preparation – Begin by printing and laminating the resources for added durability. I've included dashed lines so that you can cut out the cards quickly, but you may like to cut around the actual coins like I did too.
How to Play – First lay out the sorting cards with the numbers one to three. Second choose a coin, say the word and clap the number of syllables. For example, "Rainbow, /rain/ /bow/, rainbow has two". Finally place the coin near the pot of gold with the correct number. Continue playing until all of the cards have been sorted.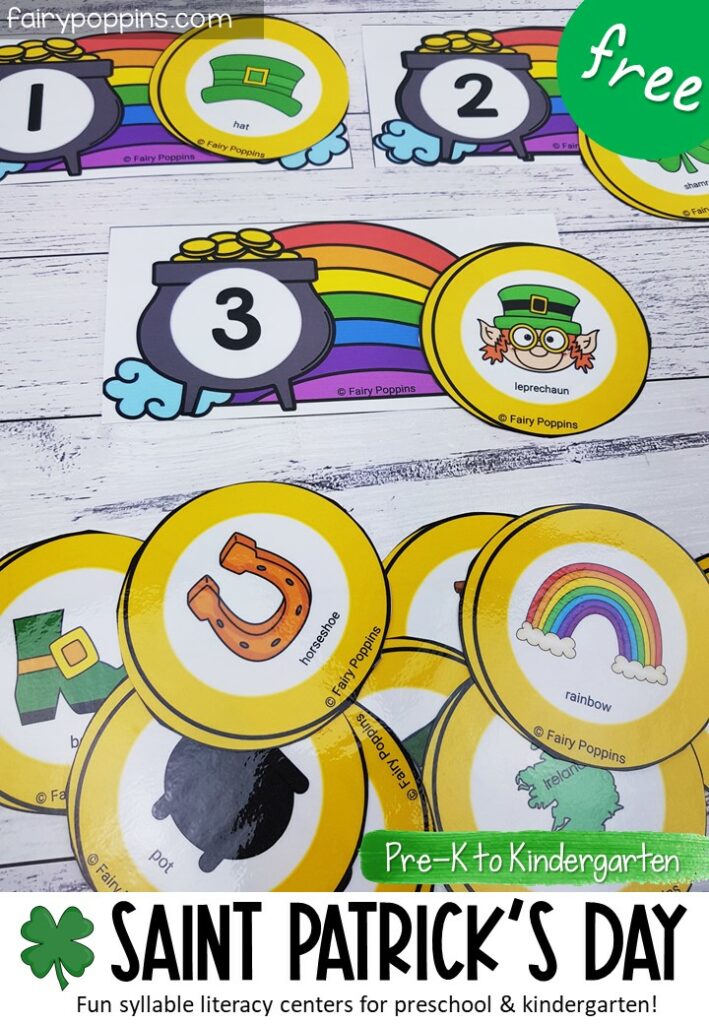 Pin
Useful Teaching Strategies for Identifying Syllables
Clapping is one strategy often used to identify the number of syllables in the word, another one I like is using body beats. For this the kids would tap their head, shoulders, waist then legs. So for a two letter word such as rainbow, they would touch their head for the first syllable (e.g. rain) and their shoulders for the second (e.g. bow). It's worth a try!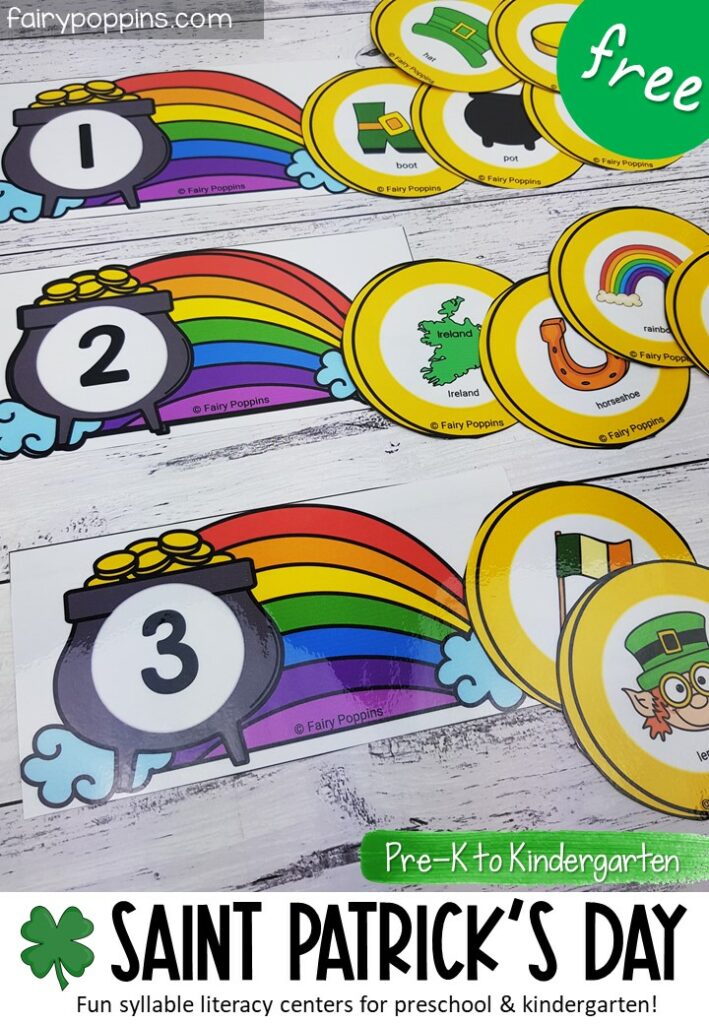 Pin
Saint Patrick's Day – Syllables Worksheet
This Saint Patrick's day activity makes a great addition to small group work or literacy centers. Kids can shade their answers with bingo daubers, highlighters or crayons. Then they can have fun coloring in the pictures with pencils or crayons.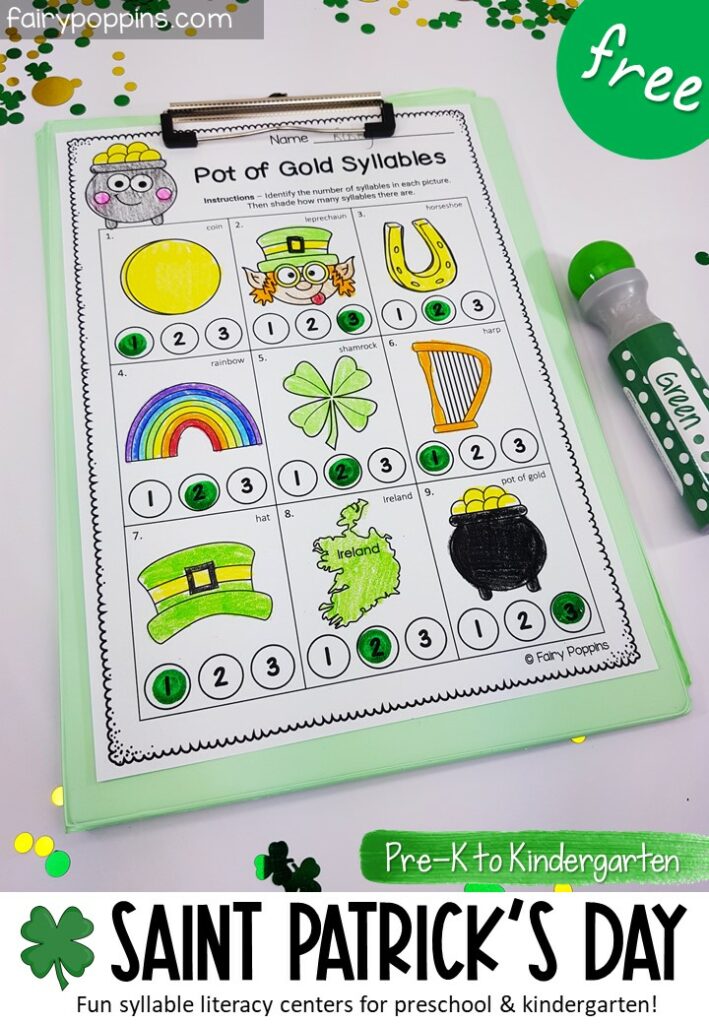 Pin
<<Grab these free activities by clicking on the download button at the bottom of this page.>>
Other Saint Patrick's Day Literacy Activities
You may also love the following activities. They include a collection of fun writing activities and craft templates for a leprechaun, pot of gold, rainbow and shamrock. There's also a fun set of literacy centers designed for kids in Preschool, Pre-K and Kindergarten.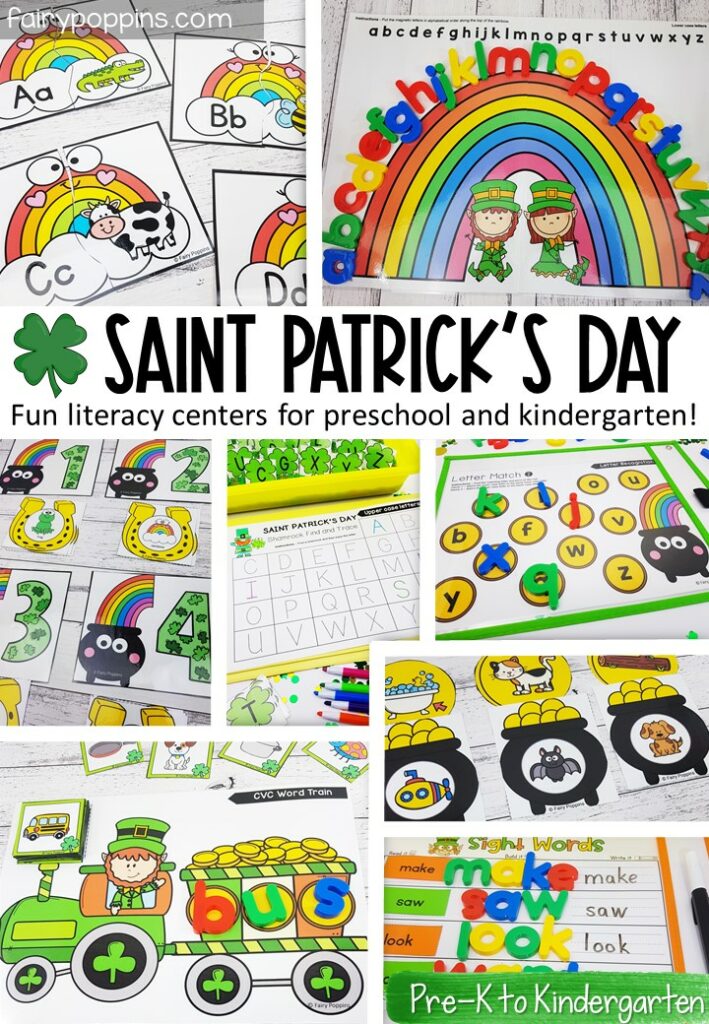 Pin
Literacy Centers (Pre-K, Preschool and Kindergarten)
Grab these free syllables activities from my TpT store here or click the download button below.

Pin