Valentine's Day Literacy Activities for Kids
These Valentine's Day literacy activities are such a fun addition to February centers! The literacy centers cover skills such as rhyming, syllables, letter identification, beginning sounds, CVC words and sight words. They're suitable for kids in Preschool, Pre-K, Kindergarten and First Grade.
Valentine's Day Literacy Centers
This new pack is jam packed with fun Valentine's activities that suit a variety of ability levels.
Phonological Awareness Activities
Teaching phonological awareness to kids is an important step to help them become successful readers. Phonological awareness is the ability to identify and manipulate the sounds of spoken language. It's a critical skill that helps children learn to read and spell, since it allows them to make connections between letters and sounds.
You can check out some of the Valentine's Day activities to help kids develop phonological awareness below.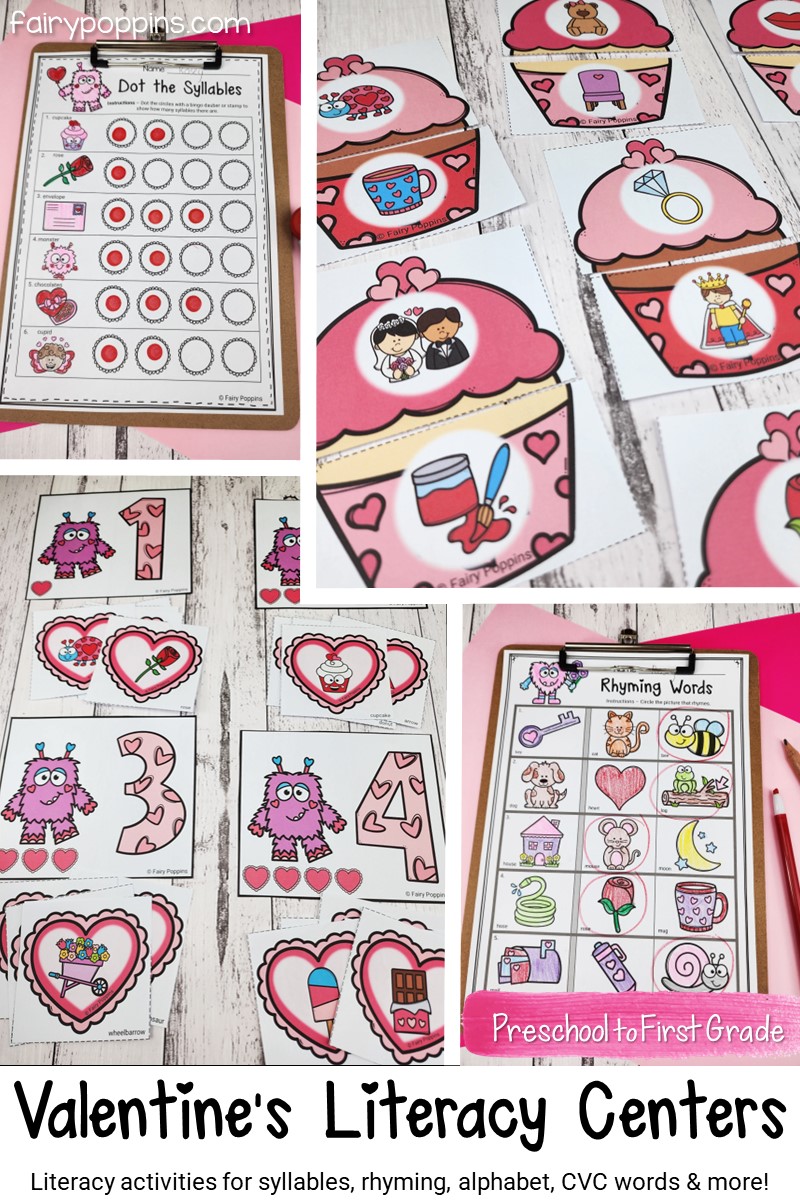 Pin
<<<Grab these phonological awareness activities here>>>
Syllable Sort
Start by sorting the pictures according to the number of syllables they have. After that the kids can use bingo daubers to complete the dot the syllables worksheet activity.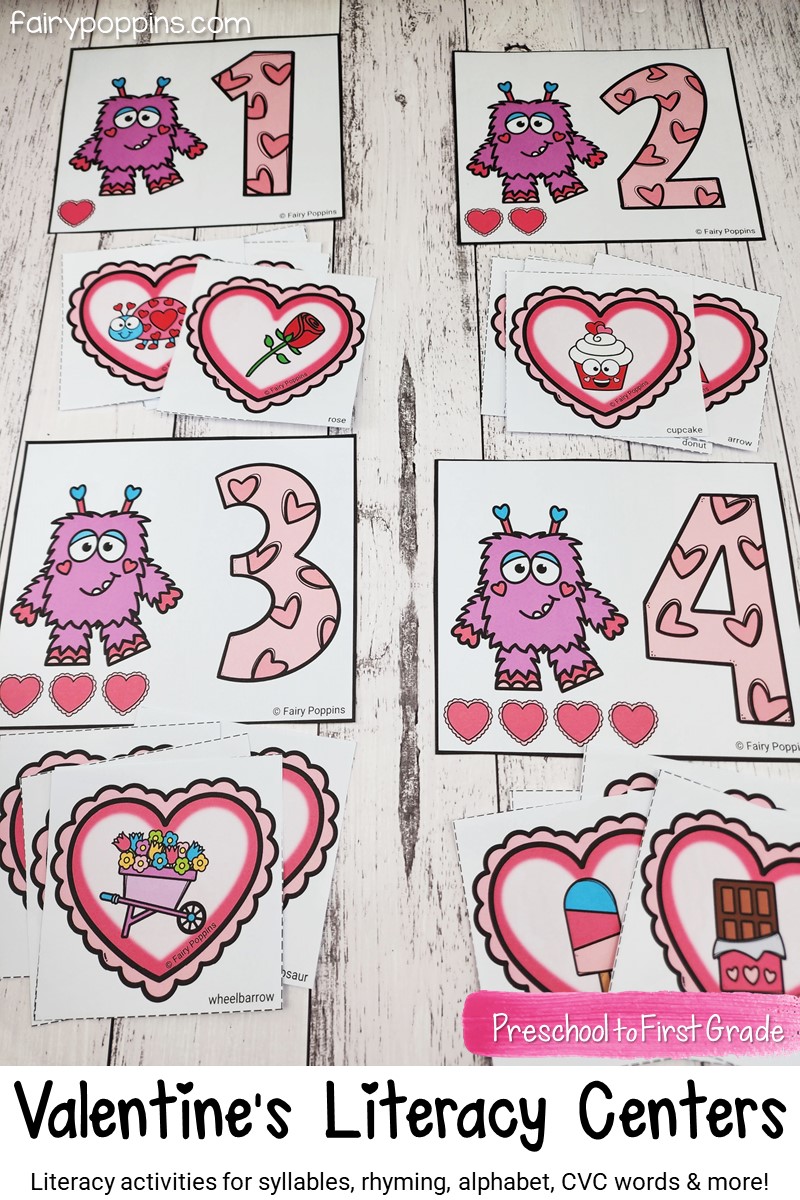 Pin
<<<Grab these syllable activities here>>>
Rhyming Puzzles
Young children love rhymes, which involve listening for ending sounds of words. Begin by introducing a few puzzles at a time. I like to present kids with a limited number of  answer options to begin with. For example, I might say "What rhymes with mug? Mug, bug or mug, bear?" This helps them to listen for the word that sounds the same. After they have matched some of the puzzles, students can complete the rhyming worksheet too.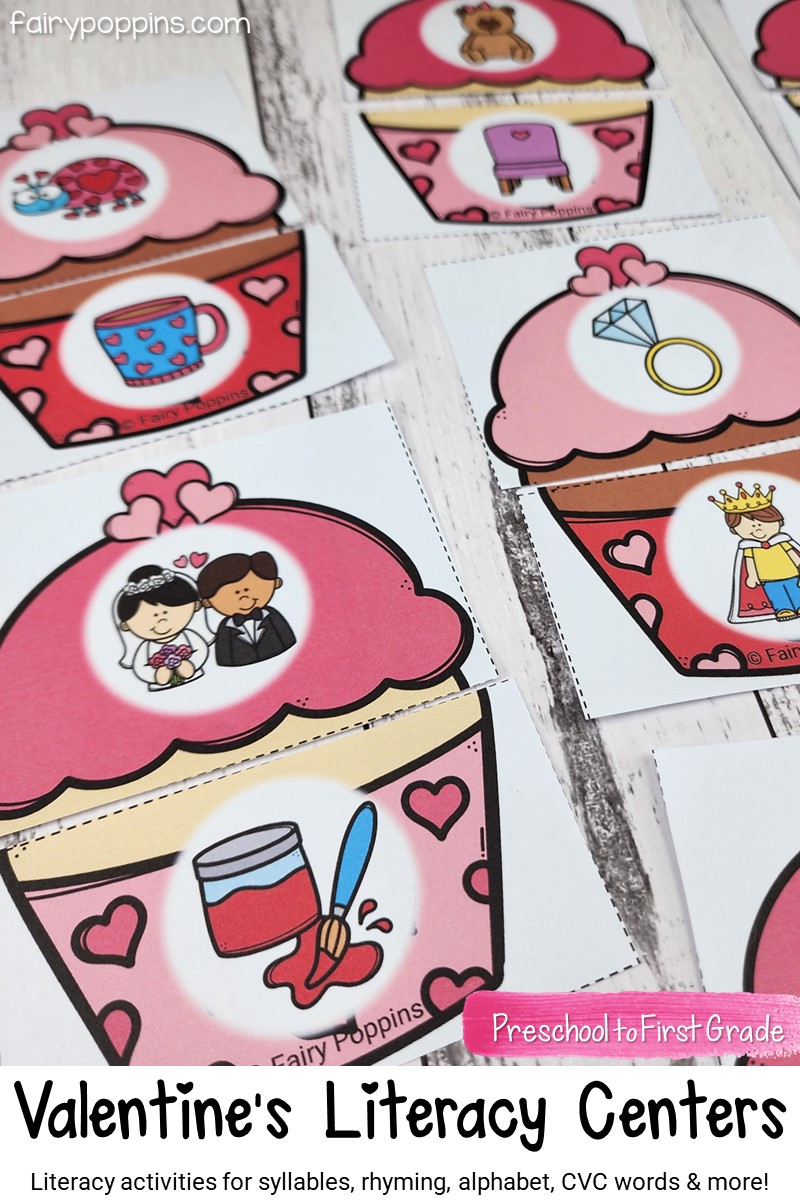 Pin
<<<Grab these rhyming activities here>>>
Beginning Sounds Puzzles
The following set of puzzles helps kids learn about letter names and letter sounds. What I love about these puzzles is they focus on short vowel sounds and primary consonant sounds – yay!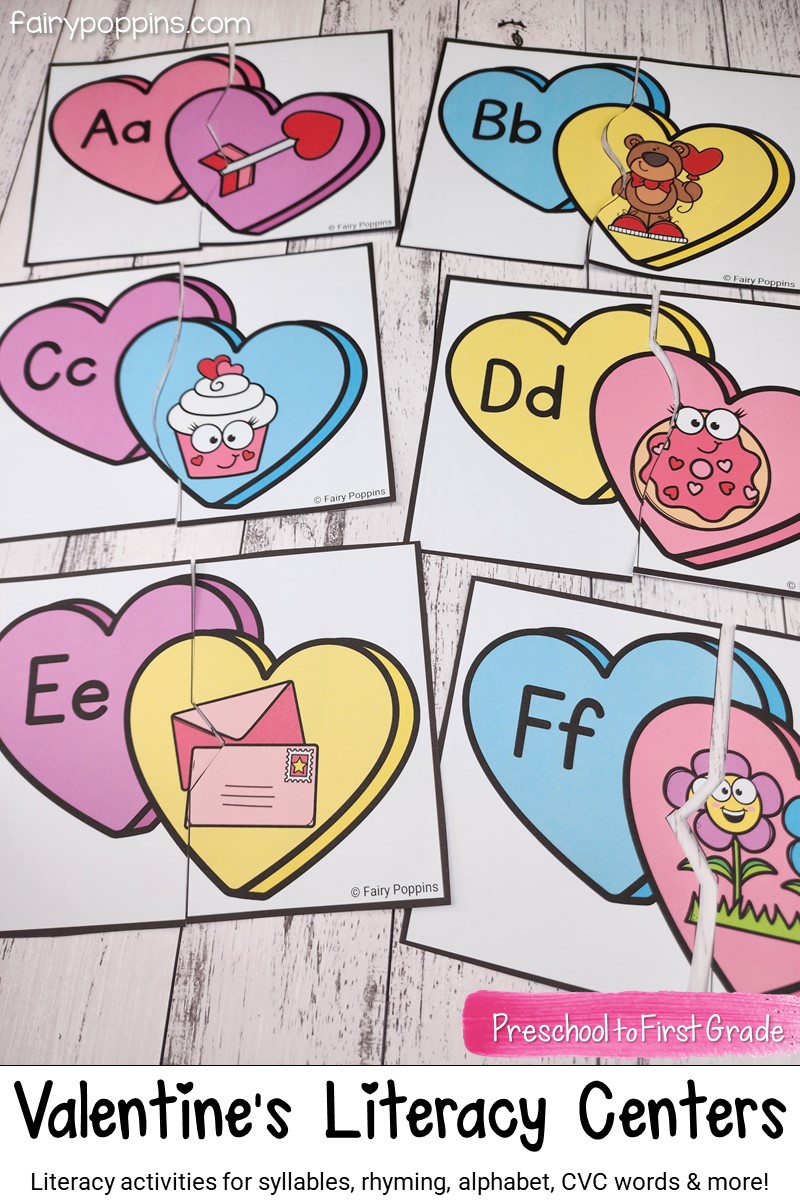 Pin
I've made some other fun alphabet centers too such as the magnetic letter rainbow shown below.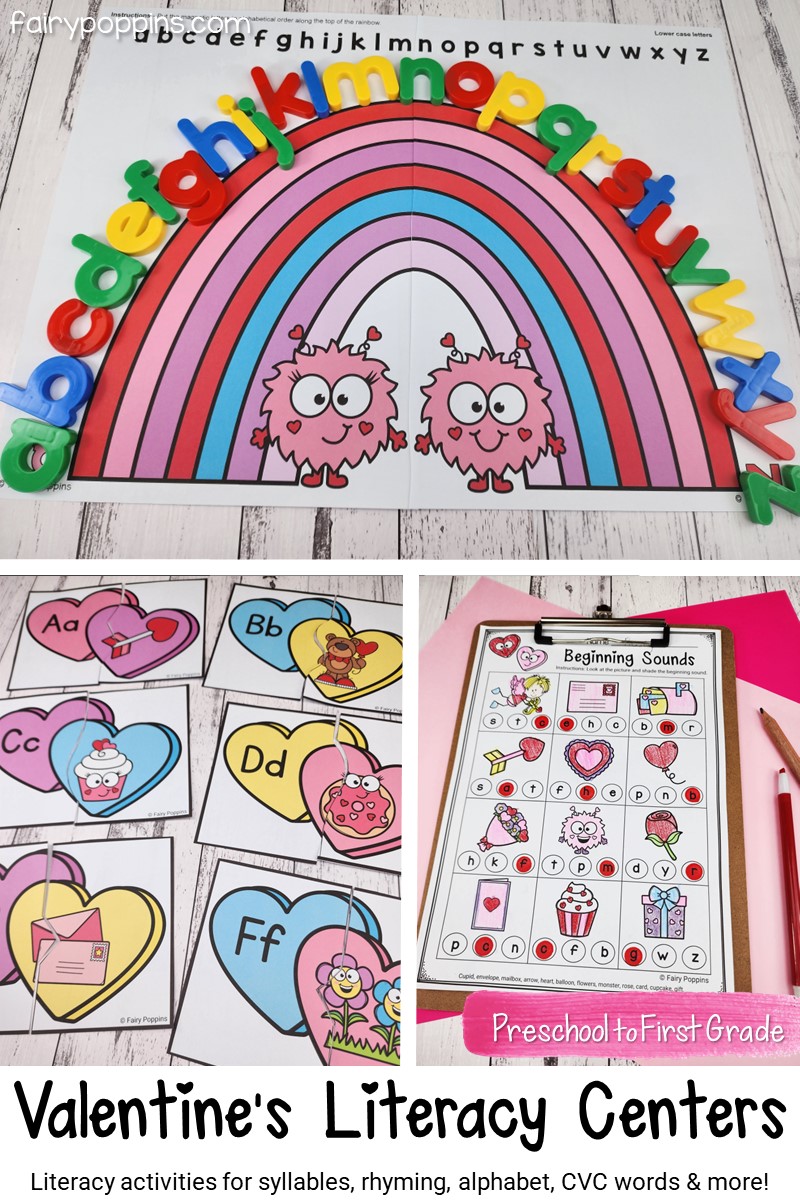 Pin
<<<Grab these alphabet activities here>>>
CVC Words Activities
If your students are beginning to work on segmenting CVC words, you'll love this activity for Valentine's day! Begin by placing a CVC picture on the work mat. Next sound the word out and build it with magnetic letters. Finally write the CVC word on the recording worksheet.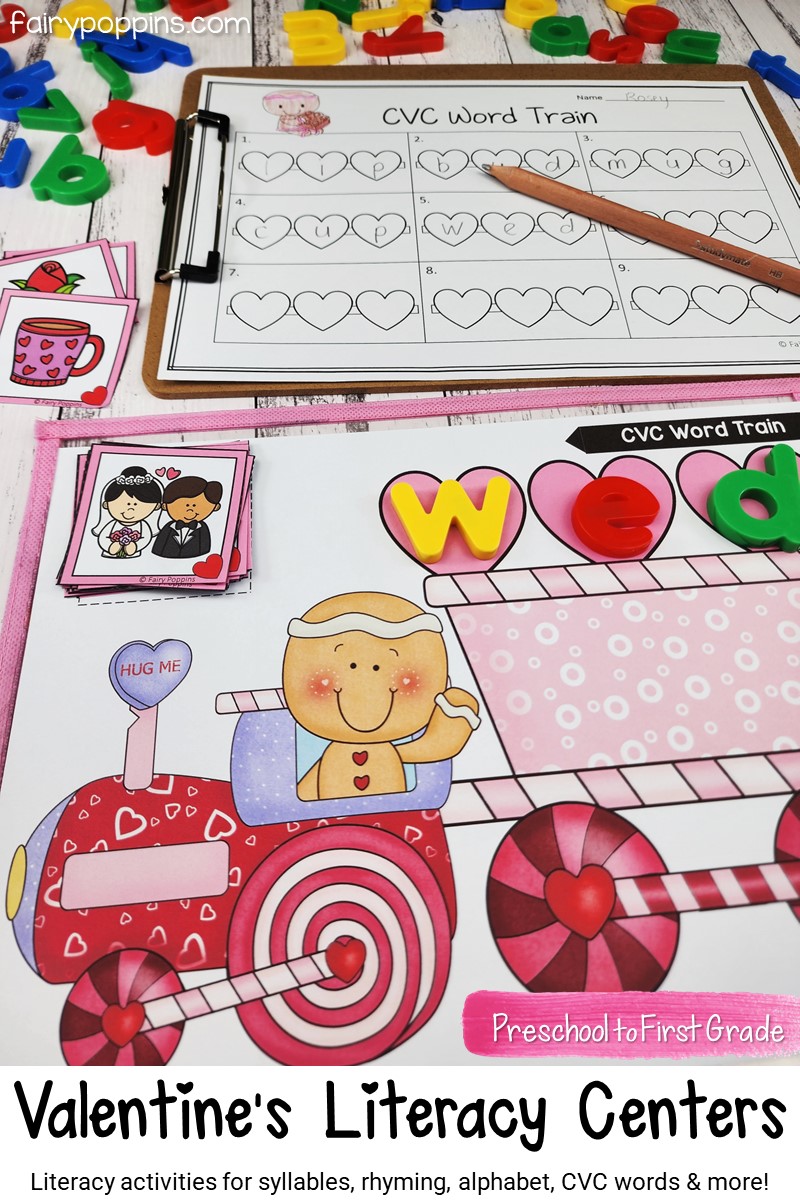 Pin
<<<Grab these CVC words activities here>>>
I hope the kids love these activities. I've included a full set of instructions with photo examples. You can learn more about these Valentine's Day Literacy Centers below.

Pin
More Valentine's Day Activities
You may also want to check out the following links:
Heart Craft and Fine Motor Activities