Magic School Dramatic Play
 This dramatic play center features a "Magic School" for pretend wizards and witches. It's a perfect addition to Halloween activities, but can be used all year round too. It's suitable for kids in Pre-K, Kindergarten and First Grade. Although I'm sure many older students (and adults) will enjoy playing in this area too. 😊
I'm so excited about this new pack! There are three main areas including a Potions Lab, Critter Care and Library. To create these centers you'll need some basic Halloween decorations and few other materials such as bug figurines.
Potions Lab
With the potions lab, I decided to make pretend potions rather than use actual liquids, so that the kids could play indoors. To make the potions I added a few strips of colored cellophane inside some empty plastic bottles. Then I attached the labels. I also found some readily available craft materials to use as additional ingredients such as feathers, colored balls and flowers.
Once you've got your potions lab set up, the kids can follow the spell book and then mix up their potions in a witch's cauldron.
Get the Magic School Pretend Play pack here
Critter Care
I really love this area, it's a bit like a science lab for wizards! To make it you'll need some bug figurines and clear containers. I found most of mine at discount stores. Around Halloween time, you can often find creepy crawly toys for a very reasonable price. I've made a variety of labels, so you can choose a few to use based on the resources that you have available.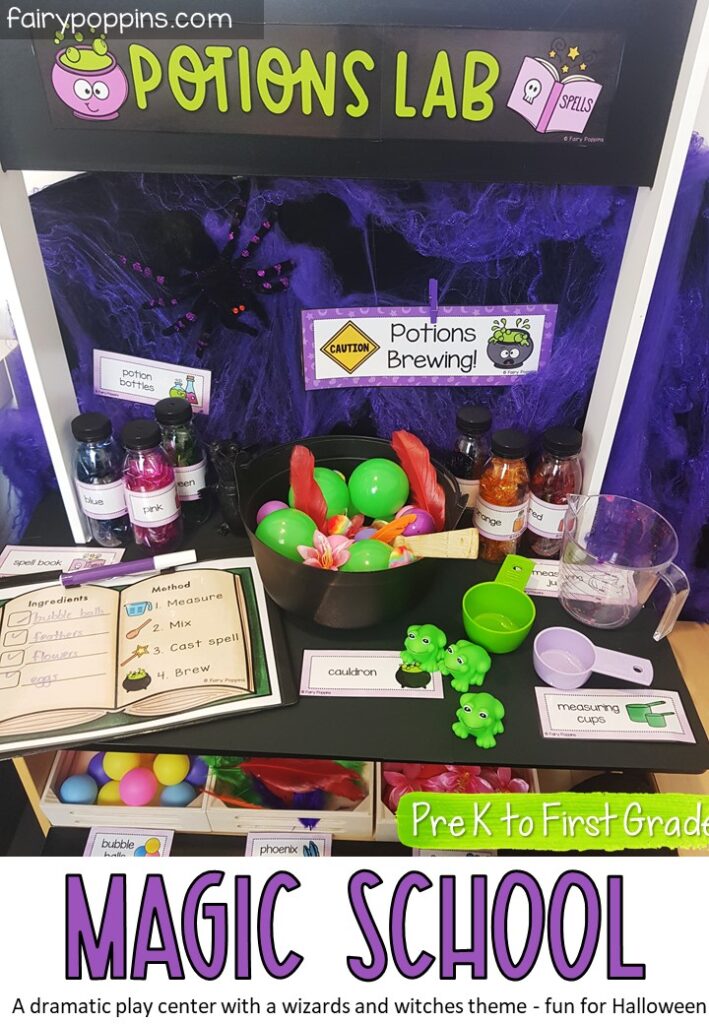 Pin
Get the Magic School Pretend Play pack here
Wizard Library
This is such a fun area to set up in your reading corner. It helps kids learn about all the things related to the world of witches and wizards.
There are a few different book bin labels which give suggestions on the types of books you can choose for students. For example, you might head to the library and take out a pile of books on monsters or bugs. I just grabbed a few books I had such as "Owl Babies" and "Room on the Broom". You can create a more "Magic School" feel by adding a few props to your area such as cobwebs, a Jack-o-Lantern or candles. I made some pretend candles out of some cardboard rolls and crepe paper.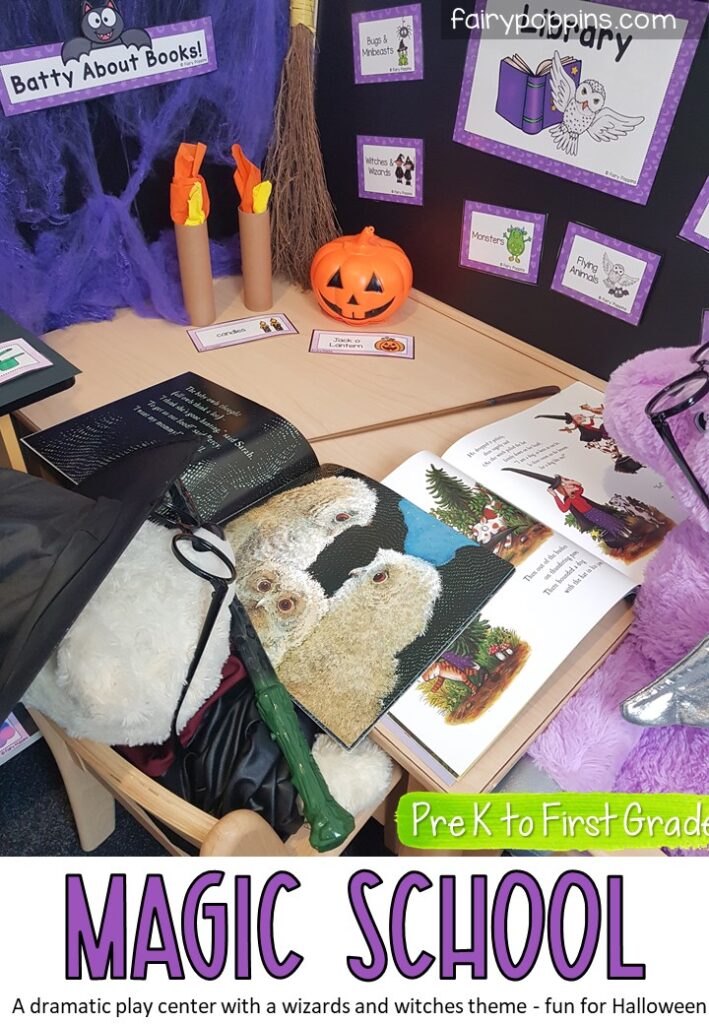 Pin
Get the Magic School Pretend Play pack here
Math and Literacy Fun
I created a few extra math and literacy activities in this dramatic play pack. These include some simple spelling and counting activities, such as the one shown below.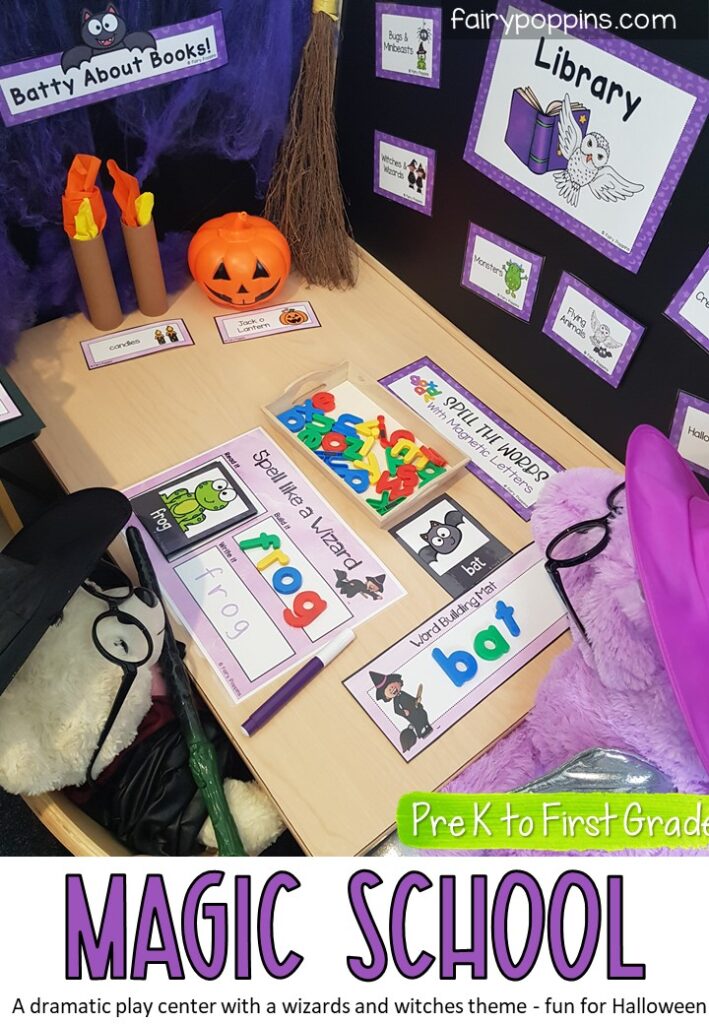 Pin
Get the Magic School Pretend Play pack here
More Fun Activities for Magic School Students
Kids can also have fun gazing into the crystal ball or pretending to read tea leaves. I've made some printable instruction books for them to look at so they know what to do. To make the crystal ball I just wrapped some silver foil around a large foam ball. To set up the tea leaf reading activity, I just grabbed a toy tea set with a teapot and tea cup.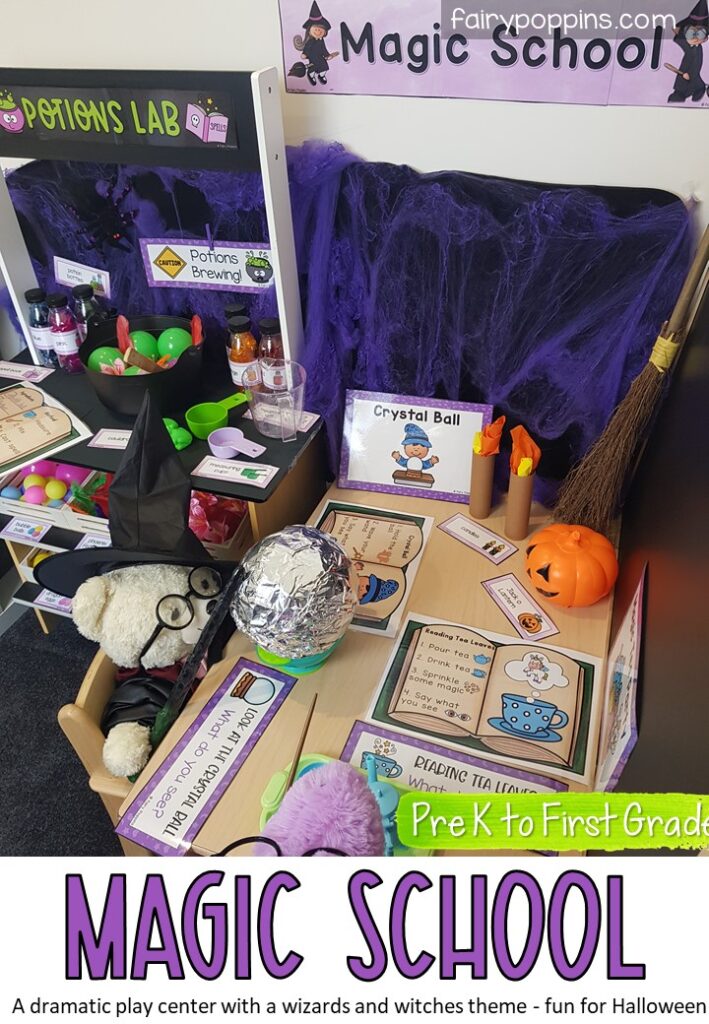 Pin
Get the Magic School Pretend Play pack here
More Info
You can learn more about all of the printables and activities included in this pack here.