Phonics Fine Motor Activities
These phonics activities help develop kid's fine motor skills whilst also teaching them about beginning sounds, digraphs and blends. They are suitable for kids in Pre-K, Kindergarten and First Grade.
Beginning Sounds Activities
Alphabet Highlight and Hole Punch
I've found kids LOVE using highlighters and mini hole punches! So the following activity is often a favorite for many kids.
Preparation – You can print these as single worksheets or you can make up a letter workbook for each student. Then all you need to do is grab some highlighters, a one hole punch and some colored pencils.
How to Play – Start by highlighting the letters. Next punch a hole below every picture that begins with that sound. After that the kids can color in the pictures with colored pencils.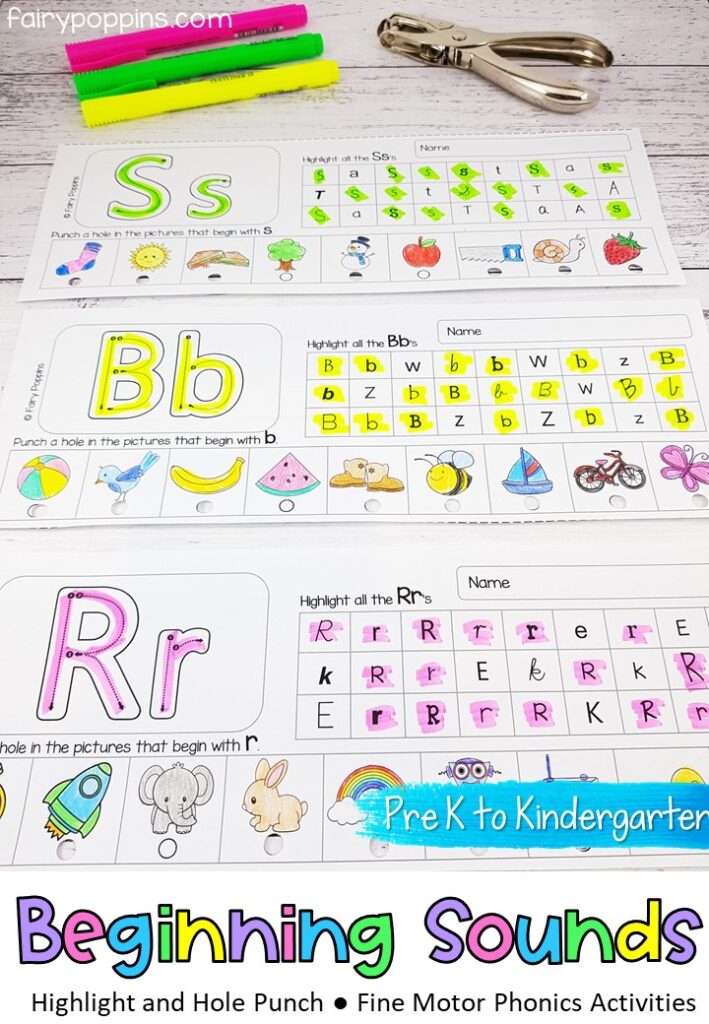 Pin
Alphabet Drive Mats
Preparation – Print and laminate the mats for added durability. Then grab some toy racing cars.
How to Play – Put the car on the capital letter where the bus is and drive over the lines to form the letter. Then do the same with the lower case letter. After that drive the car along the road from left to right, to help teach directionality. As you move the car past each picture say the word emphasizing the beginning sound. For example, "/r/ robot, /r/ rainbow, /r/ rocket".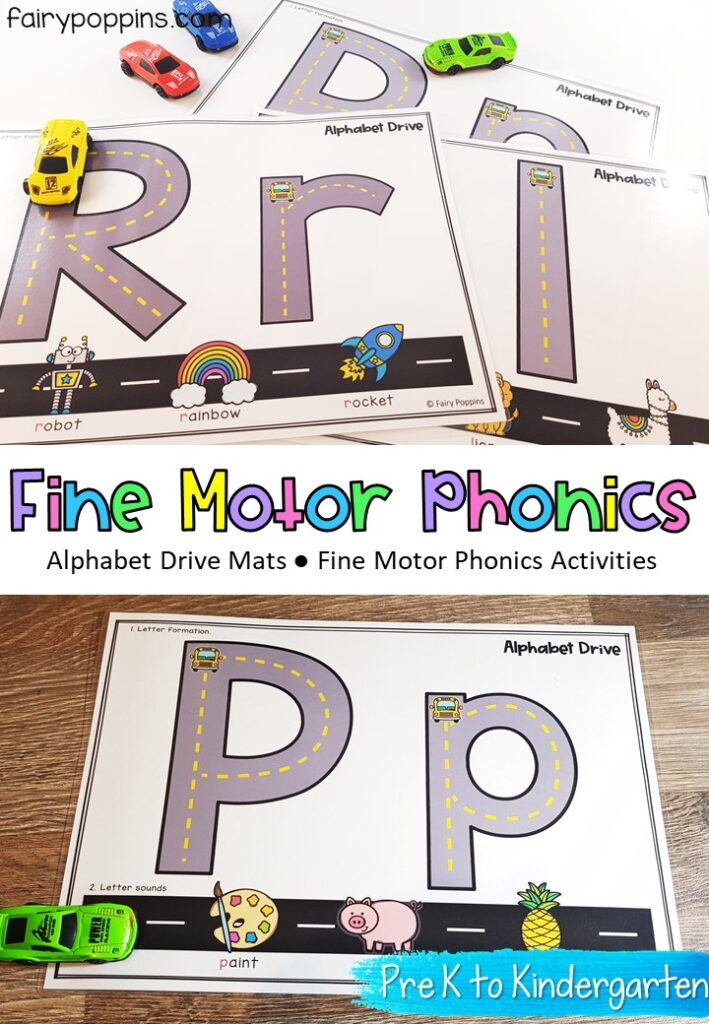 Pin
Alphabet Fine Motor Centers
I absolutely love the following pack. It is the perfect resource to support letter of the week activities. As you introduce new beginning sounds to students, you can set up one of these centers to help kids learn more about that beginning sound.
Preparation – These can be printed in color or you can print the black and white version on colored paper.
How to Play – Most of these centers use readily available classroom materials such as pom poms and playdough. Further instructions are included in the pack.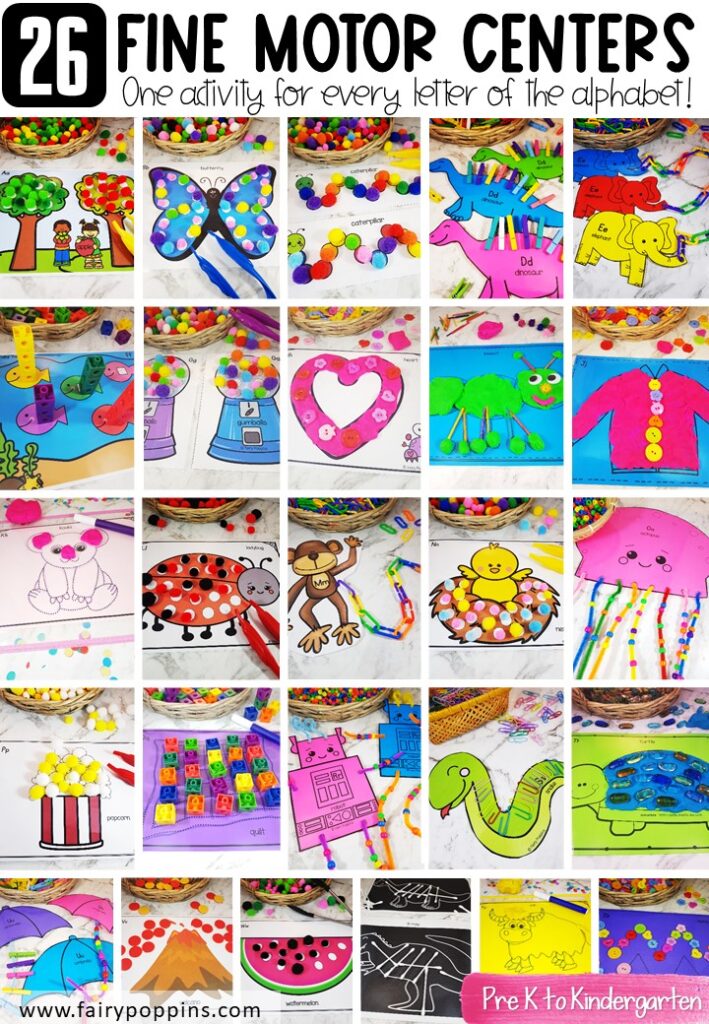 Pin
Digraphs Highlight and Hole Punch
This activity is similar to the beginning sounds one. The kids need to highlight the digraphs and then punch a hole below all of the pictures that contain that digraph.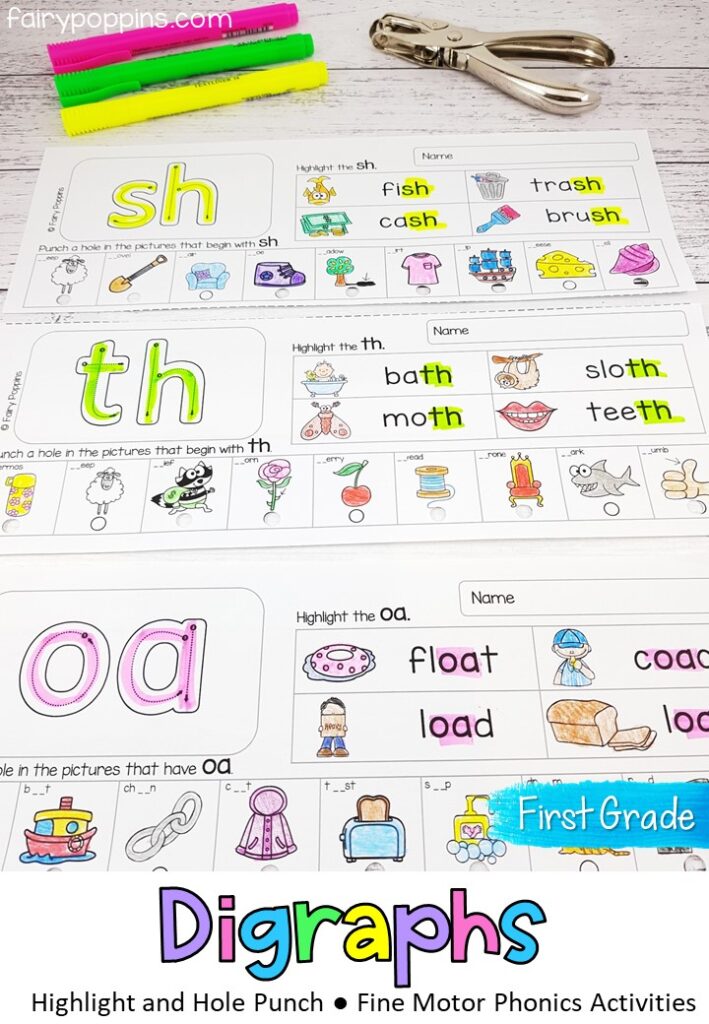 Pin
Blends Highlight and Hole Punch
These can also be used individually as worksheets or they can be made into a workbook.
The kids just need to highlight the blends and then punch a hole below the pictures that contain that blend.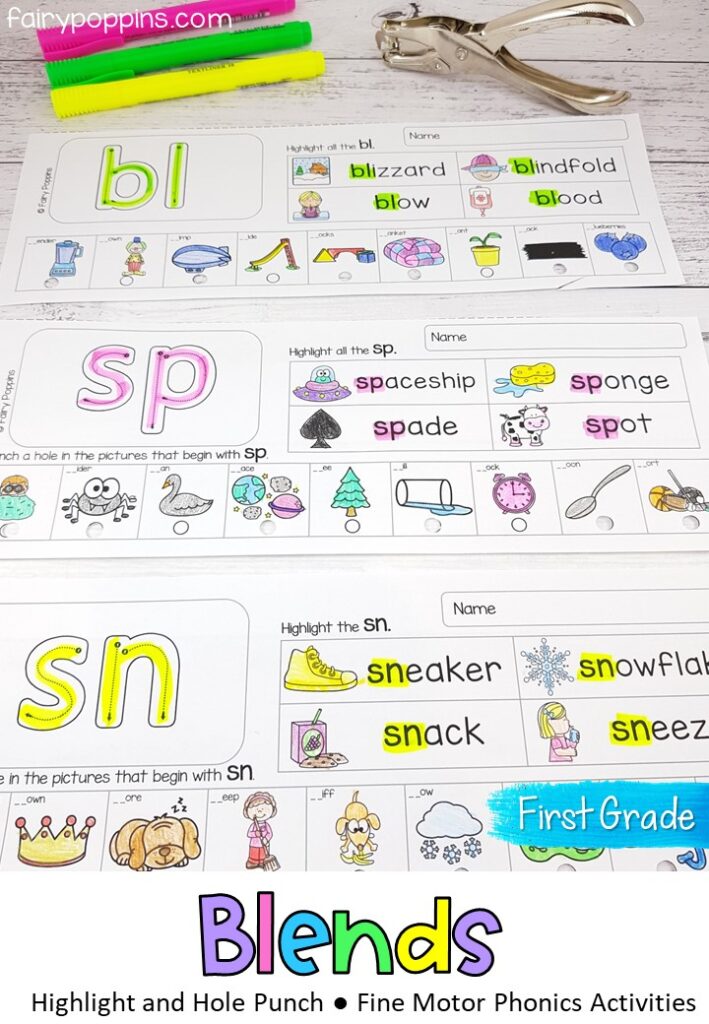 Pin
I hope you've find these phonics activities helpful. They're a fun way to help kids develop fine motor skills while learning important phonics skills at the same time! Happy teaching! 😊
Resource List