If you're looking for a fun way to help kids recognise numbers up to 10 you'll love these ice-cream number matching puzzles! 
In my class, I introduce number recognition activities like these puzzles after the kids are able to count real objects (such as unifix cubes and counters). So if I say 'count out 10 teddies' and the kids can, I know they understand the language of what ten is. Then I begin focusing more on activities that require the kids to read and recognise numbers.
Preparation:
Simply print, laminate and cut. I made the puzzles a large size so that they can be used as table or floor puzzles.
Instructions:
Decide on what you want to focus on, numbers up to 5 or numbers up to 10. Then lay out the puzzles and get the kids to count the number of dots and find the cone with that number.

Extensions:
Subitising: I've found this activity very useful in observing which kids can subitise (know how many there are at a glance). The ice-creams up to 4 are the easiest to subitise, so observing how kids count the dots on these ice-creams is a good indicator of whether they have begun to develop the skill of subitising or not.
Ordering Numbers: After the kids have made the ice-cream puzzles, ask them to place them in order from 1 to 10.
For more fun ice-cream activities, check out the links below!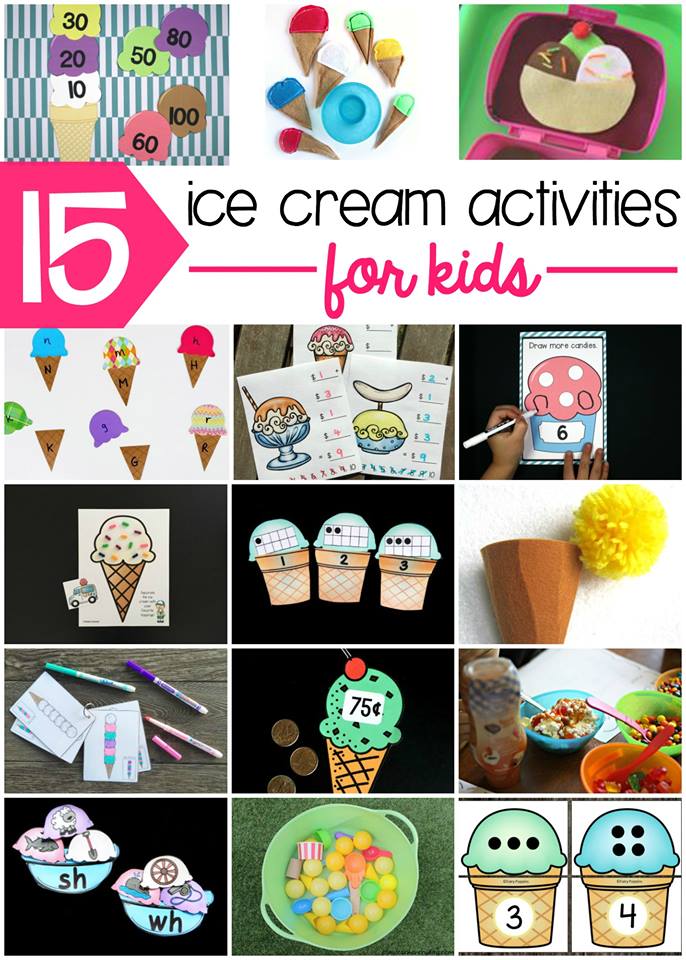 FROM LEFT TO RIGHT:
Ice Cream Skip Counting Puzzles // The STEM Laboratory
Ice Cream Bean Bag Tutorial // Sugar Aunts
Ice Cream Felt Busy Box // Teach Me Mommy
ABC Ice Cream Matching Busy Bag // Coffee Cups and Crayons
Ice Cream Sundae Money Addition // Liz's Early Learning Spot
Write and Wipe Addition Cards // Playdough to Plato
Ice Cream Counting Playdough Mats // Modern Preschool
Ice Cream Ten Frame Number Match // The Kindergarten Connection
Ice Cream Cup and Ball Game // Adventures of Adam
Ice Cream Pattern Cards // Simply Learning
Ice Cream Money Matching Game // The Simplified Classroom
Build an Ice Cream Sundae | Money Math Practice for Kids // Science Kiddo
Ice Cream Digraph Sort // The Letters of Literacy
Ice Cream Scoop and Balance Game // Play & Learn Everyday
Ice Cream Number Matching Puzzles // Fairy Poppins