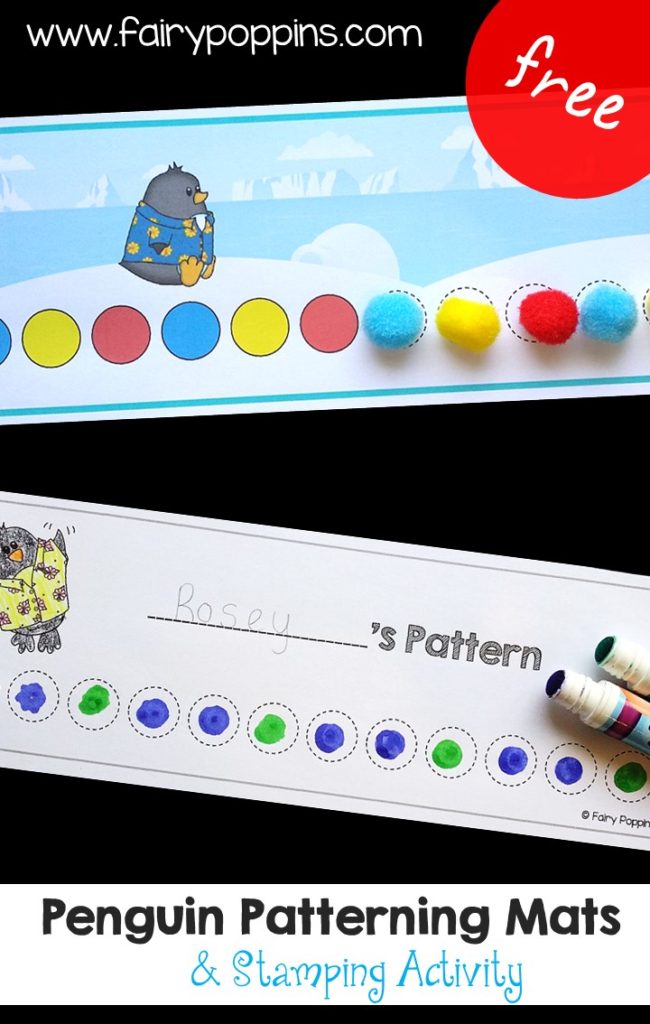 Teaching kids patterns is so much fun with this adorable set of penguin patterning mats! There's also a bonus pattern stamping activity.
This hands on activity is an awesome way to get kids thinking about common patterns such as ABAB, ABC, AABB, AAB and ABB.
Preparation – Patterning Mats
I printed the patterning mats and laminated them for added durability. Then I cut along the dotted lines to separate the mats. Next I grabbed a basket of red, blue, yellow and green pom poms and was set to go! This activity works well with counters too, just make sure the colours are red, blue, green and yellow.
How To Play
The kids and I chatted about the patterns they could see on each pattern mat. I used the first pattern mat as an example and pointed out the pattern "yellow, blue, yellow, blue, yellow, blue". Then I said "I wonder what colour comes next. What do you think?". The kids quickly responded with yellow, so we added a yellow pom pom to the mat, then blue and so on. The kids continued to make the patterns illustrated on the other mats.
Extension
Encourage the kids to make their own patterns without a mat and ask them to describe their pattern.
Preparation – Make A Pattern Worksheet
Each page contains two worksheets, so I printed enough copies so that when I cut the worksheet in half there was enough for all students. Then I grabbed some coloured pencils and bingo daubers.
How To Play
The kids and I chatted about how a pattern is made by repeating the same number of colours, in the same order, over and over. I made an AAB pattern as an example and then encouraged the kids to come up with their own pattern. The kids loved using the bingo daubers, which I found at a discount store. Other materials that work well are stamps, highlighters, stickers, pom poms and paint.
Tip: Clipping pom poms onto pegs and then dipping them in a tray of paint is another super fun way for kids to make their patterns.
To download these penguin pattern activities click on the download button below.


For more fun penguin themed activities, check out the links below.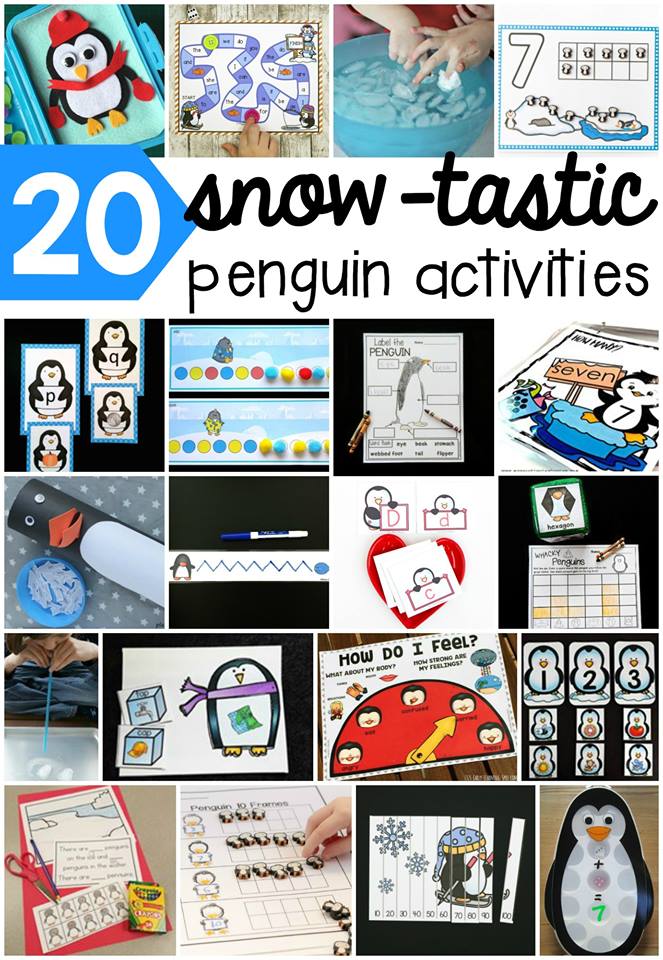 FROM LEFT TO RIGHT:
Penguin Felt Busy Box // Teach Me Mommy
Penguin Sight Word Game – Editable // Playdough to Plato
How Penguins Stay Warm // Science Kiddo
Penguin Counting Mats // Mom Inspired Life
Penguin Letter Identification Freebie // The Simplified Classroom
Penguin Patterning Mats // Fairy Poppins
Penguin Labeling Printable // Letters of Literacy
Penguin Number Words // My Creative Inclusion
Feeding the Sight Word Penguin // Play & Learn Every Day
Penguin Pre-Writing Tracing Cards // Modern Preschool
Baby Penguin Alphabet Letter Matching // Fun with Mama
Penguin Shapes Roll and Graph // The Kindergarten Connection
Penguin Ice Races // Still Playing School
Penguin Rhyming Game // Sara J Creations
How Do I Feel Emotions Chart // Liz's Early Learning Spot
Penguin Syllable Sort Printable // A Dab of Glue Will Do
Penguin Addition Problem // Recipe for Teaching
Penguin 10 Frame Worksheet // Schooling a Monkey
Penguin Number Puzzles // The STEM Laboratory
Penguin Dice Addition Game // Adventures of Adam