These bug activities are hands-on and perfect for kids who LOVE learning about bugs! The free bugs puzzles make a great addition to a literacy center.
Learning about bugs is so much fun! The following bug activities are hands-on and great for kids in kindergarten and first grade.
1. Bug Activities For Science
I usually introduce the term "bugs" to younger kids. As kids get older I begin to use more specific vocabulary such as insects, arachnids and so on.
Sort and Classify Mats
These help kids to name the different bugs that are commonly found in the garden. Kids begin by matching the pictures to those displayed on the mats.
Once they've mastered that, you can add in additional sorting pictures such as "ocean animals" or "farm animals". The sorting mats come in a blank version and a picture version.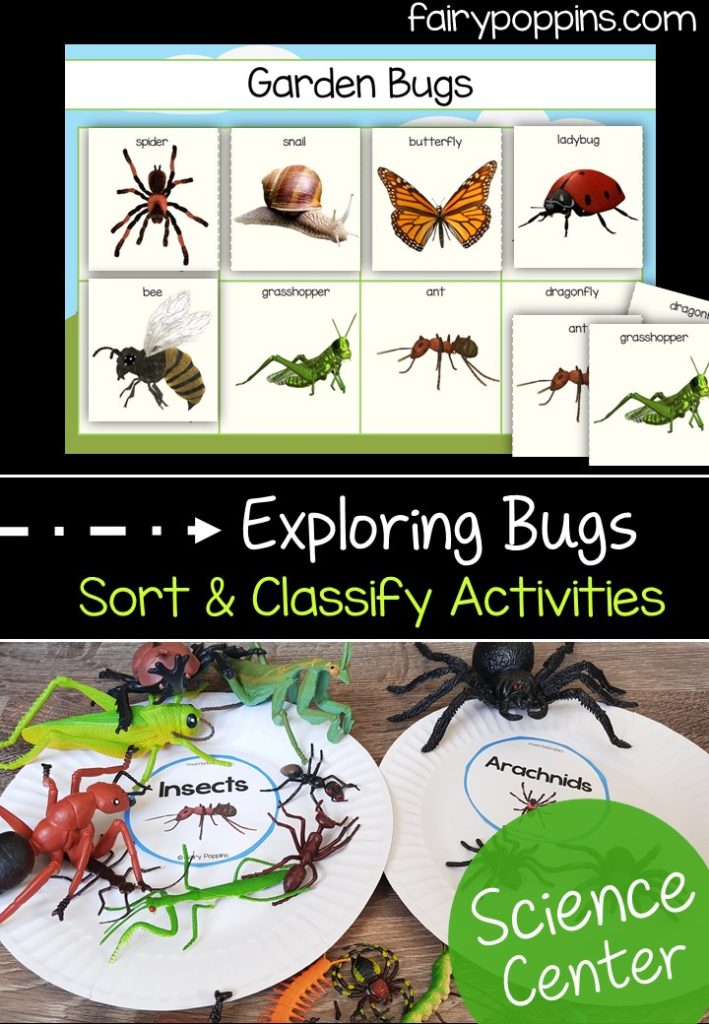 Pin
If you have some bug figurines, you can use the sorting labels (shown above). I love gluing the labels onto paper plates and placing a variety of figurines into a mystery bag. The kids pull out one figurine at a time, name it and place it into the corresponding category.
2. Bug Activities For Math
The following bug activities are suitable for kids who are working on counting and subitizing. I had the bugs custom designed by a graphic artist and was really pleased with result!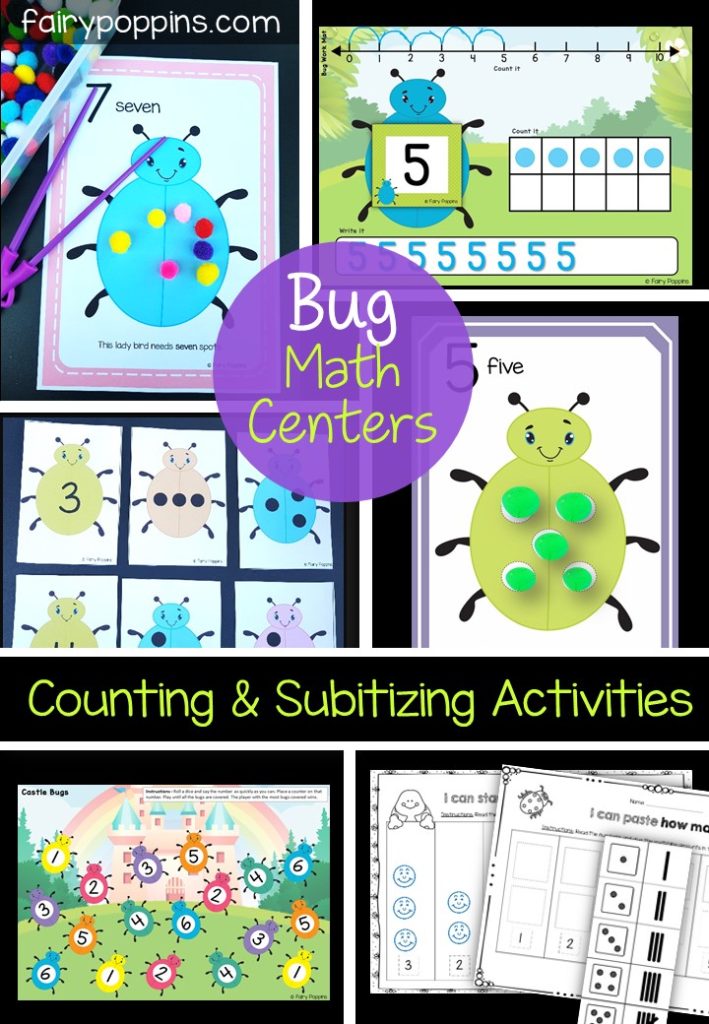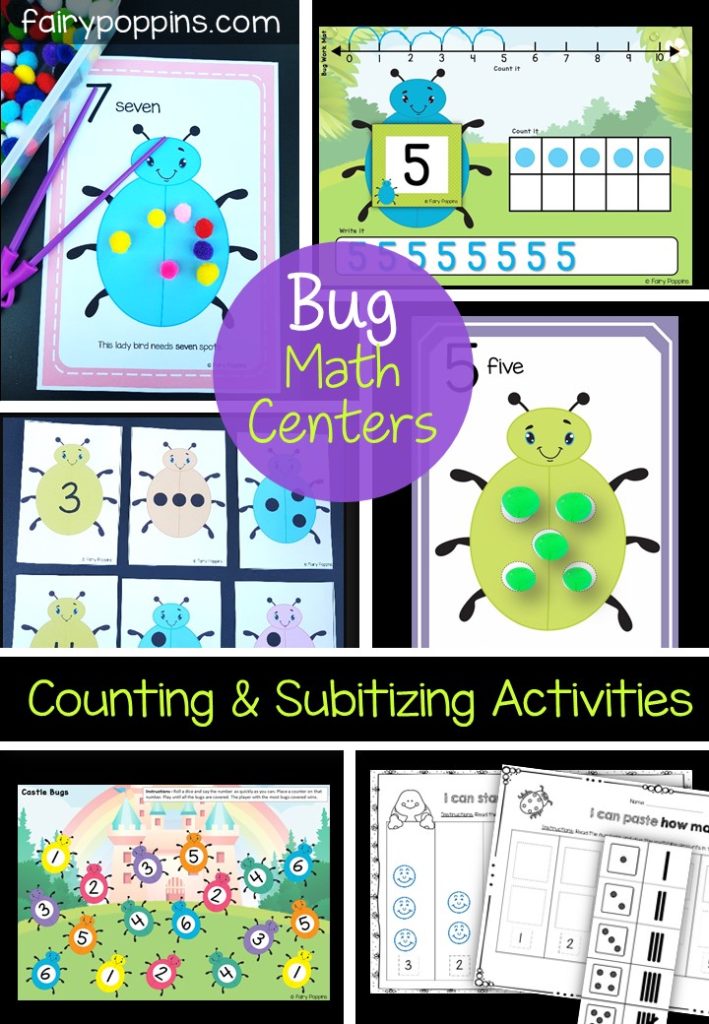 Pin
3. Bug Activities For Literacy
These bug puzzles help kids to learn bug vocabulary, whilst tuning into beginning sounds. They also help kids to match lower case letters with upper case letters.
Preparation – Print and laminate the puzzles for added durability.
How To Play – Scatter the puzzle pieces on a table top or place them in a basket.
Kids need to name the bug and identify the beginning sound. For example "Grasshopper. Grasshopper begins with a /g/'.
Then they need to find the matching piece.
The letters are in various colors to help the kids solve the puzzles independently.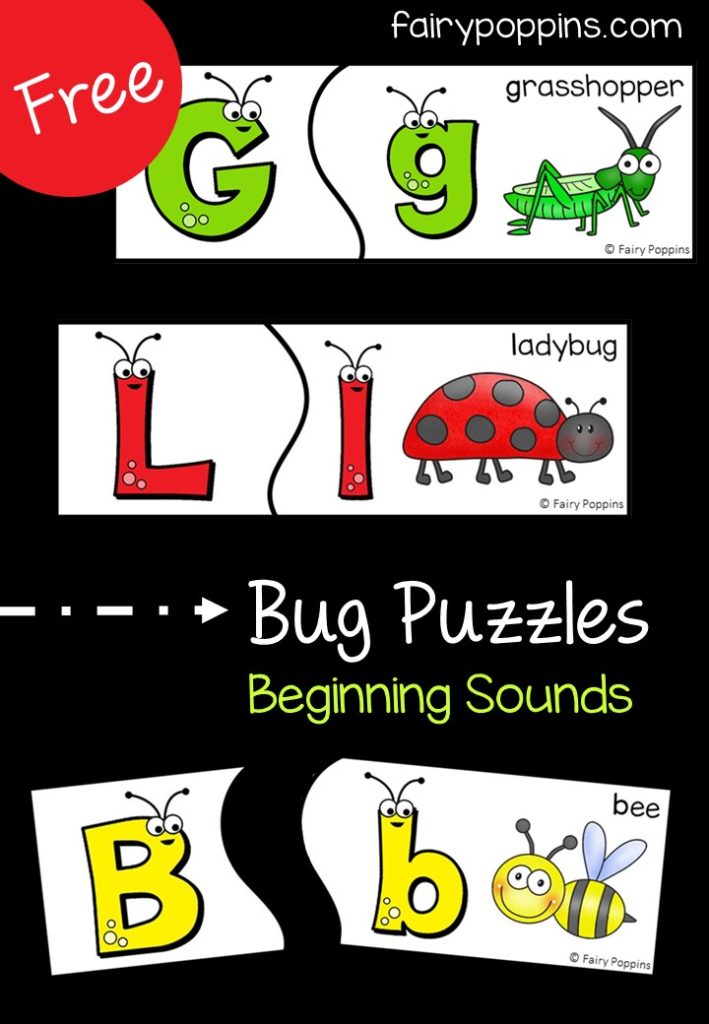 Pin
You can grab these free bugs puzzles by clicking on the download butting below.
 Then make sure you check out the links to other awesome and FREE bug activities below!

Pin
More Fun Bug Activities
Check out the following free bug activities! The links to them can be found below.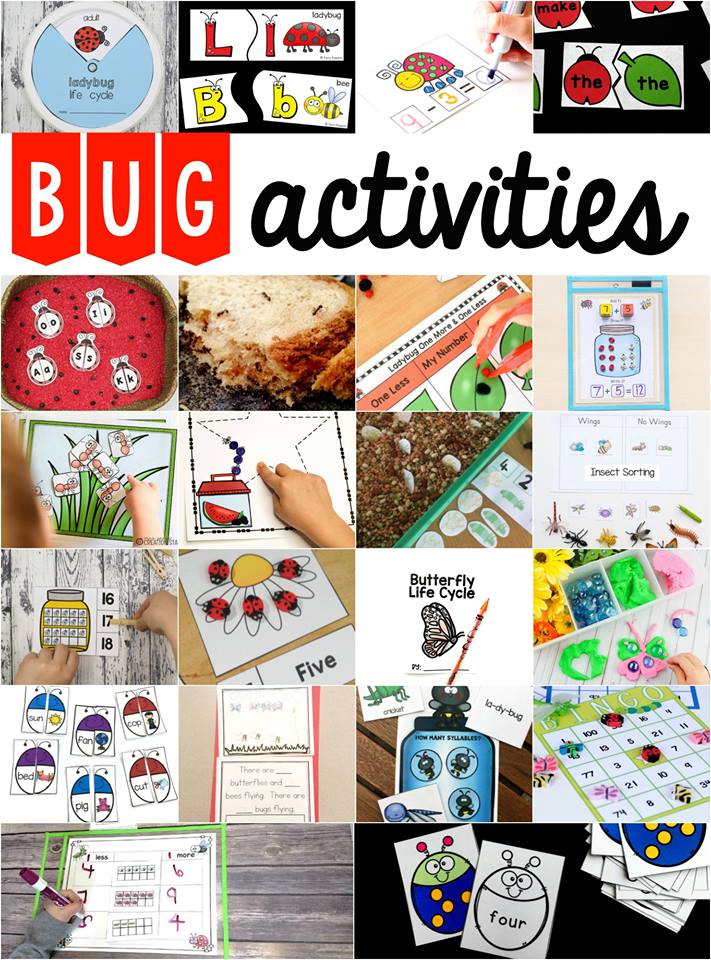 Pin
FROM LEFT TO RIGHT:
Ladybug Life Cycle Wheel // The STEM Laboratory
Bug Puzzles (Beginning Sounds) // Fairy Poppins
Bug Subtraction Cards // The Kindergarten Connection
Ladybug Editable Sight Word Puzzles // A Dab of Glue Will Do
Printable Ladybug Letter Puzzles and Sensory Bin // Fun-A-Day
Simple Outdoor Ant Experiment // Science Kiddo
Ladybug One More One Less Activity // Fantastic Fun and Learning
Bug Jar Addition and Subtraction Mats // Fun Learning for Kids
Counting Ants Math Game // Mrs. Jones' Creation Station
Insect Theme Prewriting Practice // Stay at Home Educator
I Spy Bugs Sensory Bin // Teach Me Mommy
Insect Printable Sorting Worksheet // Fun with Mama
Bug Counting Clip Cards // Playdough to Plato
Ladybug Counting Cards 1-20 // Powerful Mothering
Butterfly Life Cycle Mini Book Freebie // The Primary Post
Homemade Butterfly Playdough Kit // Sugar Spice and Glitter
CVC Bug Matching Game // Sweet Sounds of Kindergarten
Bug Story Problems // Recipe for Teaching
Bugs: How Many Syllables? // Liz's Early Learning Spot
Bug Theme Bingo Cards // Schooling a Monkey
Ten Frame Game More and Less // Sara J Creations
Buggy Partner Cards // Simplified Classroom