About Me – Back to School Activity
 This "About Me" flower craft is a fun back to school activity. It's suitable for kids in Pre-K, Preschool, Kindergarten or First Grade.

About Me Flower Craft
Previously, when I've done this flower craft activity with my class I've got the kids to describe five things about themselves. But you could also get them to describe five things they did on the holidays or their five favorite toys.
Preparation – Start by taking a photo of each kid. Once uploaded to my computer, I usually paste the photos into a PowerPoint document – it makes printing a lot easier. Resize all of the photos so that they'll fit in the center of the flower. After that cut out the photos and grab the other craft materials. You'll need some glue, scissors and colored pencils.
Tip – Save the photos for future craft activities or creating a visual class list for substitute teachers!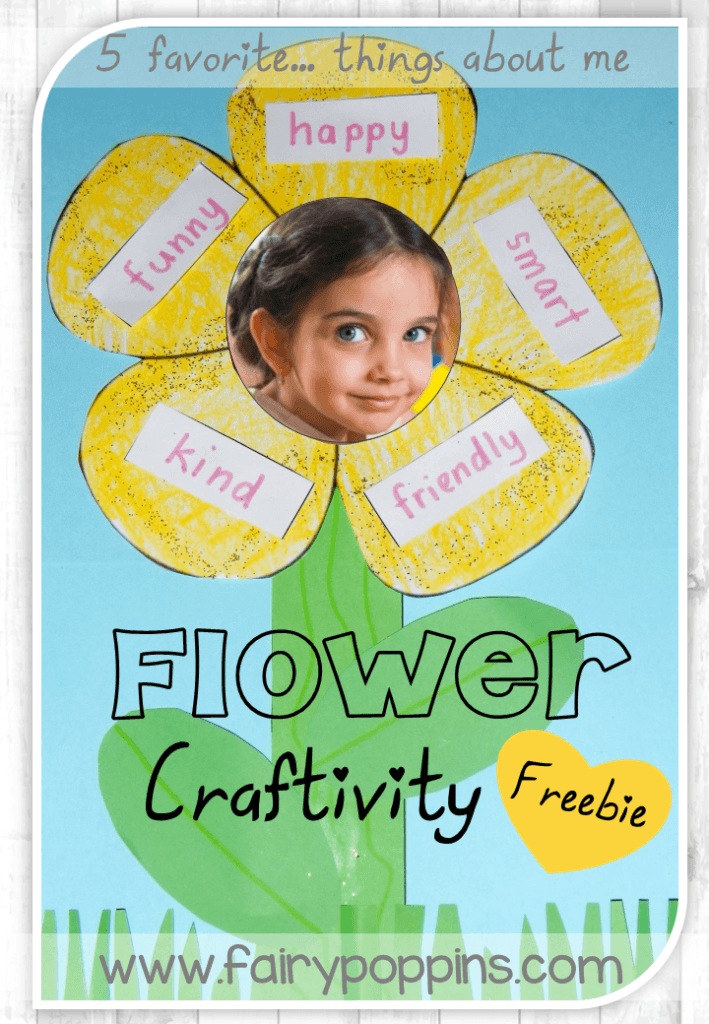 Pin
How to Create – Start by getting the kids to write five words that describe themselves. Then decorate the flower, either with paint or crayons. After that cut out the flower pieces and glue them together. Finally, paste the photo in the center of the flower and one favorite thing in each petal.
I've included both American and Australian spelling versions.
<<Grab this fun back to school craft below>>

Pin
More About Me Craft Activities
I usually start of my first few weeks of school with an "About Me" or "Back to School" theme. You may also want to check out the following free About Me Writing Craft.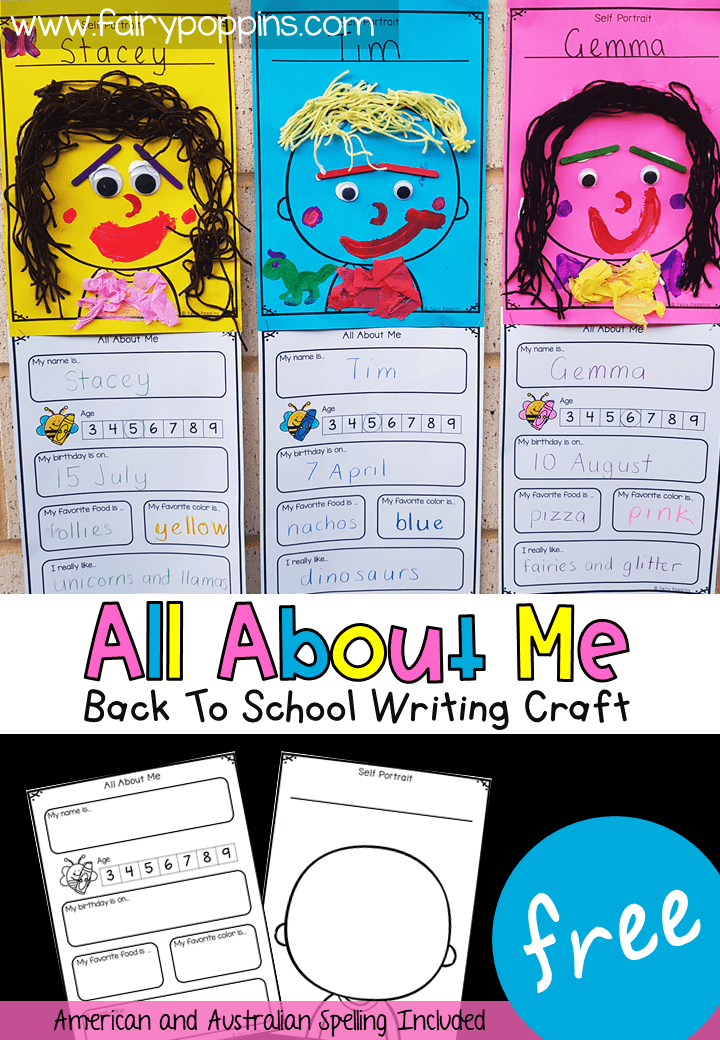 Pin
More Fun Back to School Activities
If you're prepping for back to school time, then be sure to check out these other awesome freebies!
Pin
FROM LEFT TO RIGHT:
School Bus Color Match Puzzles // Modern Preschool
3 Word Cloud Back to School Puzzles // Lalymom
Back to School Process Art // Still Playing School
Morning Routine Story Stones // Sugar Aunts
Fun Ways to Teach Kids to Pack Their Lunch // Study at Home Mama
Easy, Kid-Made Phone Number Bracelets // Mama. Papa. Bubba.
Bingo // Playdough to Plato
I Spy // The Pleasantest Thing
ABC Photo Book // Powerful Mothering
Back to School Puzzles for Counting to 10 // Life Over C's
Patterns with Erasers // Frogs Snails and Puppy Dog Tails
Shape Puzzles Busy Bag // Teach Me Mommy
Back to School Name Practice with Playdough // Stay at Home Educator
File Folder Games // Itsy Bitsy Fun
Mapping Our Classroom // Liz's Early Learning Spot
Teacher Gift // Think Magnet
Memory Book // DIY Farm Wife
About Me Flower Craft// Fairy Poppins
Free Alphabet Book // The Kindergarten Connection
Memory Game // Play and Learn Everyday
DIY Name Stamps // Preschool Inspirations