These fruit pom pom mats help develop kid's fine motor skills whilst also teaching them about beginning sounds. They are suitable for kids in Pre-K or Kindergarten.
Fruit Pom Pom Mats
These fun fruit activities include a set of six mats. Kids can learn about an apple, orange, banana, pear, watermelon and grapes.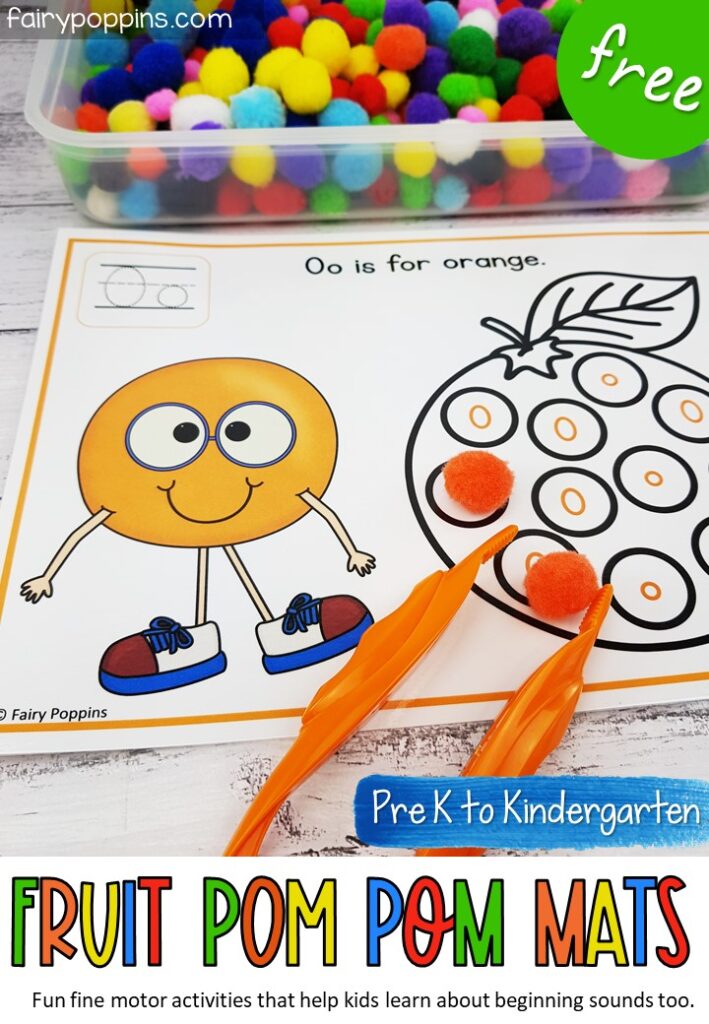 Pin
Preparation – Begin by printing the mats. The pom pom clip art was available in black and white only, so I colored mine in with crayons prior to laminating the mats. You can see an example of what the mats look like with out being colored in above (see the orange mat). Next, laminate the mats for added durability. You'll also need to grab some pom poms in a variety of colors and some fine motor tweezers or tongs.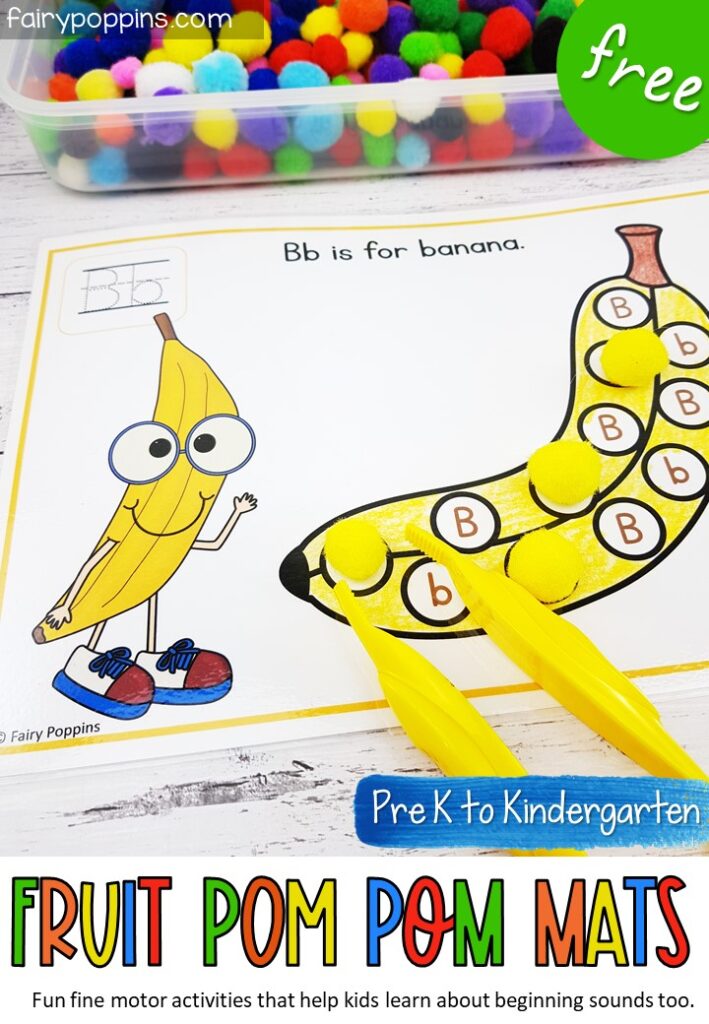 Pin
How to Play – Identify the fruit on the mat, read the sentence and say the beginning sound. Next, cover all of circles on the fruit with a pom pom. Kids can pick random colors. Or you can instruct them to choose two colors, so that they can cover the lower case letters with one color and the capital letters with a different color. Finally, the kids can trace the letters with an erasable marker.
<<Grab these fruit activities by clicking on the download button at the bottom of this page.>>
More Alphabet Fine Motor Centers
I absolutely love the following pack. It is the perfect resource to support letter of the week activities. As you introduce new beginning sounds to students, you can set up one of these centers to help kids learn more about that beginning sound.
Preparation – These can be printed in color or you can print the black and white version on colored paper.
How to Play – Most of these centers use readily available classroom materials such as pom poms and playdough. Further instructions are included in the pack.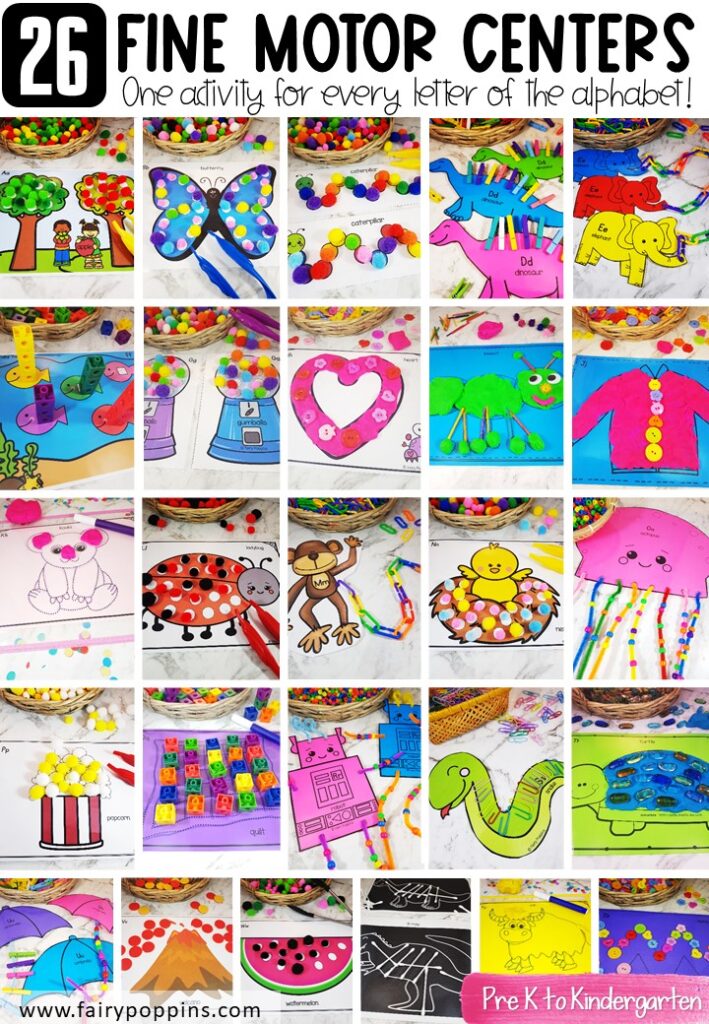 Pin
More FREE Fruit Activities
If you're looking for more fun fruit activities, be sure to hop between the following links shown below.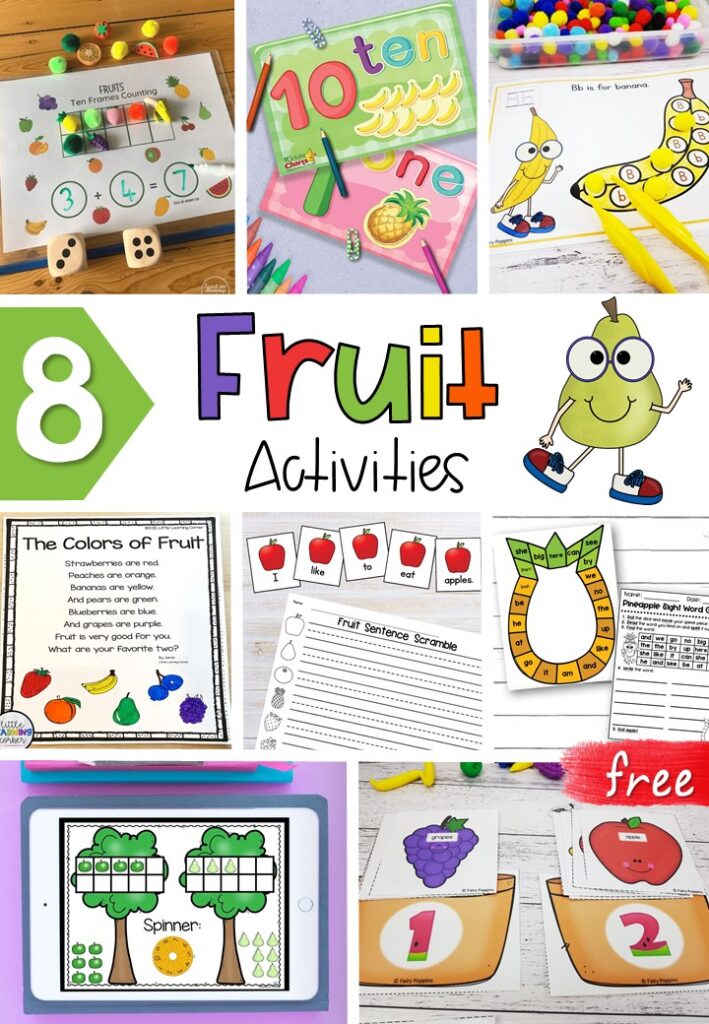 Pin
FROM LEFT TO RIGHT
Ten Frames Counting // Teach me Mommy
Learning Numbers With Fruit Flashcards / Placements // KiddyCharts
Pom Pom Mats // Fairy Poppins
Colors of Fruit Poem // Little Learning Corner
Sentence Scramble // Sarah Chesworth
Pineapple Sight Word Game // The Primary Post
Comparing Digital Resource // Recipe for Teaching
Syllable Activities // Fairy Poppins
<< Grab your fruit pom pom mats here. >>

Pin