These Boom Cards help kids learn about the teen numbers using base ten blocks. It's a fun way to introduce the early place value concept of tens and ones.
Initially, I love using hands-on materials such as connecting cubes to introduce teen numbers. I usually get the kids to make one "ten" by connecting the cubes, before introducing base ten blocks. I do this because the base ten block "ten" is joined so it can easily be confused as a "one" when kids starting out. To play the following game, kids will need to have a basic understanding of a "ten" and a "one".
Teen Numbers Boom Cards
The new trend towards distance learning has led me to get out of my comfort zone by learning how to create digital resources, and I'm so glad that I have! If you're new to Boom Cards like me, they are essentially digital task cards which can be used on devices such as tablets and computers. The awesome thing about them is they are interactive and self-correcting.
Preparation – To play this game, kids will need an internet connection and a device such as a tablet or computer. Begin by clicking on the download button at the bottom of this page to access the freebie. In the PDF, you'll receive a download link, which you'll need to click to take you to Boom Learning where the game is hosted.  If you're new to Boom Learning, you'll be prompted to create an account if you don't already have one. The Boom Cards will be saved in your Boom Library. Then all you have to do is assign it to your students and you're set to go! Please scroll down further for more information about Boom Learning.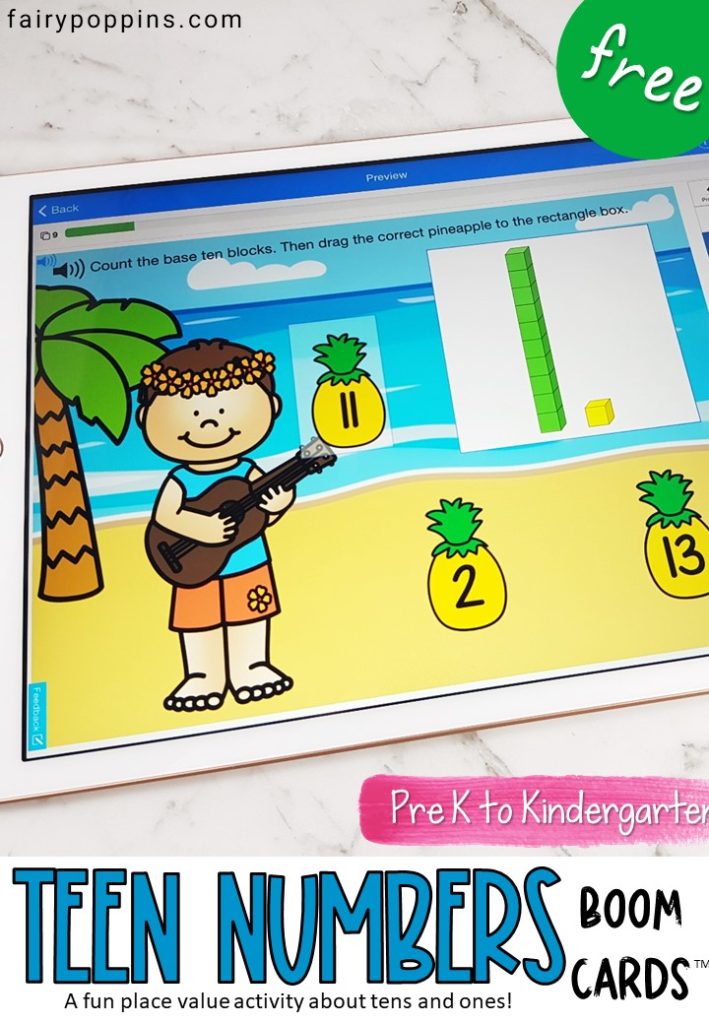 Pin
How to Play – First kids can press the speaker icon to listen to the game instructions. Then they need to count the base ten blocks, which are shown in tens and ones. After that the kids need to find the pineapple with the correct teen number and drag it to the box. Once kids have submitted their answer they'll be prompted to move to the next card if they got it correct or to try again if they picked the incorrect answer.
<<Grab this freebie by clicking on the download button at the bottom of this page.>>
Are you new to Boom Cards?
To use Boom Cards, you must be connected to the Internet. Boom Cards play on modern browsers (Chrome, Safari, Firefox, and Edge). Apps are available for Android, iPads, iPhones, and Kindle Fires. For security and privacy, adults must have a Boom Learning account to use and assign Boom Cards. You will be able to assign the Boom Cards you are buying with "Fast Pins," (play provides instant feedback for self-grading Boom Cards). Fast Play is always a free way for students to engage with Boom Cards decks. For additional assignment options you'll need a premium account. If you are new to Boom Learning, you will be offered a free trial of a premium account. Read here for details: http://bit.ly/BoomTrial.
More FREE Summer Digital Resources
If you're looking for some more free summer activities, be sure to check out the links to the other digital games shown below.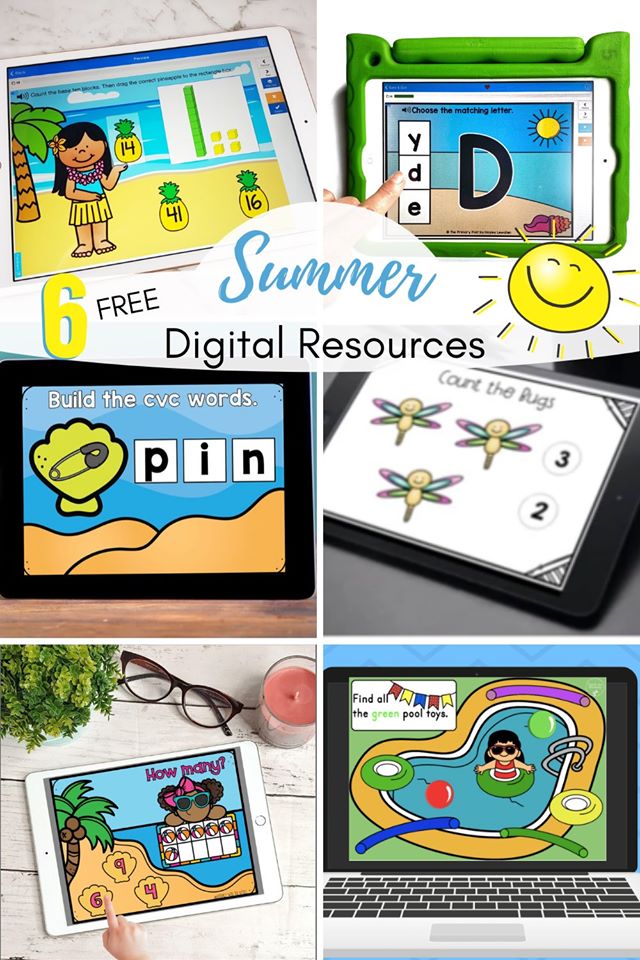 Pin
Tiki Teen Numbers by Fairy Poppins
Summer Letter Match by The Primary Post
Summer CVC Words by The Primary Brain
Counting Bugs by Fluffy Tots
Summer Counting by Literacy with the Littlies
Pool Party Color Find by Teach me Mommy
<<Grab the Teen Number Boom Cards link below.>>

Pin